PIERPAOLO PICCIOLI GETS BEAUTIFULLY POETIC AT VALENTINO
Posted on by Cameron Tewson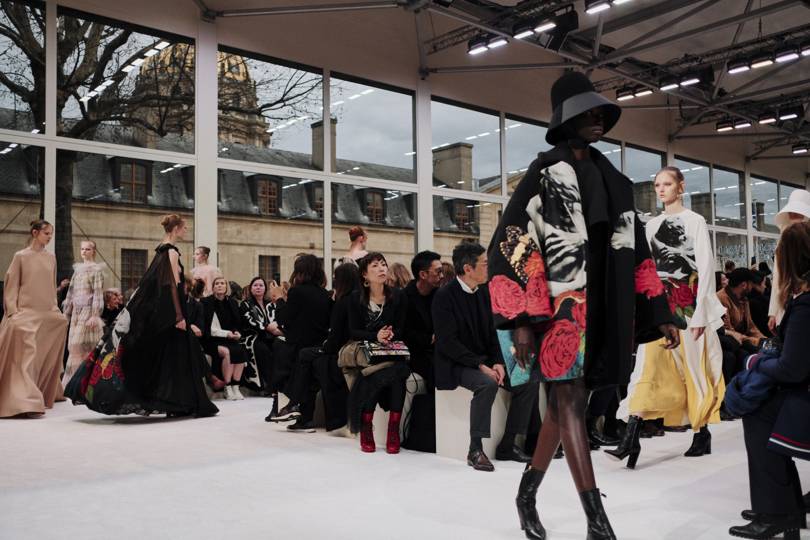 Pierpaolo Piccioli makes people get emotional (and Celine Dion shed tears of joy) over his couture. Does his ready-to-wear for Valentino spark the same reactions? Pretty much yes. His autumn-winter 2019 collection was an ode to love. A theme that might be so easily clichéd in fashion got beautifully poetic on Piccioli's runway. "I feel that people are looking for emotion and dreams—but not distant dreams," he said before the show. "I want to create a community for Valentino. I mean something different from 'lifestyle,' which is about owing objects. It's about people who share values." Valentino's community has many faces, and this season Pierpaolo made them even more vocal.
First, the choice of models who walk the Valentino runway as of late utterly cement the normalisation of inclusive casting. You've got Adut Akech open the show in a voluminous coat, and Maria Carla Boscono wear a gorgeous black gown. Then, we've got artistic individuals that leave their mark on Piccioli's fashion. Jun Takahashi of Undercover started collaborating with Valentino's menswear last season, and his contribution goes on here as well. This time the designers morphed together a print of a 19th-century neoclassical sculpture of kissing lovers with an image of roses. It appeared on pretty much everything, and wasn't necessarily a subtle detail. And then there are the poets. Poetry in fashion always seemed to be a good idea just in case of Ann Demeulemeester and her long-time friend, Patti Smith.
In case of Valentino, the concept wasn't overly intellectual or profound, but digestible for the eye. Picciolli commissioned the Scottish poet and artist Robert Montgomery and the three young writers – Greta Bellamacina, Mustafa The Poet and Yrsa Daley-Ward – to contribute to a slim volume, Valentino on Love, which was left on seats for the audience. An illuminated billboard with lines by Montgomery stood at the end of the runway, reading, "The people you love become ghosts inside of you and like this you keep them alive." The words carried on to live in Piccioli's designs and the lines were printed (or embroidered) inside coats, tulle dresses, inside of bags and boots. In terms of fashion, this was a line-up of incredible matchings. An orange jacket with feathers was worn over a hoodie – refined, yet fresh. There were as many couture-ish silhouettes (like the yellow cape-coat or the finale dresses) as sublime daywear (think soft tailoring, flared mid-lenght skirts and classical little black dresses). Love's in the air, in every single aspect.