Emily in Paris is the binge-watchable, escapist rom-com fantasy set amidst the splendor of the City of Lights you're looking for. The Netflix series was created by Darren Star — a.k.a. the television genius behind such hits as Beverly Hills, 90210, Melrose Place, Sex and the City, and Younger – Emily in Paris follows the exploits of a young American woman who's recently relocated to the French capital from the USA.
According to the Netflix synopsis, Lily Collins stars as the titular Emily, "an ambitious 20-something marketing executive from Chicago" who "unexpectedly lands her dream job in Paris when her company acquires a French luxury marketing company — and she is tasked with revamping their social media strategy." Viewers get to share Emily's experiences vicariously, as well as all of the adventures and challenges she juggles, on top of the demands of her new job, and the task of making friends — all while convincing her skeptical colleagues she actually knows what she's doing. Naturally, she'll also be "navigating new romances" along the way.
Read on to find more about this intriguing series by delving into the untold truth of Emily in Paris.
Lily Collins is not an unfamiliar face to viewers, with some of her more high-profile projects including the film Tolkien, the Amazon Prime Video series The Last Tycoon, and portraying Fantine in the 2018 PBS miniseries adaptation of Les Misérables. However, fans of '80s rock may also know her as daughter of Phil Collins, drummer/frontman for Genesis and, as a solo artist, purveyor of hit after hit in the 1980s — particularly his iconic 1981 single "In the Air Tonight," which has a hidden meaning.
Sadly, Collins doesn't have a great relationship with her father. As she wrote in a Billboard excerpt from her 2017 book Unfiltered: No Shame, No Regrets, Just Me, her rock-star dad was often away on tour when she was little. Then, after her parents' divorced when she was just five, her dad moved from the U.K. to Switzerland. This separation from her father, she admitted, led to multiple issues later in life, from difficulties in maintaining relationships to developing an eating disorder. "I've realized that many of my deepest insecurities stem from these issues with my dad," she wrote.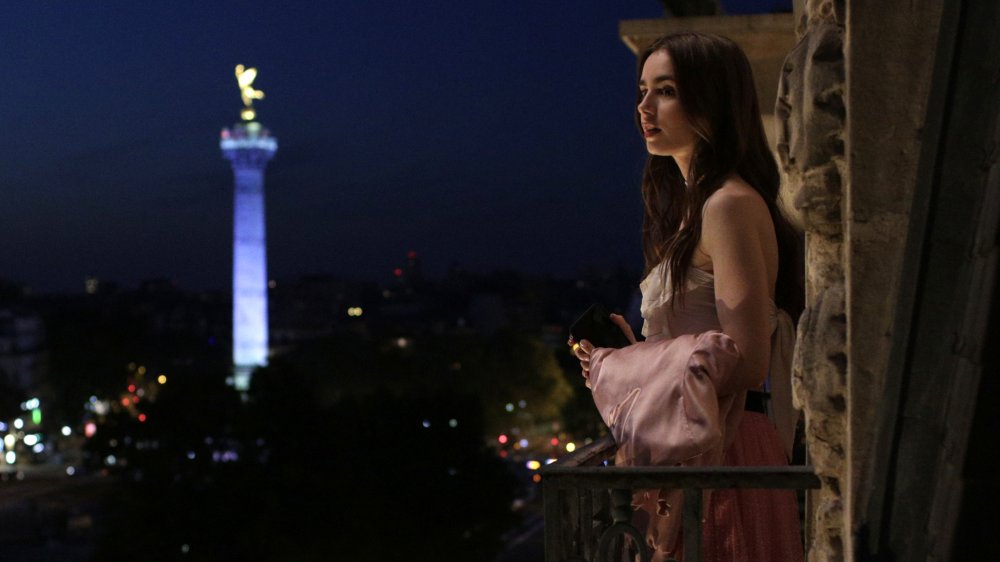 The French are not fans of Emily in Paris
It would be logical to assume Parisians would embrace a series devoted to showcasing their city in all its magnificence. In the case of Emily in Paris, however, that decidedly did not happen. In fact, denizens of Paris scoffed at the series' wildly unrealistic depiction of the famed metropolis.
In France, reviews of the show were scathing. "Quote a cliché about France and the French: you'll find it in Emily in Paris," stated a review in 20 Minutes. Première critic Charles Martin chided the show for its depiction of French people as being lazy workers who "never arrive at the office before the end of the morning," who also lack loyalty. Sens Critique's review may be the most sarcastic, joking that anyone who watches the show must "love science fiction," given that Emily in Paris presents Parisians who "are mostly friendly, speak irreproachable English, [and who] make love for hours."
The New York Times summed it up by noting "Darren Star's latest serial goes down like sour wine with les vrais Parisiens."
One critic said Emily in Paris has a diversity problem
Complaints of clichéd stereotypes about the French aren't the only criticisms of Emily in Paris. Writing for Canadian fashion mag Flare, reviewer Katherine Singh took the show to task for what she perceived as a stunningly tone-deaf lack of diversity.
In her review, Singh pointed to a "big representation problem" in the show. Given that the series is set in such "a multicultural and diverse city," she wrote, "Emily in Paris is pretty white. And in the words of Emily and her *very* limited French vocabulary: that is legit merde."
Not only does this make the show feel hokey and "inauthentic to both the time we're in and the IRL demographics of our world… it's also a missed opportunity to explore real social issues," she continued, pointing out that a lack of diversity seemed to be a problem in all Darren Star's shows. Comparing Emily in Paris to Star's iconic HBO hit Sex and the City, Singh pointed out that "both shows are incredibly white, with casts of entirely white leads and few, if any, supporting characters of color."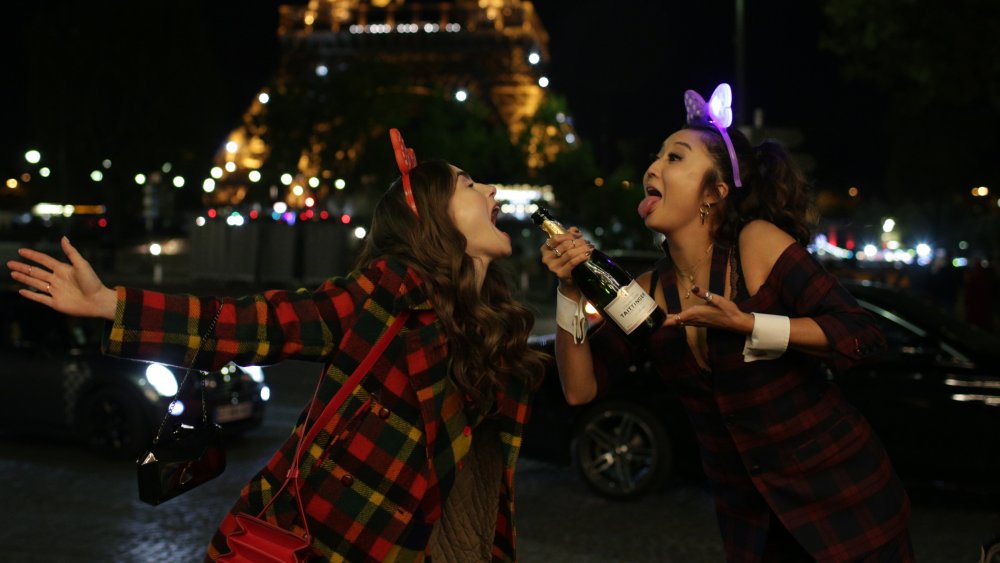 The chic outfits in Emily in Paris come from Sex and the City's fashion guru
Speaking of Sex and the City, a key similarity viewers may notice between that show and Emily in Paris is the fabulous fashion on display in both series. That's hardly a coincidence; Patricia Field, the costume designer responsible for the iconic outfits worn by Sarah Jessica Parer's Carrie Bradshaw in Sex and the City, is filling the same role for Emily in Paris.
Field discussed her approach to curating Emily's wardrobe in an interview with Paper magazine. According to Field, films such as An American in Paris, and the style of actresses Audrey Hepburn and Leslie Caron, left her with "a fantasy about Paris… I just love the idea of Paris chic."
Field brought the same philosophy that drove her fashion choices during Sex and the City to Emily in Paris. Her goal, she explained, is always to make the characters "look as good as I can," even if that means stretching credibility. "I really don't say, 'Oh, Carrie Bradshaw couldn't afford this Manolo Blahnik,'" she explained. "To me, my job is to create the most interesting, original and beautiful wardrobe for my actors."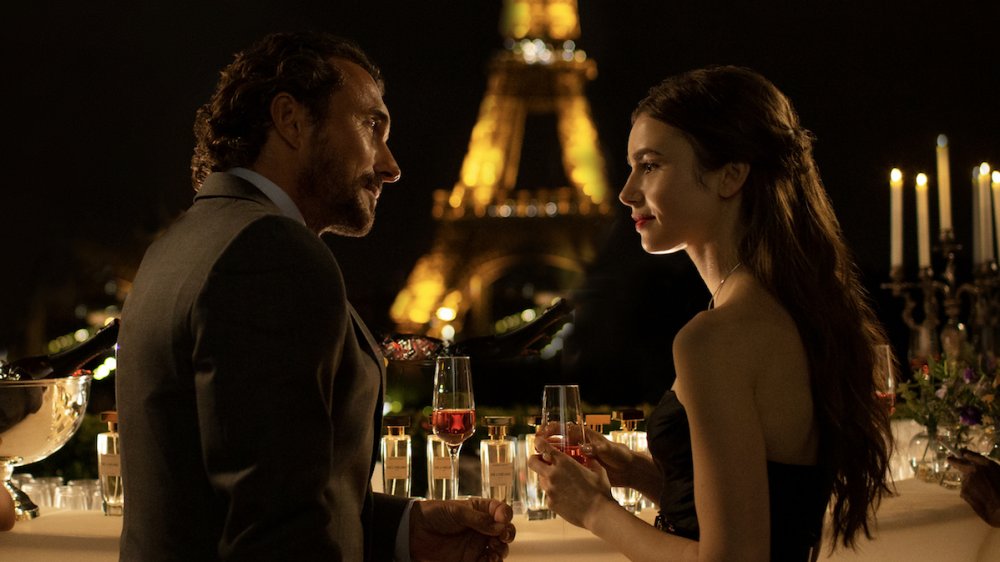 Spotify put together an Emily in Paris soundtrack and it's "full of bangers"
Along with the fab fashion and the splendor of the Paris locale, another factor that contributes to the ambience of Emily in Paris is the music used in the show. Along with oodles of French indie pop, noted Radio Times, the series features an eclectic array of music ranging from Eartha Kitt to French chanteuse Edith Piaf to the occasional classical piece, including "Espiègle" by composer Bram Tchaikovsky.
Part of the show's storyline involves Emily's friend Mindy Chen (Ashley Park) — here's why Mindy from Emily in Paris looks so familiar — and her singing aspirations, which includes a scene featuring Mindy singing Sia's "Chandelier" for an audition. Meanwhile, in another scene, Mindy sings Piaf's "La Vie en Rose."
While Netflix hasn't produced an Emily in Paris soundtrack, Spotify has. Spanning over five hours, Spotify's Emily in Paris playlist includes 95 songs used in the show, offering a chance for the music to transport listeners to Emily's world. As journalist Heidi N. Moore jokingly tweeted, "It is with a heavy heart that I must say this: The Emily in Paris soundtrack is full of bangers."
Emily in Paris is on Netlifx.