MEET KAMAL PATEL, FOUNDER OF KAMAL JEWELLERY
Posted on by Cameron Tewson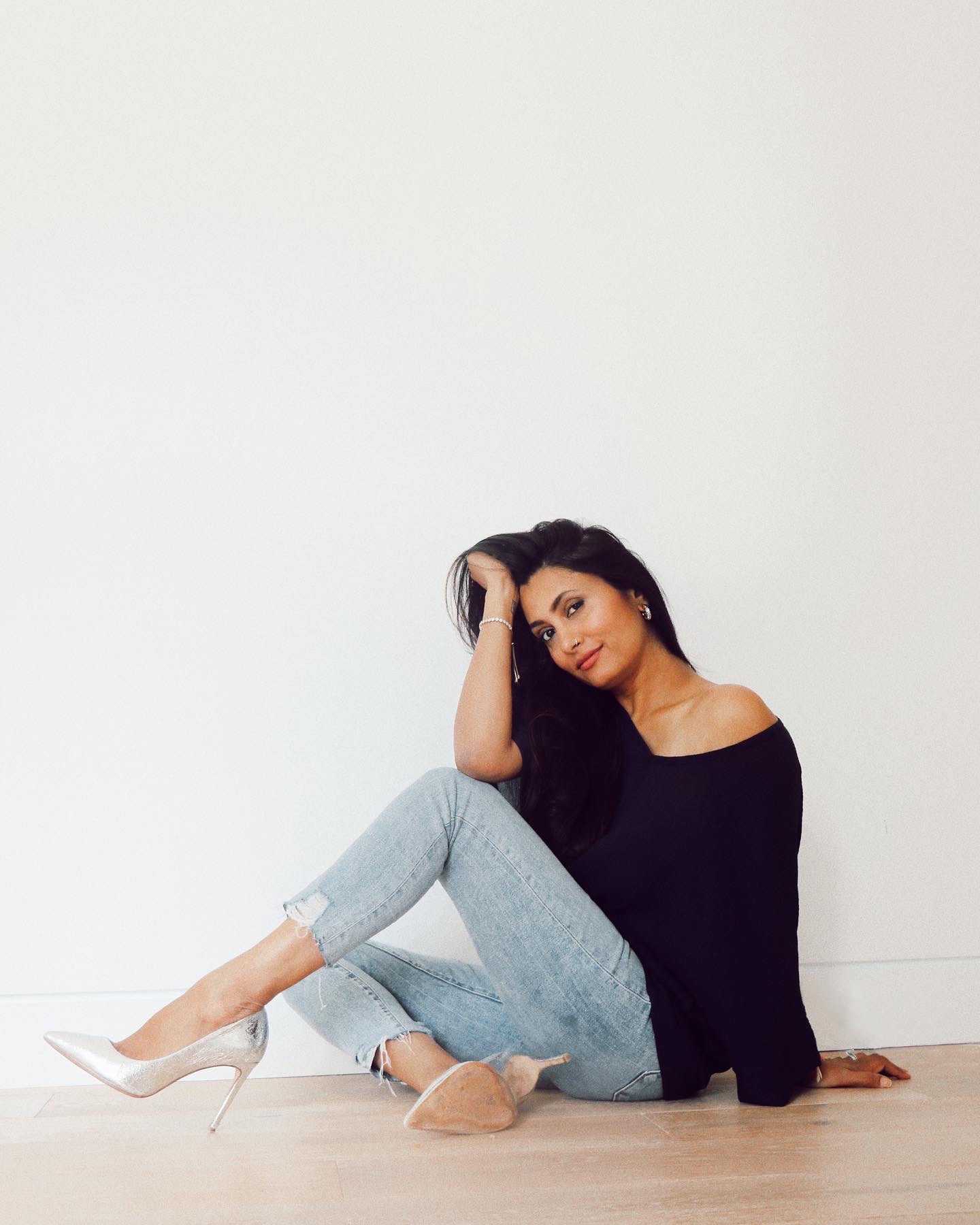 London born Kamal Patel is the founder of KAMAL Jewellery. She was raised in a creative household unlike many Indian families in the 80's. While the cliche Indian society was pushing her otherwise, she had her family's support and vision set to be one of the first Indian female artists to pursue the field of arts. After studying at Brooklyn's acclaimed Pratt Institute, Kamal cut her teeth as a graphic designer in NYC before starting her own stationery company in RVA in 2009. We caught up with Kamal Patel to find out more about her jewellery venture.
CT: Great to meet you, for those readers who do not know of KAMAL, please tell us a little more about your business?
KP: KAMAL is a fine 18K gold and diamond jewelry and letterpress paperie brand that seamlessly blends the East with the West, the old with the new. Seeing that timeless passed down pieces of jewelry were not a custom within Indian culture, I set out to create a fusion of my art on paper designs into heirloom pieces to always pass on generationally. My need for legacy has led me to branch from paper to gems. In 2009, I started my own stationery company in which I used inspiration from yesterday's roots and merged them with today's culture to translate art on paper and now, art on jewels.
CT: How would you describe KAMAL in three words?
KP: Original, Timeless, Modern
CT: Explain your design process?
KP: In the complex and intricate, I see patterns and simplicity. In antiquity, I see chic. In East, I see West. I always start with a fleeting idea or thought in my head. Literally. It could be something from the past, a pattern from costumes and dresses I remember when I was a child and used to perform classical Indian dance. A detailed object or pattern that I would love to deconstruct to it's most minimal form and create something new such as a peacock feather or a lotus. I then go straight to the computer (as I am a Graphic Designer by trade) and create designs, patterns and marks that would work with diamonds and/or gold. Sometimes the first design is the best design, it comes from the heart without overthinking and feels just right. I always make sure it is something that I would wear myself, a staple in my closet. A piece I would love to pass down to my daughter. Something that could also, in the future, be implemented into a ring, earrings or a bracelet.
CT: How would you explain your brand ethos and aesthetic?
KP: Like an old photo forgotten only to be found again, a keepsake note secretly lies with an heirloom jewel, longing to be worn yesterday, today, and tomorrow. Obsessed with capturing images of bringing back what used to be, the legacy that carries KAMAL from yesterday into tomorrow remains ON the cusp of archives. From the rawness of paper, I transformed my bejeweled card designs into jewelry on edge. Inspired by the complex simplicity of my own patterns, I morph these paper plastered designs onto jewels and gems to create something as unique as you. To give, keep and pass ON.
CT: What can we expect for 2021 from your brand?
KP: Right now I have EyeAdore™ for the one you adore. Then came Lotus, a tribute to your own identity. I am still designing additional pieces such as earrings and rings to add to the other 2 collections so they grow as families. I want to create more pieces that honor the women in your life, the warriors. Starburst and various patterns are in the works. My favorite part of this whole process is the educational component. I have learned more in the past 6 months from mentors and creators, from manufacturers and gemologists and I am still continuously learning. Currently I am resetting and designing a 4ct, Sapphire ring from Kashmir and adding 2 gorgeous Columbian Emeralds next to it. It's beyond exciting – I see more "Bespoke" pieces in the future for KAMAL.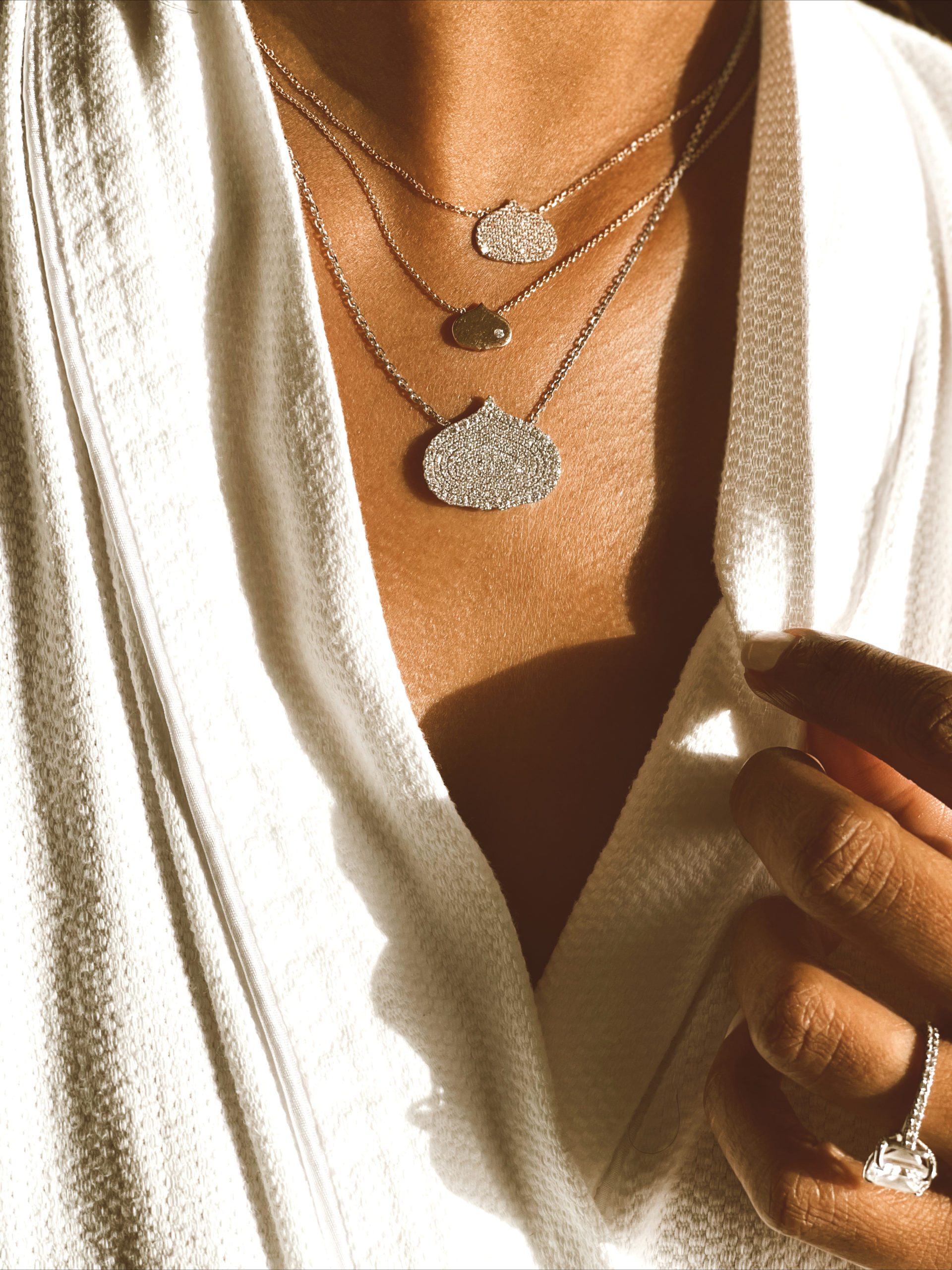 CT: What is the inspiration behind your latest LOTUS collection?
KP: "Even when its roots are in the dirtiest waters, the Lotus produces the most beautiful flower."
KAMAL actually means LOTUS in Hinduism. When I first started my company, KAMAL, I used this logo for all of my paper goods for retail and collaborations such as West Elm Dinnerware and Wedding Invitations. As we were rebranding into jewelry, I wanted to make more of a bold "statement" and put more emphasis on the actual name which is why we took away the mark and left "KAMAL". I realize now that just because the mark was removed, it didn't necessarily mean it was gone forever. It was and still is a part of the brand, and identity. It still has the 2 open leaves and the one dot in the middle would always change colors depending on which colors the letterpress cards would be. I still wanted that element, the stone that sets you apart from others, your birth and what makes you, you. Lotus also symbolizes life, eternity, enlightenment, self-regeneration and rebirth. This was a rebirth on its own, a full circle from paper to jewelry. It was perfect, the colored dot would stay but this time as that extra gem on the chain, linked to your own birth color.
CT: Do you have a favorite piece of your collection and if so, why that piece?
KP: I actually am in love with the 15mm Eye Adore. It is the perfect size for everyday, I wear mine all the time. It adds that extra sparkle with a pair of jeans and a classic white T which is normally my "go to" outfit. You can layer it up with your other favorite necklaces or wear it alone and have it as a statement piece. The price is reasonable considering it is made using 18K gold with F/G VS quality diamonds and the fire is brilliant. I get more questions, comments and compliments on that piece alone and for good reason!
CT: What makes a designer / founder switch off?
KP: That's funny as I'm always "ON"! For me, it's my 3 kids. They give me the curiosity, energy and love that helps me disconnect. Recently I have been self-reflecting on my business. Friends always ask what made you leap from designing on paper to designing jewelry. I believe in the human touch. Handwritten cards found 20 years later from a loved one or new ones written when there could be no touch was a Covid lifesaver. Jewelry stashed away to pass on as a legacy is something that we will always have, its not fast fashion. It's moments remembered.
My kids are my human keepsakes. They are the ones I want to switch OFF for.
CT: Any advice for your younger self?
KP: Comparison is the thief of joy.
CT: Are you listening to any podcasts at the moment?
KP: YES! I am actually listening to one as I type this. I traded Netflix for Podcasts and it has been a blessing ever since. It teaches, motivates, inspires and makes me believe! The one I am obsessed with at the moment is "Second Life" with Hillary Kerr. She has this talent of speaking to her guests that makes their stories so authentic while they share their successes and failures through real career stories. Maybe I connect with it at this time in my life where I too am living my "second life".
Discover KAMAL www.onkamal.com/