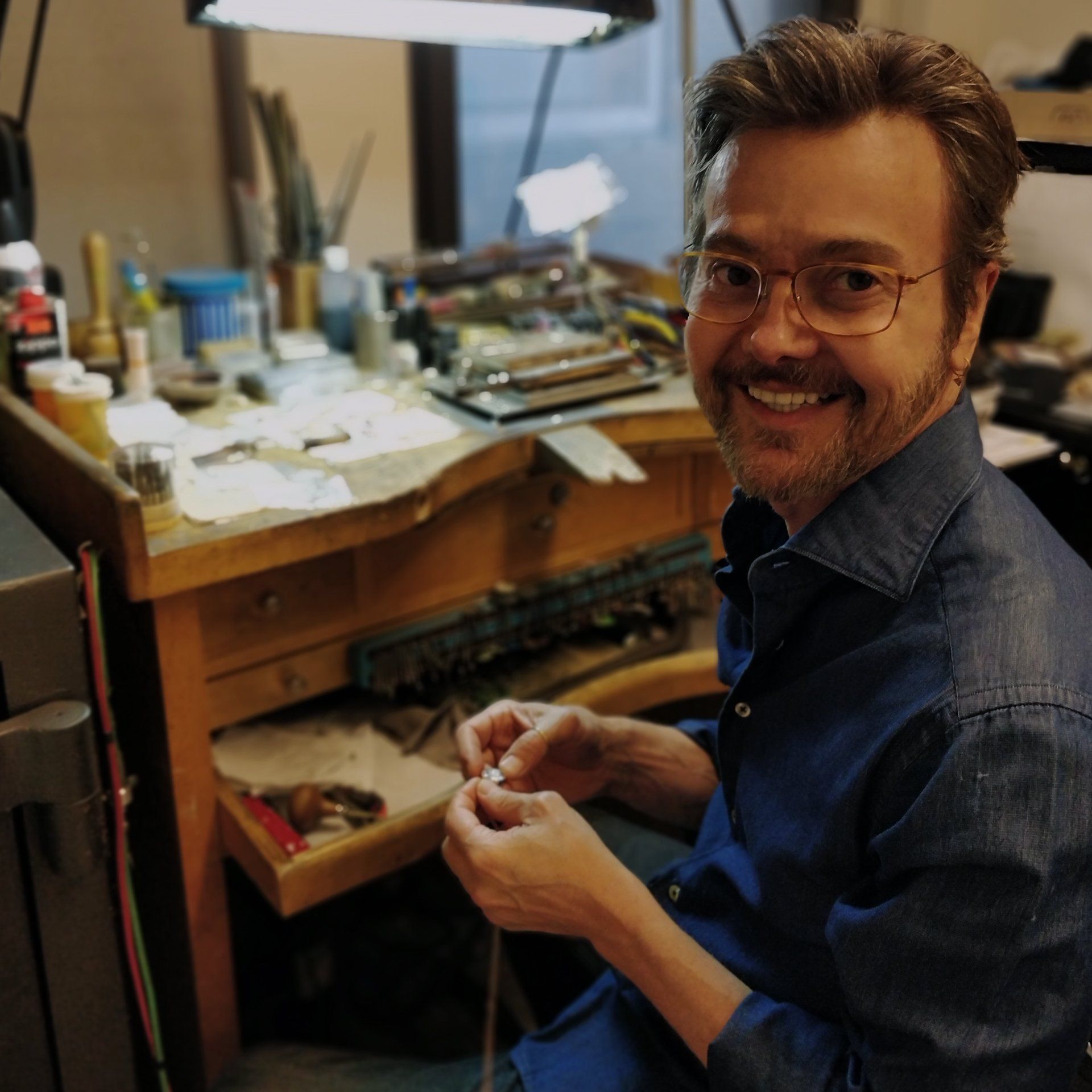 Deeply inspired by classical architecture and fine art, New York-based jewelry designer Moritz Glik blends traditional technique with a playful, avant-garde sensibility. His work is comprised of handcrafted one-of-a-kind pieces, each bearing the imprint of Glik's energetic pursuit of creative singularity. We caught up with Moritz over e-mail to discuss how the pandemic has changed his business and what we can expect in 2021.
CT: How has the pandemic changed your life?
MG: I am a homebody person and if I'm not working I spend a lot of time at home. I believe that my personality helped me to cope with the lock down in that sense. I missed meeting friends, of course, and, specially, missed the frenetic vibe of New York City. Whoever really knows New York understands how devastating it can be seeing the city completely closed, empty. Thankfully the city is now coming back to life and I'm proud to see that happening.
CT: How has the pandemic changed how you'll be moving forward in your business?
MG: The pandemic has certainly accelerated the development of our digital business. We started paying more attention to our photography, editorial content and overall information about every style of the collection and more importantly, metrics. This is helping us a lot in other areas of the business as well. With more business intelligence at hand we are able to make more assertive decisions and provide more support to our retail partners.
CT: You just moved into a new studio space, fill me in.
MG: Our new studio is great! After six months of construction, it was a relief to move in last February. The pandemic slowed down the conclusion of final details, but we are 95% done now. I'm very happy with the way things came out. The location is superb, and we are now booking private appointments, with Covid-19 protocol in place of course. It's really interesting being able to provide the behind the scenes experience to our clients. Our manufacturing shop and showroom area are divided by a glass wall so they can play with the jewelry while seeing how it's made.
CT: Who is your dream celebrity to wear your pieces?
MG: For many many years I said Madonna when asked that question, but nowadays I'd say Charlize Theron. Not just for her undisputed talent and astonishing beauty, but also for all the humanitarian causes she fights for. Having former first lady, Michelle Obama wearing my designs was also a personal highlight.
CT: What is your favorite piece from your collection?
MG: My favorites from the new collection so far are the rose cut diamonds styles and the combination of rubies, black diamonds and rose gold that brings out a retro look to the collection.
CT: What is next for Moritz Glik? / Do you have any fun project, launches coming up?
MG: It's a very exciting moment for the brand. We have just moved to a new studio on Madison Avenue, where we have a showroom and our manufacturing shop. We are also expanding for the Gulf region, which has been an important landmark for us. However, one of the things that has been exciting me the most are my plans for a home accessories line.
CT: What is your inspiration behind the new Apura collection?
MG: I've been revisiting "classics"and incorporating my identity on the pieces. Tennis bracelets, Riviera necklaces, Signet rings, all with a Kaleidoscope Shaker twist. I am also playing a lot with the scale, going for smaller but striking and big but light.

Pictured, above: Moritz Glik Shaker Collection
CT: Does living in New York inspire your work?
MG: Definitely. Like I said, all beauty inspires my work and NYC is just gorgeous. Moreover, the spirit, the mood of a place can be very inspiring. NYC is one of the most alive and fast paced places I've ever been and that fits my personality really well. It will be 30 years that I live in Manhattan next year so everything I do is somehow connected to this city. I became part of NYC at the same time that NYC became part of who I am.
---
Discover the Moritz Glik collection – www.moritzglik.com