FIVE SIGNATURE COSTUMES FROM THE CROWN SEASON 4
Posted on by Cameron Tewson
Glamorous gowns, ceremonial chic, and countryside casual have been The Crown's costume staples since the show's first season, which has seen the Netflix royal drama take home the Outstanding Period Costumes Emmy every year it's been in contention. Amy Roberts returns as costume designer for Season 4 (Michele Clapton designed Season 1 and 2), and the cultural impact of Princess Diana's entry into the royal family sets a high bar. After all, Diana was one of the most photographed and written about women of the 20th century, and her clothing choices still influence and inspire more than 20 years after her death.
The arrival of Lady Diana Spencer (Emma Corrin) coincides with the boldest sartorial decade in recent memory, but don't expect Queen Elizabeth (Olivia Colman) to embrace the trends of this era.
Continuing to embrace the countryside, Season 4 balances the pomp and flair of duty with rural pastimes, delivering iconic looks across the style spectrum. The delicate balance between instantly recognisable garments and creative freedom is a Crown costume design staple that continues with notable public events and private moments. Covering a decade and change, here are five ensembles encapsulate the style mood and important character developments of the Windsor clan in the show's fourth season.
Tartan Clan
The Crown has previously spent time at the royals' Scottish holiday home, but Season 4's second episode dials up the Highland activities. A mixture of wool tweed and tartan, the Windsors are in their element at the annual Braemar Games, where they watch men tossing the caber. But this is not a case of one pattern for all the Windsor clan. Rather, Princess Margaret (Helena Bonham Carter) stands out in purple heritage print, matching hat, and hot pink blouse, while Prince Charles proves it isn't just Outlander's Jamie Fraser who can work kilt magic on television. Meanwhile, Princess Anne's (Erin Doherty) handbag is a visual tether to her aunt's bold ensemble. Each royal is wearing a different shade and pattern, yet there's still a strong connection. This is even more apparent when their guest (not pictured here) is set adrift by her choice of cobalt blue.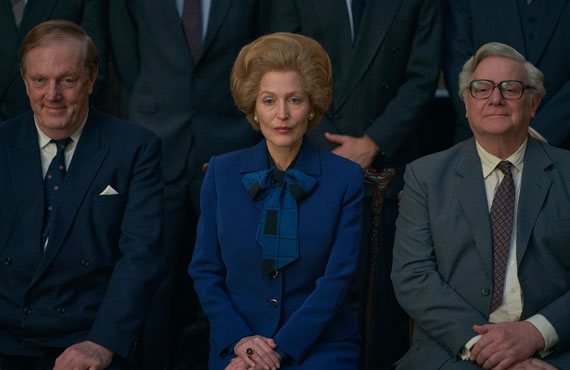 Pussy-Bow Blouse Power Dressing
Margaret Thatcher (Gillian Anderson) and Queen Elizabeth are the same age (give or take six months), but the pair rarely share a sartorial vision. Thatcher's all business, but she doesn't refrain from wearing the shade of blue to match the political party she leads. While the divisive figure rejected feminism (and any other women for her cabinet) there are flourishes of femininity in her choice of attire. The pussy-bow blouse is one shared garment between these two women in power, which sees Thatcher opting for a Céline style paired with a simple skirt suit. Women's fashions will always be more scrutinised than their male counterparts in politics, and Thatcher understood how to show loyalty through colour — even as she tore apart the country with her policies.
Sloane Ranger Rambling
The term Sloane Ranger began life in a 1982 satirical guide written by Ann Barr and Peter York to describe the upper-class set who had descended on Chelsea's Sloane Square in London, but it's a name that stuck. Countryside casual is a key part of this trend, which includes Diana Spencer's fondness for bold knitwear including the iconic sheep jumper that was recently reissued. Balmoral is a location made for wax Barbour jackets, and a pink Peruvian llama knit that was famously worn by the teenager in the early stages of her relationship with the prince. Diana's Technicolor Inca delight is in contrast to Charles' muted earthy tones, suggesting an incompatibility even at this early stage.
Wedding Gown Extravaganza
More than 750 million people across the globe tuned in to watch Diana Spencer become the Princess of Wales, and designer David Emanuel rose to the occasion by creating a bridal gown with a 25 foot long train. This is a fairy-tale gown filtered through the lens of '80s fashion, and while The Crown's Amy Roberts did not create an exact replica, she did consult with Emanuel during the process. The Brooklyn Museum currently has a virtual costume exhibition for The Crown, which includes a close-up of the infamous wedding dress interpretation. The silk taffeta creation used 95 meters of fabric, took 600 hours to make, and Emma Corrin required five fittings before the day of filming.
Houndstooth Armor
It would be easy to fill the Diana entries with glamorous gowns — of which there are several in Corrin's last episodes — but Maggie Thatcher is not the only woman to lean into the power suiting of the decade. The array of bold check tailoring showcases Diana's move into confident silhouettes. Even as ruptures continue to form, her clothing choices are taking on an armor-like quality. Diana has very little opportunity to speak her mind, but fashion gives her a voice and a chance to craft her image. Behind the scenes, little regard is given to her mental health, forcing her to exert control on her own. Moves are made in the last episode, and her final looks are putting up a fight.
The Crown's fourth season is now streaming on Netflix.