AS THE INDUSTRY CHEERS DOLCE & GABBANA, DON'T FORGET THEIR NOT-SO-BRIEF HISTORY OF RACISM
Posted on by Cameron Tewson
Dolce & Gabbana's Alta Moda show, staged in Venice over the weekend, seems to have given the fashion industry collective amnesia.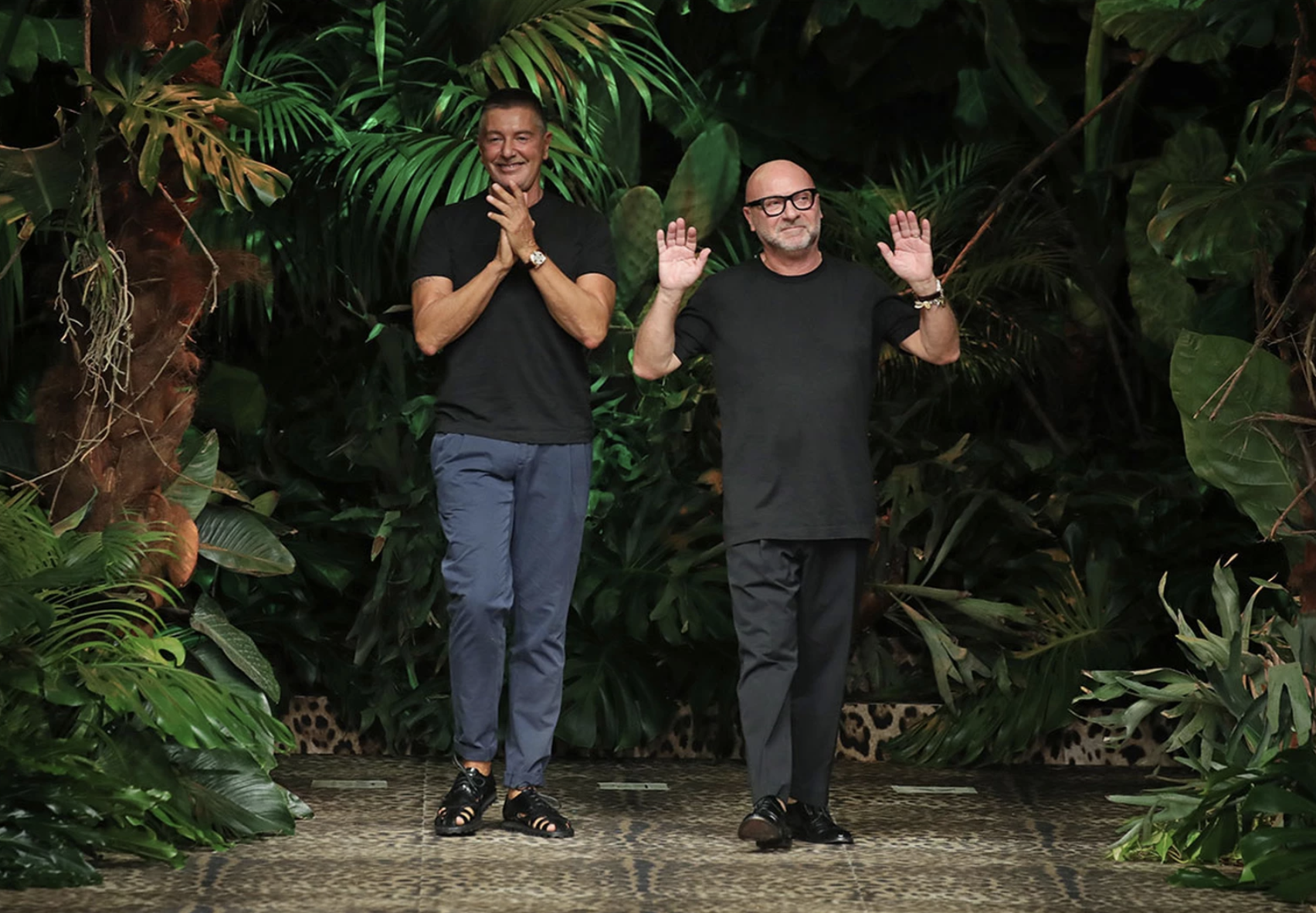 The flashy event, attended by entertainment heavyweights including Megan Thee Stallion, Jennifer Lopez, and Helen Mirren, garnered a slew of celebrity style buzz, as well as a glowing review on Vogue.
The abundance of A-list attendees — as well as the collection's seeming embrace by the fashion gatekeepers of Condé Nast — beg the question: does anyone remember Domenico Dolce and Stefano Gabbana's pattern of racist, homophobic, and all-together crude remarks? Just a few years ago, the design duo were called out for launching a racist ad campaign that depicted an Asian model attempting to eat Italian dishes with chopsticks. "Is it too big for you?" a voice-over (male, of course) condescendingly queries as the model fails to pick up a giant cannoli using chopsticks.
After one Instagram user posted about the infuriating campaign, Stefano Gabbana allegedly slid into her DMs to write, "China Ignorant Dirty Smelling Mafia." Charming. Devils advocates might regard the campaign as an excusable casualty of cancel culture, but a survey of Dolce & Gabbana's history reveals anything but a one-off offense. In 2012, the brand sent white models down the runway in earrings reminiscent of colonial "Blackamoor" statues, which depict Black people as racist caricatures.
In 2013, Gabbana attended a party in blackface.
Both Dolce and Gabbana said in 2015 that they oppose the idea of gay couples adopting. A year later, they released a $2,000 shoe called the "Slave Sandal." The pair then responded to outcry in 2017 over their support of Melania Trump with a rather tasteless campaign touting "#Boycott Dolce & Gabbana" T-shirts, made with the explicit purpose of trolling the brand's critics.
Last but not least: Gabbana deemed it appropriate to comment "She's so ugly!!!" on a 2018 Instagram post immortalizing Selena Gomez's red carpet style.
No matter how opulent the suits and gowns, it's baffling how quickly celebrities and journalists alike seem to have forgotten Dolce & Gabbana's outdated values.
As the fashion industry fails to hold the brand accountable for its long history of racism, misogyny, and homophobia, an old adage comes to mind: love — at least of Venitian photo ops and sequinned frocks — is blind.