It's hard to believe, pre-covid London welcomed more than 20 million overseas visitors in 2019, making the City the second most tourist-visited city in the world. It's no surprise that travellers from all over the globe are flocked to London in record numbers, given the city's extraordinary museums, fascinating theatre scene, numerous top sporting venues, and streets soaked in history. The British capital has accommodation to suit every budget, but if you want to do London properly, you're really going to have to splurge. To help you make the right decision, I've compiled a list of my own 5 preferred luxury hotels in London, see below exactly what is on offer.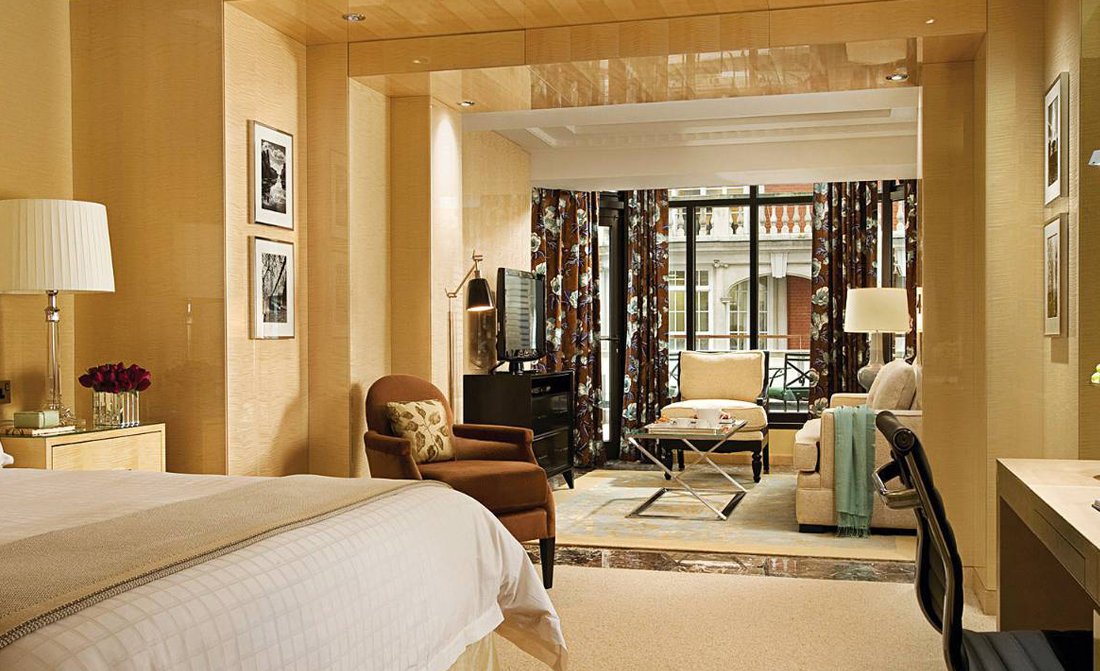 Four Seasons London at Park Lane
Surrounded by greenery in the heart of Mayfair, the luxurious and redesigned Four Seasons Hotel London at Park Lane is unique in London, yet still true to the city. Inspired by the "golden age of travel", the hotel's 147 guest rooms and 46 suites are a modern take on the staterooms of luxury passenger ships, using classic English shades and furniture. London is also where Four Seasons first introduced many of its signature innovations, from complimentary toiletries and multiple phones in rooms, to overnight laundry and one-hour pressing, to 24-hour business centres. Guests are free to use one of the two Rolls Royce Ghost house cars to visit anywhere within a mile of the hotel, perfect for exploring one of the many fascinating experiences right on our doorstep.
Address: Hamilton Pl, Park Ln, Mayfair, London W1J 7DR
Website: www.fourseasons.com
The Langham London
Located at the heart of London's West End, The Langham London is housed in a magnificent mansion atop Regent Street, one of the city's premier locations and shopping districts. For 150 years, the legendary hotel has enchanted royalty, dignitaries, and celebrities, and this European icon looks younger than ever, thanks to a major recent refurbishment. The 380 elegantly appointed rooms and suites evoke a residential ambience while offering the conveniences of today. The hotel also offers world-class facilities to restore body and spirit, with a chic spa and a 16 m (53 ft) swimming pool in the basement. The hotel's dazzling Palm Court is famed as the place where the tradition of afternoon tea was born over 150 years ago, an indulgence that lives on today as Tiffin at The Langham.
Address: 1C Portland Pl, Marylebone, London W1B 1JA
Website: www.langhamhotels.com
Bulgari London
Located in Knightsbridge on the edge of Hyde Park, London's Bulgari Hotel is both a haven of calm in the centre of the city and yet under a minute's walk from famous landmarks like Harrod's department store. Since opening in 2012 the Bulgari has set new standards among the luxury hotels of the British capital. Elegant contemporary architecture and Bulgari's legendary flair for design are matched by class-leading quality of service. The 85 light-filled rooms and suites are among the largest in London. Many look over Hyde Park and Knightsbridge and each is an uncluttered oasis of calm comfort and understated luxury. The hotel also has a 47-seat cinema, an impressive spa, and a unique cigar shop, to deliver a city hotel experience that is unique in the world.
Address: 171 Knightsbridge, London SW7 1DW
Website: www.bulgarihotels.com
Belmond Cadogan Hotel
Belmond Cadogan Hotel is superbly located on London's prestigious Sloane Street. This historic property, dating from 1887, opened early 2019 fully renovated and reconceptualised. Built in Queen Anne style, Belmond Cadogan Hotel has long played an integral role in the social history of the Kensington and Chelsea area. After a day spent sampling the delights of the city, you'll find every indulgence awaiting you back at the hotel. Cosy up in front of the fire with your drink of choice, dine on exceptionally executed modern British cuisine in the restaurant or slip into the indulgence of your beautiful suite. The hotel's 54 rooms and suites and gourmet restaurant reflect the hotel's rich heritage, creating a stylish retreat for visitors to what is one of the world's most exclusive and luxurious shopping enclaves.
Address: 75 Sloane St, Chelsea, London SW1X 9SG
Website: www.belmond.com
The Rosewood London
The Rosewood London, currently the finest five-star hotel in London, is situated in one of the UK capital's most historic thoroughfares, High Holborn. Blending English heritage with contemporary sophistication, the palatial building that houses the hotel has been sensitively renovated to create an ultra-luxurious hotel with the ambience of a stylish London residence. On arrival, an arch in the hotel's grand façade draws one into a tranquil courtyard, where the hum of the city slips away, replaced by an atmosphere of quiet sophistication and unsurpassed hospitality. It is the perfect start to a memorable stay in a timeless heritage hotel, set just steps from Covent Garden. The Rosewood London offers its guests true urban sanctuaries, with 262 rooms and 44 suites that are among the largest in London.
Address: 252 High Holborn, Holborn, London WC1V 7EN
Website: www.rosewoodhotels.com