FIVE OF LONDON'S BEST RESTAURANTS WITH OUTDOOR SPACE
Posted on by Cameron Tewson
From April 12th, hospitality can finally reopen its doors for outdoor dining and, quite frankly, we're certain everyone could do with an ice cold pint and some good food after months being cooped up inside. To help you decide where to head first, we've handpicked our absolute favourite restaurants, bars and outdoor venues in the city, from Jurema at The Mandrake to Circolo Popolare.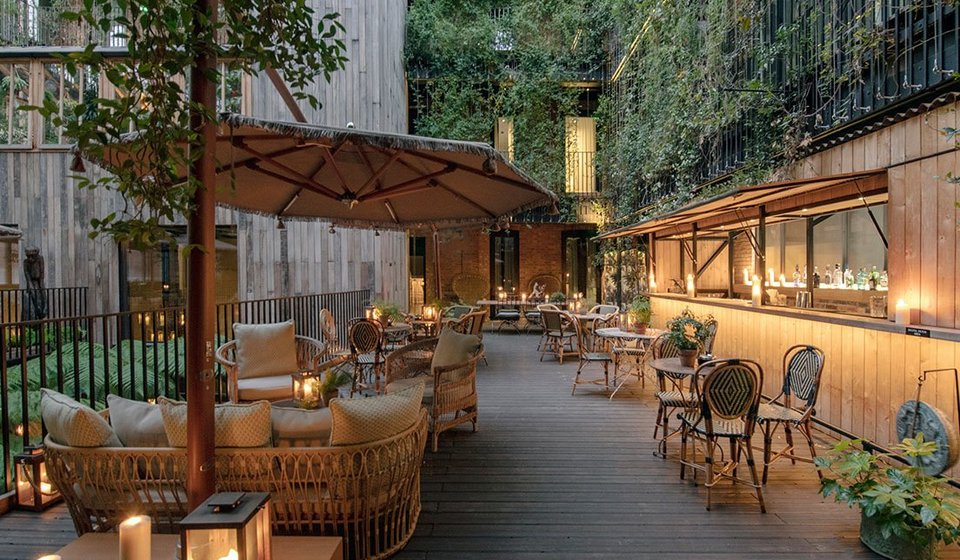 Jurema at The Mandrake, 20-21 Newman Street, Fitzrovia, W1T 1PG
Still making its way to the top of our outdoor wish-list comes the tropical-themed outdoor terrace hidden at the top of The Mandrake.
You can forget your woes and the fact it's likely to be pouring with rain when you walk into Jurema. It's an urban oasis that instantly transports you out of the city and onto a luscious tropic island, with its wood panelling, cosy outdoor sofas and khaki coloured parasols. On the food front, Jurema is home to a South American inspired menu, ranging from parmesan tapioca and aji pancha to lamb, fennel, potato and salted chilli empanadas, prawn, cucumber and raspberry ceviche to fried fish, spring cabbage, sour cream and pumpkin seed salsa topped tacos.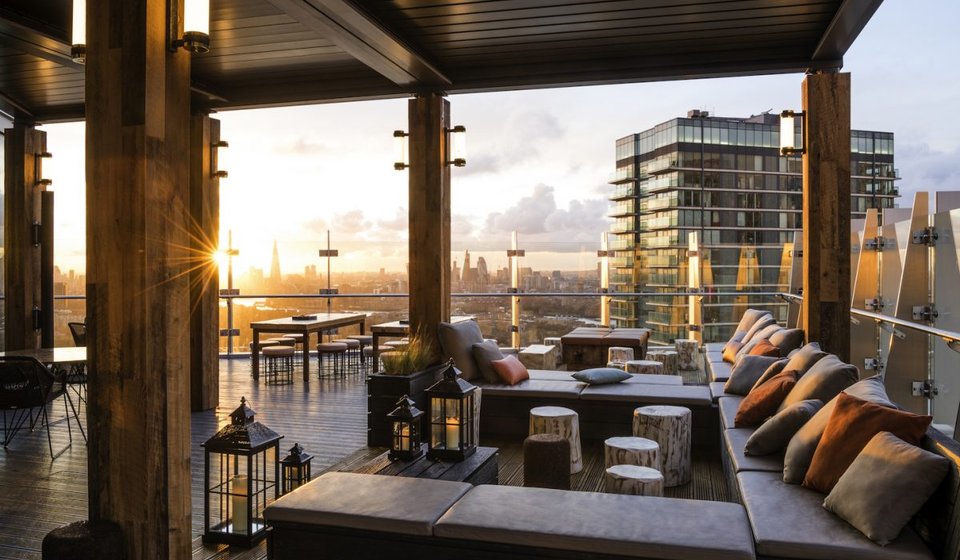 Bōkan, Floor 37-39, 40 Marsh Wall, Canary Wharf, E14 9TP
Expect jaw-dropping panoramic views overlooking east London's skyline as you wine and dine at trendy rooftop restaurant, Bōkan. The rooftop itself is set high up on the 39th floor and is abrim with cushioned day beds and cosy corners, all set to their industrial style interiors inside. After you've dined in the restaurant two floors down, venture up and enjoy a cocktail or two overlooking the best of London.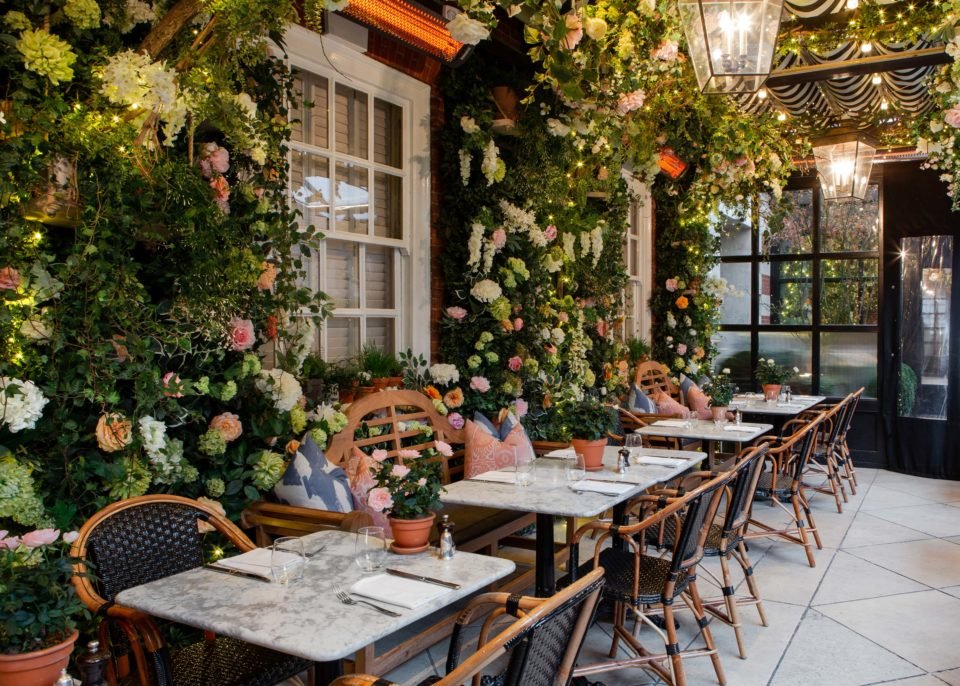 Dalloway Terrace, 16-22 Great Russell Street, Bloomsbury, WC1B 3NN
Changing with the seasons, expect Dalloway Terrace's floral installation to have been given a spring makeover. The Instagrammable restaurant, has partnered with Master Florists McQueens and Belvedere Vodka this season, and will be inspired by the rolling hills of the British countryside, scattered with dried wheat, corn flowers, daisies and pampas grass. Enjoy seasonal dishes, afternoon tea or go all out with cocktails with your pals.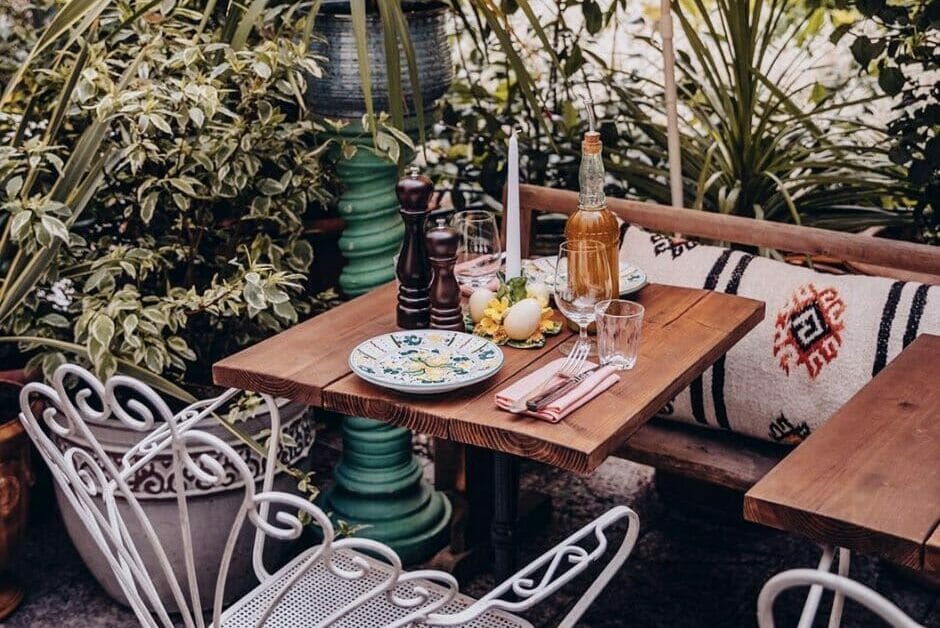 Circolo Popolare, 40-41 Rathbone Place, Fitzrovia, W1T 1HX
The Fitzrovia hotspot came onto the scene just last year, bringing with it 20,000 bottles of spirits lining the walls and it soon became a favourite among influencers and Instagrammers alike. And now it might be our favourite spot to alfresco dine too! In true Big Mamma Group style, the terrace at Circolo Popolare reflects the restaurant's interiors; bold, big and beautiful and you'll find them serving up authentic Italian fare.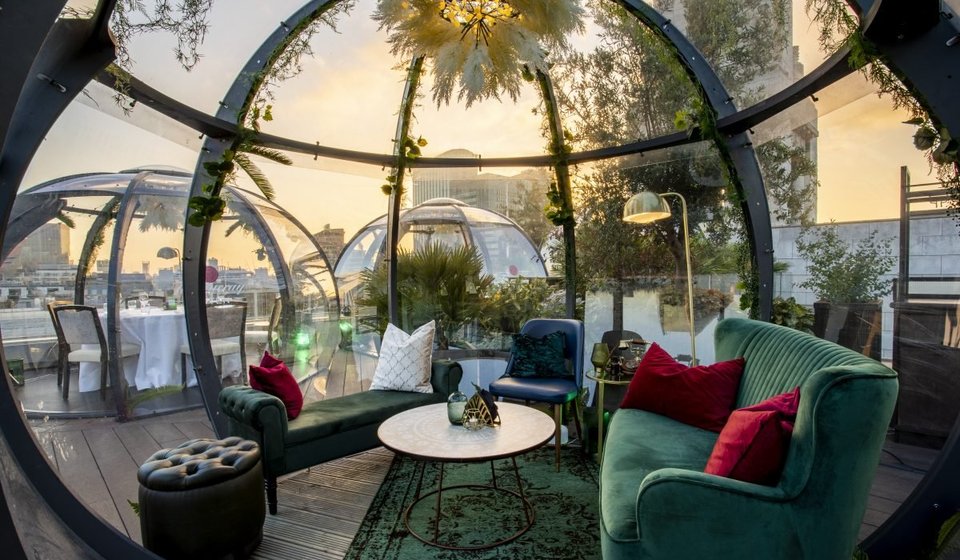 Aviary, Royal London House, 10th Floor Montcalm, 22-25 Finsbury Square, EC2A 1DX
Dine sky high at London's favourite igloo restaurant, Aviary. The iconic rooftop bar and terrace will be reopening this April, returning with eight igloos available to book in for with your friends for a mega reunion. Enjoy cocktails, fine fare and soaring views overlooking London's iconic skyline.