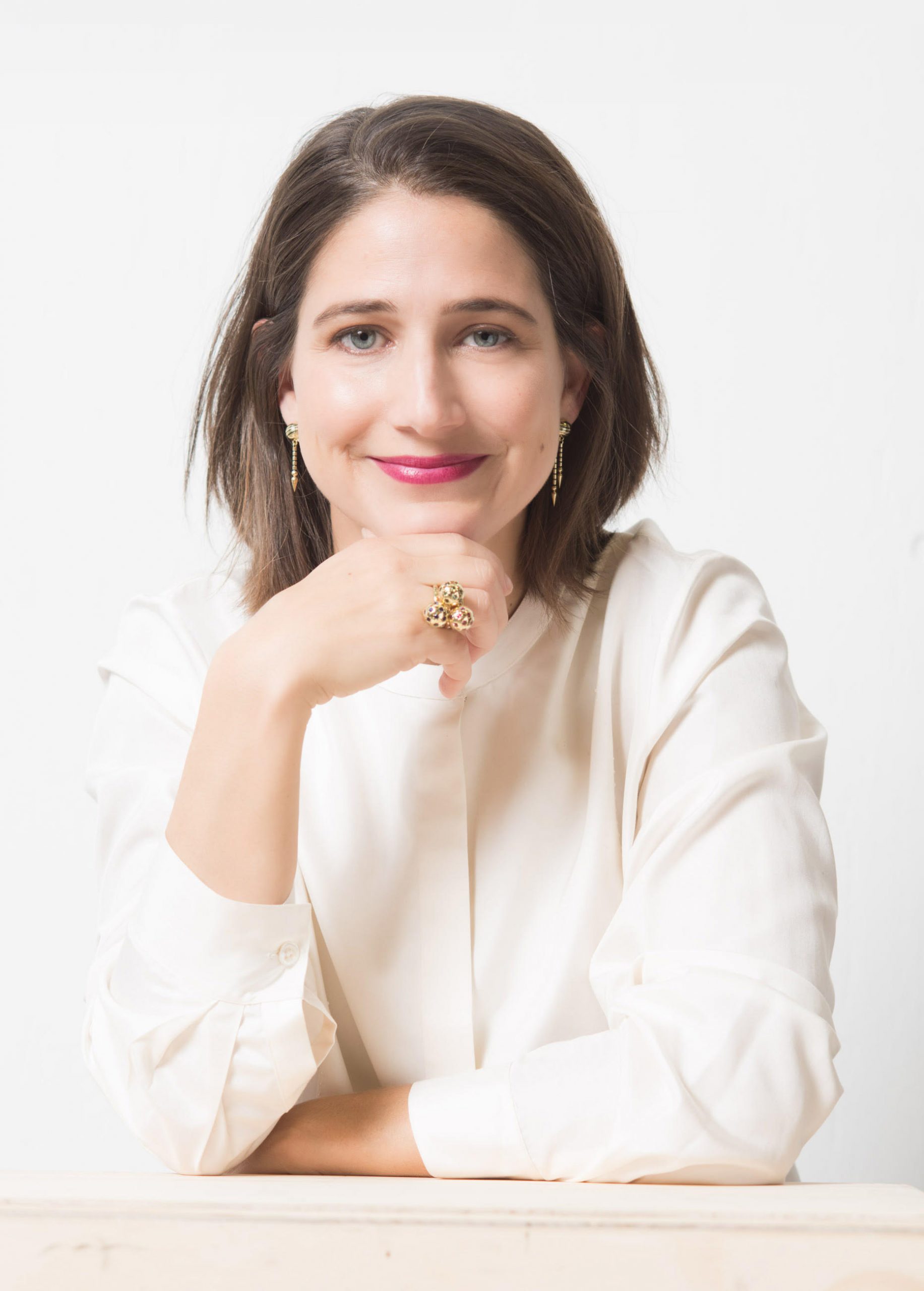 Sarah Hendler is a Los Angeles-based fine jewelry designer and vintage jewelry curator, born and raised on the Gold Coast of Long Island, New York. Whether admiring the classic staples her grandmother wore every day or the gems her mother pulled out to wear on a special occasion, Sarah has always recognized the significance of jewelry in a woman's life. We catch up with Sarah via e-mail to find out more about her business, designs and the latest [email protected]$H up curated collections she has been working on during the Covid-19 lockdown.
CT: Tell me more about your brand?
SH: I really value fine jewelry for everyone. All different price points, all different stones and metals. I want you to wear it with everything. Your vintage mixed in with the classics of today. It was important for my newest collection, [email protected]$h Up, to reflect the current times. Giving people choice and creativity.
CT: Did you know you always wanted to work with jewellery?
SH:I worked in the film industry for a long time as an assistant to film directors and then made my way to produce on my own. I loved the way props and accessories for characters would help tell the filmmakers story. I always collected vintage and estate jewelry. So it transitioned from collecting to actually creating my own pieces. It was a long process of testing ideas and seeing what people loved.
CT: When did you launch and what made you want to start your own brand?
SH: I launched in 2016 and named my signature collections after my grandmothers, Shirley and Ethel. They have been my inspiration to really pivot to Jewelry from my work in Hollywood. I knew I had an eye for collecting. So it was the natural next step to actually start producing pieces and launch a line.
CT: What three words would you use to celebrate your brand and why?
SH: Classic, because these pieces will not go to of style. They can be staples in your collection forever. Thoughtful, because I care about my client and what they want from a piece of my jewelry. Detailed, because I think about it all! How earring will sit on the ear? Where the chain and charms will lay on the body to layer just perfectly!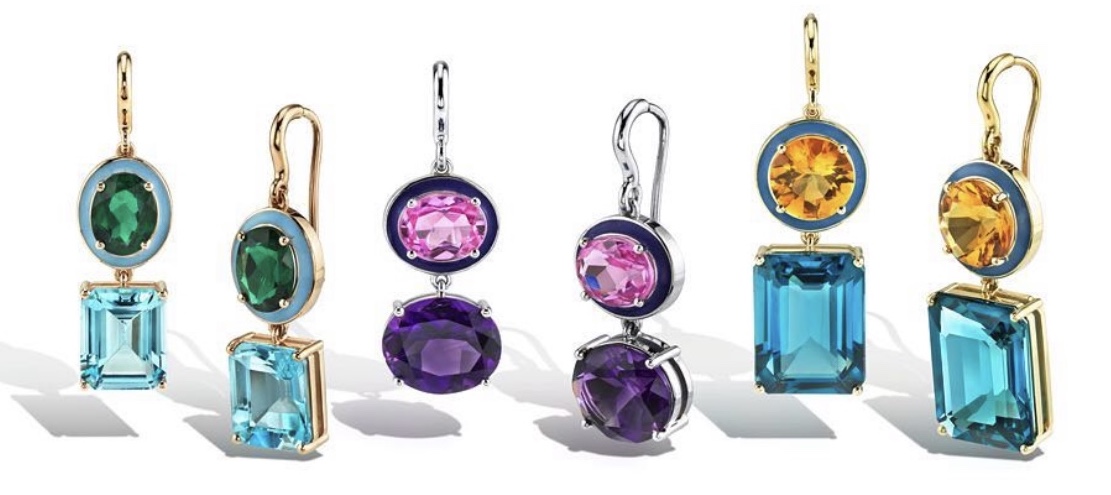 Pictured, above: Sarah Hendler's Gaga Earring Collection
CT: When did you realise you wanted to pursue a career as a designer?
SH: I started to sell beyond local LA clients and friends, while stores across the country were interested it became a real business. I knew that if I was going to give it a real shot, I had to do wholesale and reach a broader market then just the West Coast.
CT: How important is sustainability to your business and supply chain?
SH: Los Angeles Jewelry District is where I manufacture. It is important because I can quality check and keep my business as local as possible. I do not waste castings or any of my metals. Trying to be as resourceful and thoughtful as possible.
CT: Where do you source your stones from?
SH: I have attended the Tucson show in Arizona. I mainly source from local dealers in LA who get stones from all over the world. My manufacturer and I go through all options of stone size and quantity for my pieces. Quality control is a priority to me. I want to make sure each stone and piece will be flawless for the costumer.
CT: What pieces are you wearing today?
SH: My dome pave rings and all my [email protected]$H up studs from my new collection. I love how easy even two of the rings stack, making a big statement. My new stud collection is so fun and easy to wear. You want a matching pair, I got you. You want to layer your whole ear with different stone shapes, metals and colors, I got you too!
CT: What famous person would you like to see (or have seen) wear your brand?
SH: Madonna wore my Shirley Rhodolite and black enamel striped earrings. That was pretty incredible. She is a style icon and a force for any woman to be strong and bold. I would love to have my jewelry worn by some fierce political women like, Michelle Obama, Kamala Harris and Jill Biden.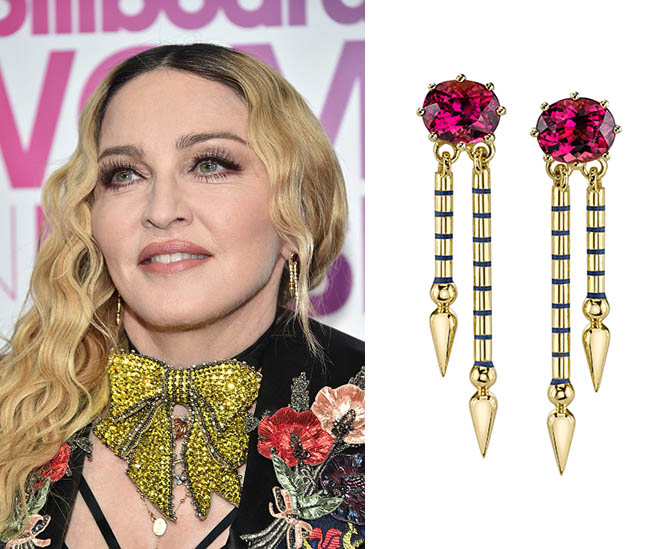 Madonna Image from The Aventurine article, here
CT: If you could go back and tell yourself one thing, what would it be?
SH: Just be patience. Social Media lends itself to everything being fast and you have to be the first. But good things come to those who wait. That is also is a thread in my design work. Some of my enamel pieces are made to order. You can't have the instant gratification for everything. There is a craft and people using their hands to make these pieces.
CT: What is next for Sarah Hendler?
SH: I am thrilled to still be working and creating during these crazy times. I have multiple collections coming out in the next few months and will be adding to my [email protected]$H up collection, introducing more necklaces and doing a fun line that will have a great price point.
---
Discover Sarah's collection at: www.sarahhendler.com