PARIS FASHION WEEK: VIVIENNE WESTWOOD GOLD LABEL
Posted on by Cameron Tewson
For my first Vivienne Westwood Gold Label experience, I had arrived for the pre-show run through where the t-shirts that the models were wearing the show notes out loud 'UNISEX' and from then we knew it would be a show and a half… There's an element of Working Girl the collection and the jackets. Mannish with exaggerated shoulders, they came in a broken pinstripe or classic over sized check. We died when 6ft 3 Gwendoline Christie walking the runway in such a chic way. I love Westwood, and of course the show.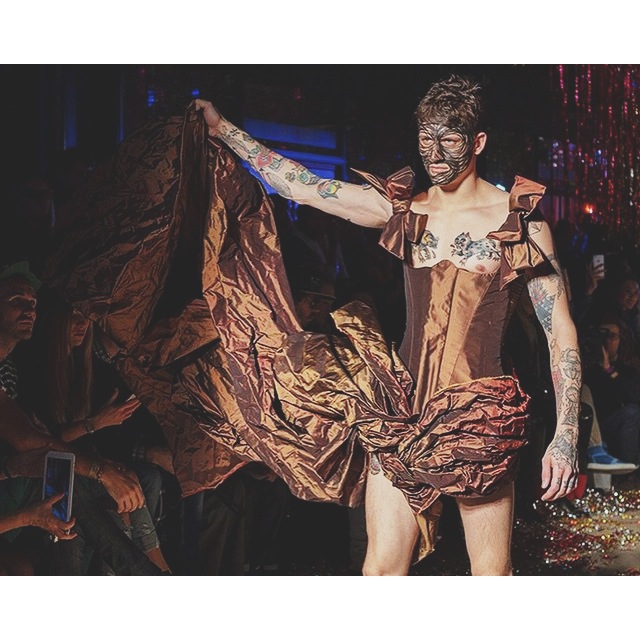 Westwood's show notes revealed a latest hint to her campaign:
Here I am in Paris at our fashion show which is "Unisex". But right now in London there is a demonstration
called "Time to Act" demanding action to stop climate change. At the same time as the march our models are on
the catwalk. I cannot be there in person but I've sent a message.
There is massive rise in opposition to governments all over the world and after we vote in the UK May election
there will be new M.P's – Scottish Nationalists and the new Green M.P's who will join this opposition. The
main parties won't change anything but the Public Debate will. The debate is all over the Internet but that's not
good enough we must vote and demonstrate.
So I hope what happens this year will be literally life-changing. We had a great time doing the collection.
"Unisex"! – as usual with a collection we went through hell. But we came out the other side. Trousers for
women, yes!Dresses for men, the same dresses that women wear? Do that! It takes a lot of trial and error.
Dresses without a woman's waist! But then you, the woman, look like a king or queen (from history or a parallel
universe)- you the man look like a king or a queen!
I love the change in proportion: the big shoulders give a small head- it's so sexual because it's new, it makes
you look at the person from outside, it's all so sexual because we're looking at people with new eyes.
What about the fabrics? Start with the hula skirt- we put them on belts; they're bisexual. The pagan wools i.e.
bio- friendly matted sheep's wool. A shepherd? A Sumerian? (we know almost nothing about them except for
their sheepskin skirts). What are we talking about? Time: human beings have forgotten more than we know.
But we sort of know what's human. Let's go for it: Study the past.There's a hint of it in the future