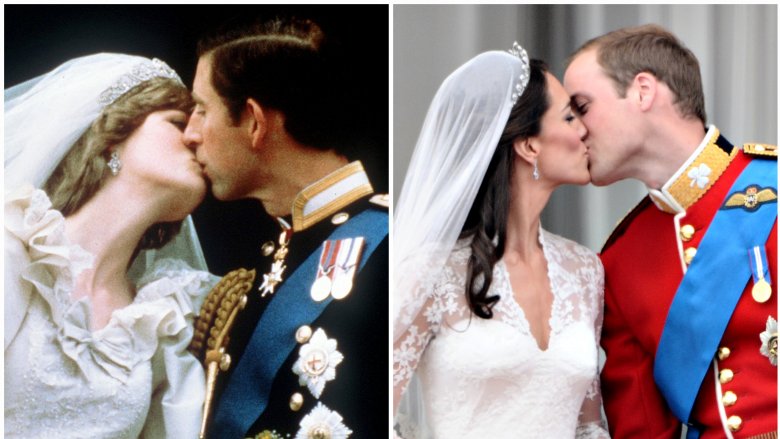 Before Prince William even announced his engagement to Kate Middleton in November 2010, she had been in the spotlight long enough to warrant inevitable comparisons to the late Princess Diana.
Commenting on the ensemble Kate wore to a wedding in October 2010, CNN speculated that, "Surely the late princess would have approved of Kate's outfit on Saturday — bright pops of color and full skirts are pages right out of Diana's style playbook. Like the people's princess, Kate is frequently seen in well-tailored clothes that flatter her figure without ever being overly revealing or too tight."
Of course, those comparisons went into overdrive as soon as the pair announced their engagement one month later, and since Kate's sense of style is so similar to that of her late mother-in-law, the similarities only keep coming.
Prince William gave Kate his late mother's sapphire and diamond ring when the two got engaged, so it's not terribly surprising that the dresses the two women wore for their official engagement announcements were designed to match the dazzling ring.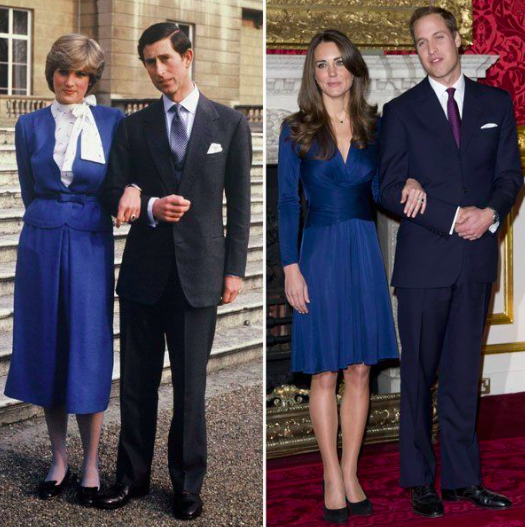 THAT RING, AND THOSE MATCHING BLUE DRESSES
As People notes, Kate wore a blue wrap dress designed by London-based designer Issa and paired the classic silk wrap dress with simple black pumps. (As anyone who saw the press call announcing their engagement will remember, she looked fabulous.) Kate's dress hearkened back to the blue dress that Diana wore when she and Prince Charles got engaged in 1981 — which, one would assume, was also chosen to accentuate the brilliant blue sapphire ring.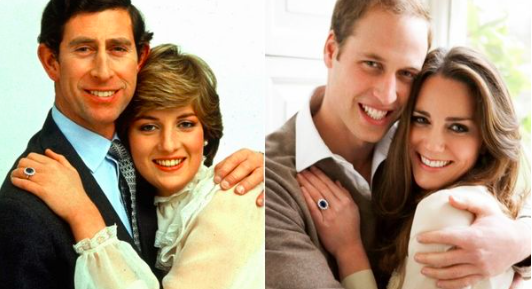 LIGHT, ETHEREAL BLOUSES IN PORTRAITS
As if that weren't enough, William and Kate's official engagement portraits featured Kate wearing a blouse remarkably similar to the one worn by Diana in her own engagement portrait. Back in 1980, Diana wore a pale pink blouse designed by London-based fashion designers David and Elizabeth Emmanuel — the same pair that would later design her wedding dress — when sitting for her engagement portraits.
As Elizabeth Emmanuel told The Telegraph, "'We got a phone call from Vogue magazine asking us if we had anything that we could lend, a blouse with a high neck, that could be worn by a very famous personality….[t]hey didn't say who it was, we didn't know at the time it was for Diana, when we did find out we were very excited."
Kate, meanwhile, wore a cream-colored silk top from the popular British clothing store Whistles. According to People, the top, which was released as part of the store's fall 2008 collection, was originally sold for $155 — but was re-released in 2011 after Kate-lovers were unable to track down the blouse in stores. Renamed the Kate Blouse, it was re-released at a higher price point ($203) due to high demand.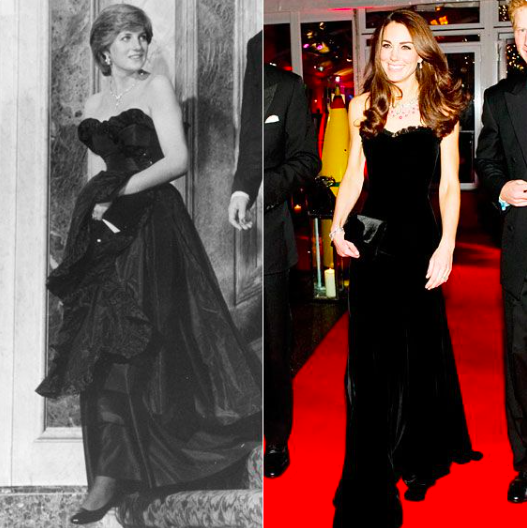 BACK IN BLACK
In 1981, just after Charles and Diana had announced their engagement, the pair stepped out for their first official outing as a couple. As Glamour explains, this particular occasion was a big deal for more than one reason: in addition to being the couple's first official event together, "many people point to that occasion — a charity ball at Goldsmiths' Hall — as the turning point in Diana's style legacy."
According to the BBC, designer Elizabeth Emanuel wrote in A Dress for Diana that "the transformation was incredible." When Diana arrived to try on the dress, she came in looking "'like the nursery school teacher she was,'" but when she left, she "'looked like a movie star….[W]e hadn't considered the fact that when Diana bent over — as she would have to do when getting out of the car — she would show quite a lot of cleavage. We just thought she looked fabulous.'" The décolletage sparked quite a scandal, by early 80s royal standards, and earned Diana the nickname "Daring Di." The dress was auctioned off in 2010 for £192,000.
Thirty years later, Kate wore a similar gown to the 2011 Sun Military Awards ceremony at the Imperial War Museum in London. The form-fitting, black strapless dress, which E! Online notes was designed by Alexander McQueen, was trimmed with ruffles along the neckline — just like the dress that had pitched Diana into the spotlight as a fashion icon.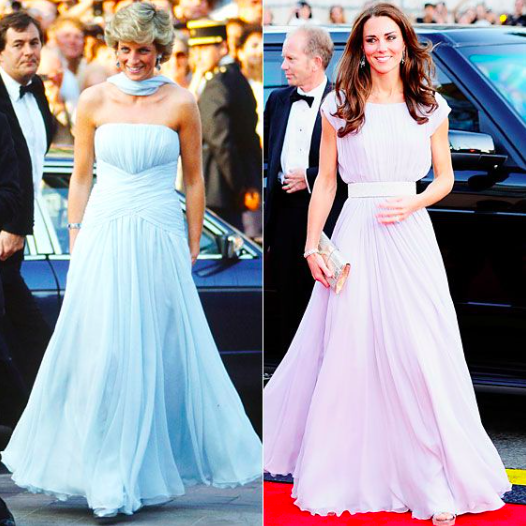 TWINNING IN CHIFFON 
Looking good in chiffon requires grace and elegance — and, not surprisingly, these are traits that have been used to describe both Kate and Diana. Ever the fashion icon, Diana looked sophisticated and graceful in a powder-blue, strapless chiffon dress with a matching scarf when she attended the 1987 Cannes Film Festival. The ensemble, designed by Catherine Walker (who was among Diana's favorite designers), was sold at auction for £81,000 in 2013, InStyle UK notes.
Twenty-four years later, Kate looked stunning in a similar dress when she attended the 2011 BAFTA Brits to Watch event in Los Angeles with Prince William. The pale lavender chiffon dress, designed by Alexander McQueen, was a flowing, pleated, floor-length gown — which, according to US Weekly, she paired with earrings loaned to her by the Queen, her own jewelry, and Jimmy Choo shoes.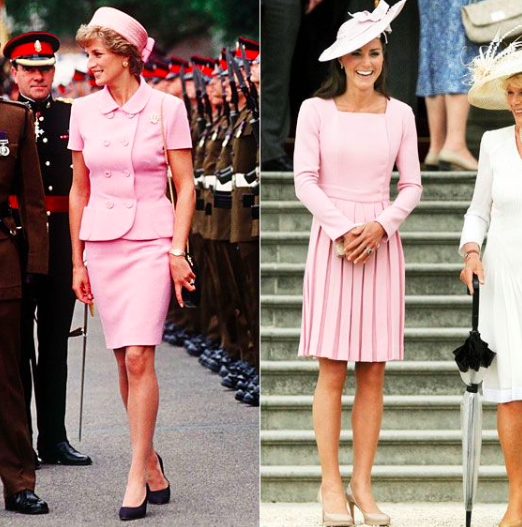 PRETTY IN PINK
In 1995, Princess Diana wore a pink Jackie O.-inspired suit, designed by the late Gianni Versace, while visiting British troops.
Kate replicated the look in 2012: according to InStyle, she attended "a garden party at Buckingham Palace celebrating Queen Elizabeth's Diamond Jubilee" wearing a rose pink dress created by British designer Emilia Wickstead. The dress — which, according to Marie Claire UK, she matched with champagne satin pumps and diamond earrings — looked impressively similar to what her late mother-in-law had worn 17 years prior.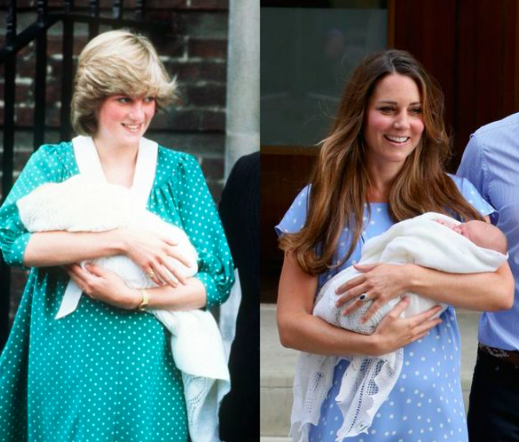 MATCHING MOMS
After Diana gave birth to Prince William in 1982, she, Prince Charles, and newborn William greeted the crowds outside the Lindo Wing of London's St. Mary's Hospital. Wearing a loose-fitting, light green polka dot dress, the new mom exited the hospital with Charles and William before the new family of three set off for Buckingham Palace.
When Prince George was born 31 years later, Kate, in what was seen as a clear nod to Diana, wore a light blue polka dot dress when she and William presented their new son to his adoring public — also outside the Lindo Wingof St. Mary's Hospital. The dress, which The Today Show notes was custom made for Kate by British designer Jenny Packham, seems to have been Kate's way of involving George's late grandmother in the momentous, and joyous, day.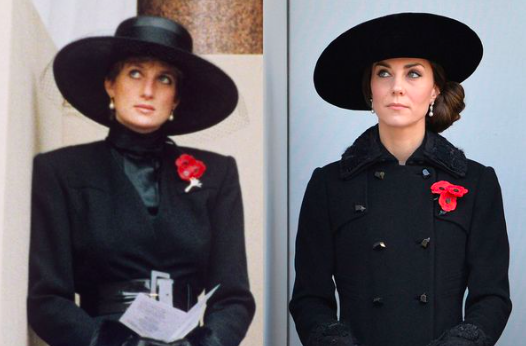 KATE STRIKES A DIANA POSE
On Remembrance Sunday (for those of us in the U.S., this is the UK's equivalent of Memorial Day) in 2016, Elle reported that Kate "unknowingly recreated a pose Princess Diana made" while attending the same service in 1991.
Kate, who was wearing a black Diane Von Furstenberg jacket with a wide-brim black hat and teardrop earrings, joined the other royal women — per tradition — on the balcony over London's main war memorial, as she has in years past. This time, however, she inadvertently struck a pose that bore a stunning resemblance to Diana at the same event: as People notes, Kate was seen looking up at the sky, exactly as Diana was, in an iconic photo taken 25 years ago. The resemblance is uncanny!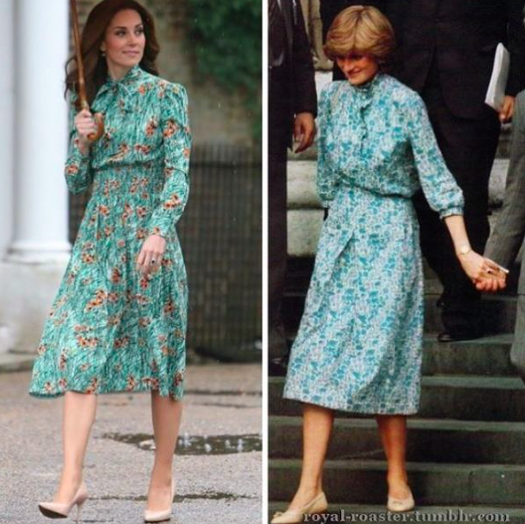 THE 20th ANNIVERSARY OF DIANA'S DEATH 
Most recently, Kate paid sartorial tribute to her late mother-in-law on the 20th anniversary of Diana's tragic death. As USA Today explained, during a tour of the Sunken Garden at Kensington Palace — which was transformed into a sea of white flowers in honor of the late Princess — Kate wore a colorful floral Prada dress that appeared to pay respects to Diana on multiple levels. The most obvious among them was the fact that the floral fabric pattern featured poppies, which is a symbol of remembrance in the UK.
However, fashion mavens and royal watchers noted that there was a more subtle form of homage as well: "[the] dress is also a bit of a throwback to the '80s style frocks Diana was known for when she was first engaged to Prince Charles, and a young mother to William and Harry. The flouncy silk-crepe fabric and pussy-bow neckline evoke many of the princess's notable dresses from the time," USA Today noted. Clearly, Kate wasn't going to let the anniversary of Diana's passing go by without some incredibly thoughtful tributes to the mother-in-law she never met.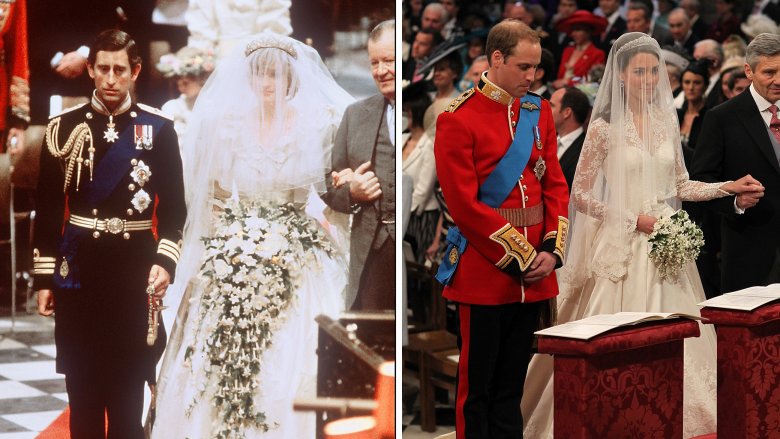 DIANA'S LEGACY LIVES ON
William and Kate had been dating each other for eight years before becoming engaged, so Kate had certainly come to understand how hugely important Princess Diana had been to her sons, and how devastated they had been by her death. It seems, and it's probably safe to assume, that Diana's absence is acutely felt.
Kate has said that she wishes she could've met Diana, and according to CBS News, in Kate's first televised interview — which was filmed just after she and William announced their engagement — Kate said that she feels Diana was an inspirational woman. Despite never having met Diana, Kate, who is widely regarded as a fashion icon in her own right, certainly appears to have been inspired by Diana's fashion sense.