SHOP: FIVE VOTARY PRODUCTS YOU NEED RIGHT NOW
Posted on by Cameron Tewson
 I don't know about you but I am bored and simply fed up of using endless products to get the oversold yet not-existent, thirst-quenching moisture. But, rejoice! I think I've found the solution to problem of all problems, and its called VOTARY.  The business founded by British make-up artist Arabella Preston who believes H2O isn't always good for your face. Preston created the line that is refreshingly made without mineral oils, petro-chemicals and unnecessary preservative. To boast even more, all products harness the natural power of plant oils and active ingredients. 
Check out my top five products from VOTARY: 
SUPER SEED CLEANSING OIL
Pumpkin, chia, broccoli and strawberry are just four of the twenty-two Super Seed oils in this cult formula.  Perfect for delicate or sensitised skin, or for use during pregnancy or at times of hormonal flux, it's fragrance-free and packed full of natural goodness. It balances and hydrates whilst deep-cleansing, leaving skin feeling clean, soft, soothed and fed.
Simply use 4 to 5 pumps of oil into the palm of your hand. Spread between your palms and then apply to your face. Start with your cheeks, then your nose, mouth and jawline and finally the area around your eyes. Splash your face with warm water and continue to massage the oil into your face and eyelashes.
Super Seed Cleansing Oil £55.00 from VOTARY
SUPER SEED NUTRIENT CREAM
Votary's Super Seed Nutrient Cream is a carefully formulated source of support for fragile skin.  Its calming formula is fragrance free, natural and boosted with 22 richly nourishing super seed oils. It helps to create a layered barrier between your face and the world, protecting against cold or dry air and restoring comfort to your complexion. Deeply moisturising, protective and fabulous for skin recovery, Super Seed Nutrient Cream's unique formula leaves your skin matte, smooth and ready to face the elements.
Super Seed Nutrient Cream £65.00 from VOTARY
SOY WAX CANDLE
Perhaps not for the face. This perfect pre-sleep smoother is a natural soy wax candle that is infused with Votary's bespoke botanical fragrance of lavender, rose and chamomile essential oils. 
Lavender and Chamomile Soy Wax Candle, £45.00 from VOTARY 

NATURAL LIP OIL
Enter Votary's first ever specialist lip product. The new lip oil provides intense nutrition for your lips and of course is 100% natural. The handy wand applicator allows for convenient touch-ups throughout the day while restoring gloss and comfort to your bare lips or a subtle sheen when applied on top of lipstick.
Enriched with African watermelon, passionflower, jojoba and sweet almond oils work to nourish and soothe the lips, boosting moisture levels, naturally.
Natural Lip Oil – Almond and Green Mandarin, £30.00 from VOTARY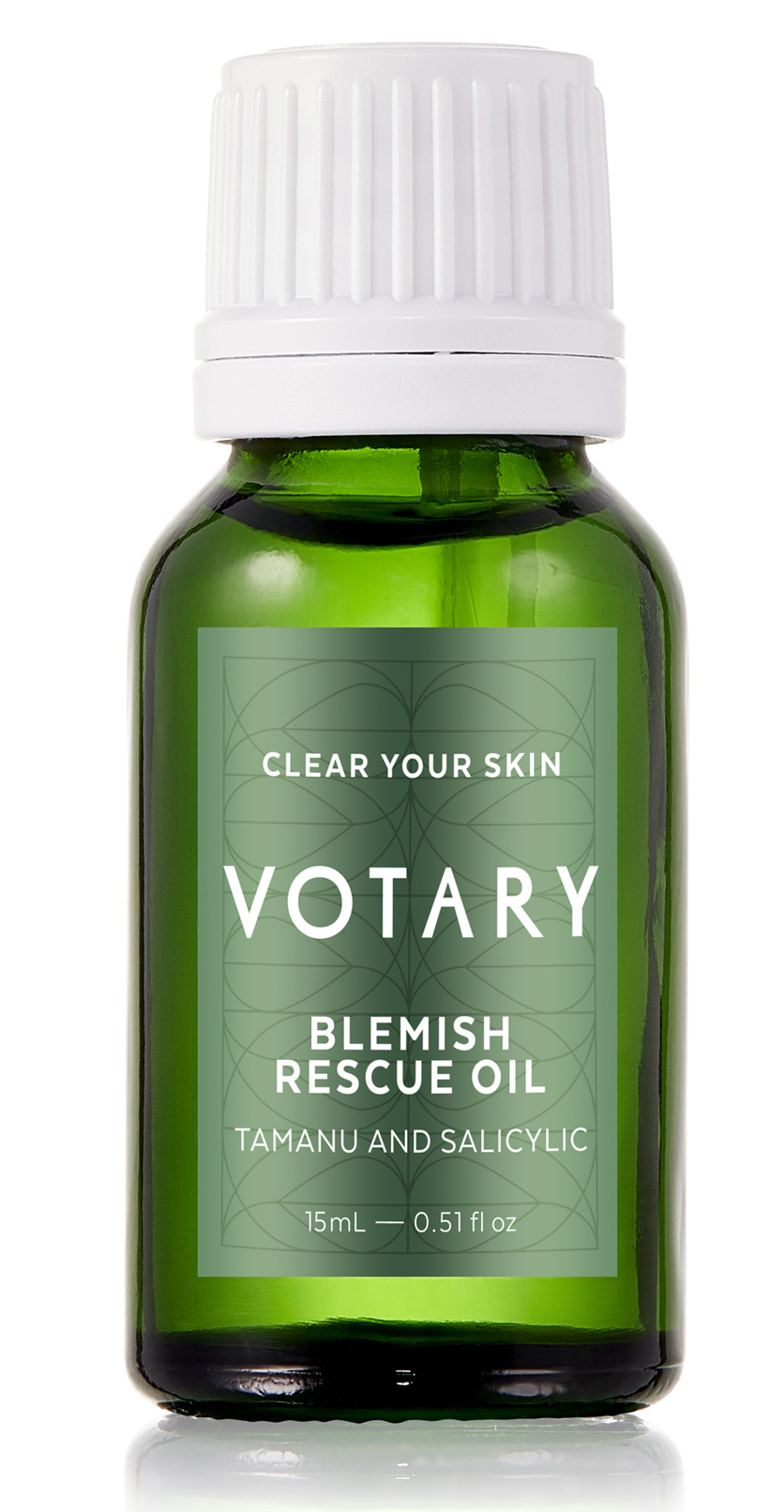 BLEMISH RESCUE OIL
Let's face it, we all have them – but you can now treat them with Votary's natural anti-inflammatory concentrate. The product consists of 2% salicylic acid and soothing tamanu oil. Derived from the American wintergreen plant, it penetrates pores and dissolves dead skin cells. Redness and inflammation is calmed. Healing is speeded up while scarring and marking is minimised.
Blemish Rescue Oil, £35.00 from VOTARY
Please note: Occasionally, I use affiliate links on our site. This does not affect any editorial decision-making.