REVIEW: MOSCHINO AUTUMN WINTER 2018 MENSWEAR
Posted on by Cameron Tewson
Moschino. Yeah, I've never been a fan either. Only Jeremy Scott would send the fashion crowd running around Milan with a videocassette tape in their bags. You guessed it – that was the invitation to the Moschino show.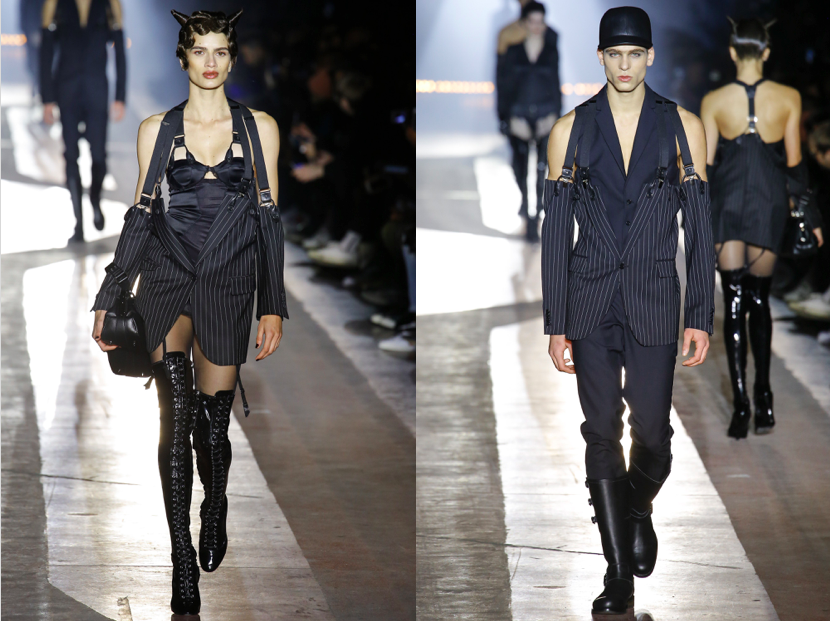 The mixed men's and woman's collection started with some deconstructed pinstripe suits, held suggestively together by suspenders or garters but quickly devolved into an S&M role play exploration; complete with a chauffeur in a silken white cape shirt followed by a madam in a black latex body suit. Beyond the runway props and edgy fashion statements, Scott also included pretty sheer dresses and skirts, as well as suits that suggest nothing more than business. Well, that is if you have a night job and leave home the leather props in your purse.
But even then, Scott pushed the envelope. Turn your head and look at the back of the suit, and there might be a trailing evening dress, or a panel made from a beaded women's dress.  Over all the Carlo Mollino prints to the Stephen Sprouse 1988 style printed features, Moschino could be better.