Archetypes of Englishness inspire the Mulberry Spring Summer 2018 collection – Edwardiana, Ascot Ladies' Day, garden parties, the great tradition of tea in fine bone china. Pastimes from another time, to inspire a collection for the present.
"It's about British culture, English culture," says Mulberry Creative Director Johnny Coca. "I've visited houses in England with walls of antique porcelain objects. They represent a heritage, something that you can pass down, and something for the next generation to make their own."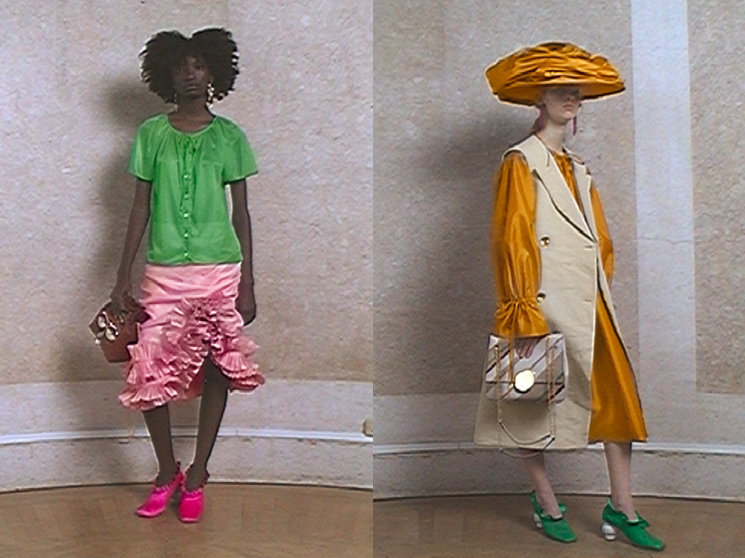 Key patterns are drawn from the painted florals that adorn English china services, and the classic multi-coloured stripes of seaside deckchairs in a colour palette of faded blush, antique blue, dusty yellow and a vibrant field green. Two seemingly contradictory prints – bold geometrics and extravagant foliage – join forces under the umbrella of Mulberry's signature take on English eccentricity.
Jewellery migrates to bags, with bijoux faces – like found assemblages of heirloom jewels – decorating the Lynton sac styles, while other styles feature oversized acetate chains like re-proportioned necklaces. Brooches become oversized earrings with waterfalls of stones, enamelled decorations may adorn belts, and earrings are like tiny chandeliers pulled from a doll's house, in sparkling gems and matte pearl finishes. These are pieces to be both worn, and treasured.
Low heels, fluted and rounded like china vases, offer another take on contradictions of strength and fragility. The shoe and boot styles are in soft nappa, with the ease of a ballet slipper in a rounded snub- toe, often a ruffled edging and an ankle strap. Other styles have furry trims, like boudoir slippers requisitioned for daily use.
Coca's love for English classics, history and figures also incarnates in extravagant and witty millinery, created by Noel Stewart. Reminiscent of Ladies' Day at Ascot, as immortalised in My Fair Lady and costumed by Sir Cecil Beaton, the hats are created from drapes of the collection's bold prints, twisted into turbans and wide, Edwardiana 'Merry Widow' styles. They are a final flourish on the silhouettes, a gesture from the past reworked for today.