MEET THE POWER DUO BEHIND ONE OF THE UK'S SUSTAINABLE CLOTHING BRANDS
Posted on by Cameron Tewson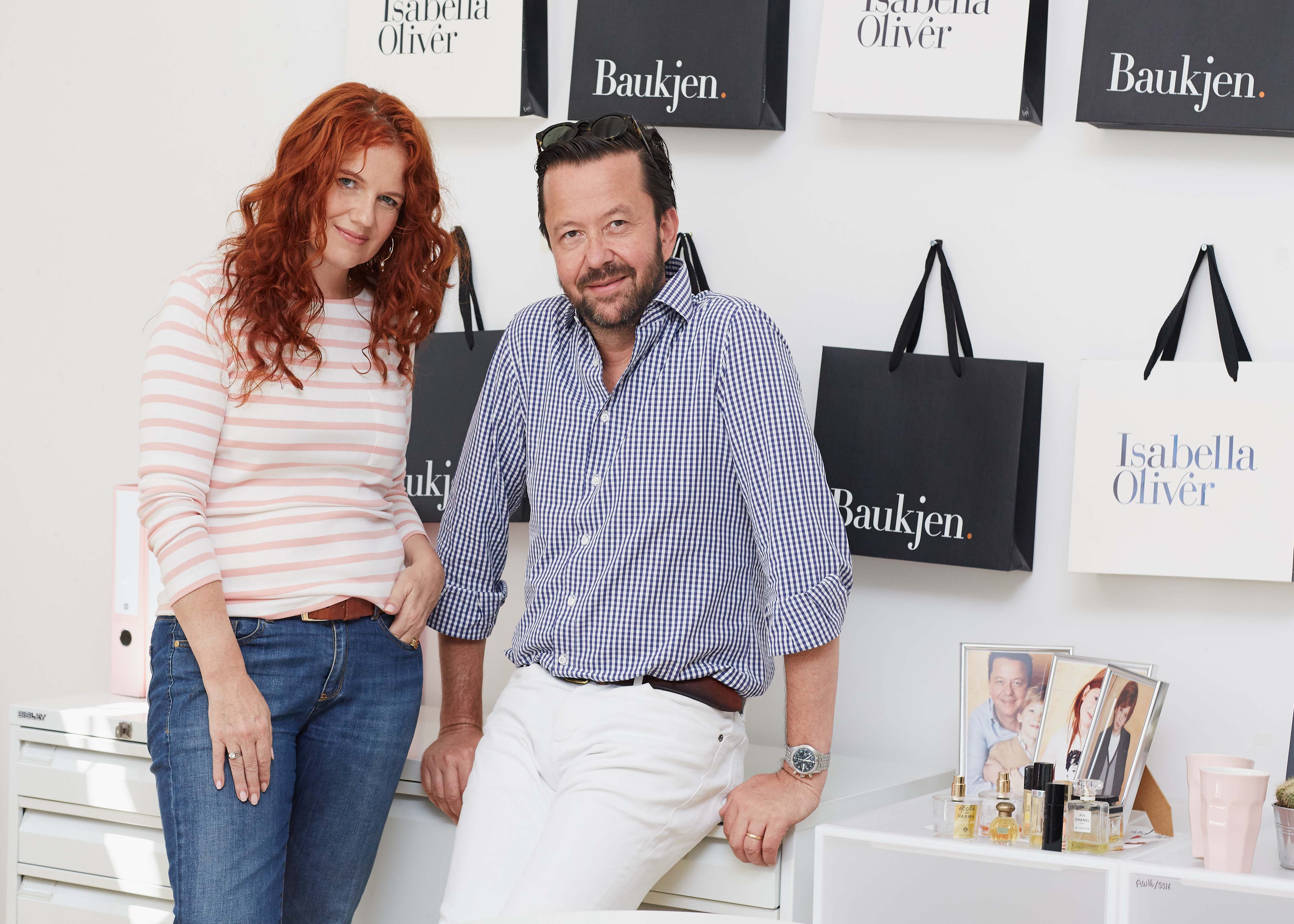 Baukjen de Swaan Arons and Geoff Van Sonsbeeck are the Dutch husband and wife duo behind premium sustainable maternity brand Isabella Oliver and womenswear brand Baukjen. After spotting a gap in the market for stylish, high quality and comfortable maternity clothing in 2003, they left their roles at Orange and Shell to launch Isabella Oliver from their home. Since then, they have launched womenswear brand Baukjen to cater to every aspect of a woman's life. But just how did they do it? I sit down with the duo to find out more.
CT: Great to meet you both! Tell me more about your business and how did you get started?
Lovely to meet you too! We founded Isabella Oliver in 2003 after spotting a gap in the market for stylish, comfortable and good quality maternity clothing whilst Baukjen was pregnant with our first child, Oliver. We began by researching the maternity clothing market and became convinced that there was an opportunity to fill this gap. We then launched Isabella Oliver 365, a womenswear collection that was then rebranded as Baukjen. 
CT: So, you have Baukjen and Isabella Oliver, two labels? What separates them both out?
Baukjen is our womenswear brand whilst Isabella Oliver offers maternity clothing. Originally, we thought it would be a great idea to have the two brands sit together under the same name – Isabella Oliver. After all, the collections are for the same women, but at different stages of their lives. However, we soon learnt that our womenswear customers preferred a brand name that was not associated with a maternity brand. Once we decided to rebrand, we held focus groups where we asked for feedback on potential names for the womenswear brand. Baukjen was the winner! 
CT: In a saturated market what makes your brand stand out from the rest?
Both brands stand out from competitors because we design classic wardrobe staples in high quality fabrics that stand the test of time. Customers are much more aware of the environmental impact of fashion and are shopping in a more sustainable way. Baukjen and Isabella Oliver collections offer them the ability shop sustainably without neglecting their personal style.
CT: Talk me through your design process? How do you and the team kickstart the season ahead?
We work closely with our Design team to establish colour palettes for the season. This is supported by research which includes looking at catwalk trends, street style, artists and exhibitions which allows us to determine the season's key shapes, trends and prints which are all hand-drawn and developed in-house. We regularly visit fabric fairs to discover new fabrics, textures and to continue expanding on the use of sustainable fabrics in our collections.
CT: How do you bridge together the 'fashion' trends and merge those with the everyday practicality?  
We look at all the trends for the season ahead and determine which are the most suitable for our customer. For example, if a statement sleeve is a key trend, we'll look at how to best incorporate it into the collection to ensure that it's wearable and timeless whilst still feeling fresh.
CT: Best-selling product or style from Baukjen?
The Eleanor Blouse with a pussy bow neck tie (left) has been a best-seller since it was introduced to the collection for SS17 and is now available in a variety of colour ways. Based on this, we decided to expand on the design to create the Cosette Dress for AW19. No surprise, it's been a best-seller since it launched.
CT: Sustainability is a huge word that the industry is paying lip service too, tell me about your practices as a business?
We are proud to be a Pending Certified B Corporation accredited business, for meeting the highest standards of social and environmental performance, public transparency, and legal accountability to balance profit and purpose. We believe in slow fashion and are active participants in creating a circular textile economy which is rooted on the principles of designing out waste and pollution, keeping products in use and regenerating natural systems. We aim to eliminate waste by designing with longevity ensuring the garment remains in perpetual cycles of use and reuse.
We use many natural fibres in our fabrics such as cotton, wool, and viscose as they biodegrade faster and don't release harmful chemicals when breaking down. We strive to continually increase the amount of recycled, organic and sustainable fibres in our collections and we continually work with mills to reduce the amount of water consumption and pollution during textile processing. For example, choosing digital printing methods or using organic materials, so the residual water isn't contaminated with pesticides. All samples and stock that is no longer suitable to sell are donated to charity or recycled sustainably. 
We also recently launched the Isabella Oliver Pre-Loved clothing donation programme with the goal of decreasing levels of maternity wear production and radically reduce the maternity fashion waste going to landfill each year by encouraging customers to donate their pre-owned maternity wear to either be repurposed, re-loved or recycled (We accept all maternity brands!).  The programme launched in November, with 50% of net proceeds from Pre-Loved sales being donated to a selection of maternal charities.
CT: Where do you produce your collections?  
More than 90% of our collections are produced in Europe and they are shipped to our warehouse via land, not air to ensure that we minimise our carbon footprint. Our fabrics are sourced locally to the factories too. We carefully vet and only work with factories that uphold the environmental, ethical and social needs of the people that work in them. Each factory signs our Code of Conduct which means they must adhere to the highest ethical standards including living wages, safe conditions, regulated working hours and strictly no child labour.
CT: You are partners in life and work – how do you find your happy medium?
There are lots of pros and very few cons. Owning and running a business means your interests are aligned for its success. We trust each other completely and apply a divide and conquer approach, each leading different parts of the business. We're married, we have kids together and we have a business together – it's quite unique to be able to share so much together and we genuinely value this. A pro and a con is that we love to talk about work so there's no obvious switch-off although the kids do ask us to stop talking about work occasionally which we always then immediately do. The con is when you do essentially live in each other's pockets you can sometimes get irritated by things that no one else finds irritating – think of how your Mum can irritate you when your friends find her charming – it's the same thing. 
CT: What advice can you give a budding entrepreneur who wants to set up their own business?
While you may feel that you have a great business idea, I believe it's essential to get confirmation that your target customer wants to buy what you are selling. I always advise people with new business ideas to research who they think their target customer will be and then research how they respond to their business idea (the proposition, pricing, delivery etc) and tweak the proposition to best fit the customer. It's important to think ahead and be pre-emptive.
Discover the collection at www.baukjen.com