MEET MILAN-BASED JEWELLERY DESIGNER BEA BONGIASCA
Posted on by Cameron Tewson
Bea Bongiasca is the talented designer and founder behind Bea Bongiasca Jewellery. The Milan-based designer graduated with honours in Jewellery Design BA at Central Saint Martins in London, the same year that she founded her own brand and design studio. Since her first collection "No Rice, No Life", Bea's designs have since been worn by Dupa Lipa and Miley Cyrus among many other famous faces across the globe. The eccentric designer draws inspiration from her fascination with East Asia and her deep passion for pop culture and western flair shines through to her collections. We chat to Bea on business, the impact on covid-19 and what she is working on for 2021.
CT: Tell me more about your brand?
BB: As I started the brand at 23, I wanted to realistic about what I was doing and hence started by making silver jewellery as I had my whole career to work with gold and diamonds. Slowly we moved on to 9kt gold which is more affordable than 18kt gold because we wanted the pieces to be fine jewellery but fun and at a good price point. I am very grateful that we took it one step at time and we are now in a position where even with the surge of the price of gold we can still be competitive and continue doing what we love.
CT: Did you know you always wanted to work with jewellery?
BB: Not really, I knew I wanted to work in a creative ambit but only when I started the foundation year in college did I understand that it was to be in jewellery. In the year 0 you have the chance to try out different pathway from graphic design to textile, 3D, etc.
CT: When did you launch and what made you want to start your own brand?
BB: I started my brand at the end of 2013 right after graduating from university. Although it took me about a year to get everything in order, from the production to the branding, so in the end I launched the first collection 'No Rice, No Life' (pictured below) in September 2014 at 10 Corso Como during Milan Fashion Week.
CT: What three words would you use to celebrate your brand?
BB: Colourful, ironic and kawaii. 
CT: When did you realise you wanted to pursue a career as a designer?
BB: When I applied for BA Jewellery Design at Central Saint Martin's College in London.
CT: How important is sustainability to your business and supply chain?
BB: In jewellery we are fortunate because we are not a particularly wasteful sector, we can always melt gold and use it again, we can repurpose stones and make new things from pieces that we don't like anymore. I think jewellery is a quality over quantity type of business and unlike in fast fashion, jewellery is not something that you wear one day and then never see again, people take great care and thought in buying it because it is something that lasts forever and can be passed on from generation to generation.
CT: Where do you source your stones from?
BB: Depending on the stones that we need, we source them through stone dealers from different places whether it be in Bangkok, Germany or the North of India. We use semi-precious stones which are easier to deal with than say emeralds or rubies.
CT: If you could go back and tell yourself one thing, what would it be?
BB: I think that in time you mature as a designer and the more time passes the more you are capable of recognizing what your interest are and reflecting them in your work. The first collections are always very naive but as you grow you make more conscious choices which become recognizable in your jewellery. So my advice I would have given myself is to decide your path and be coherent.
CT: What piece(s) are you wearing today?
BB: I'm wearing my red baby vine tendril ring to match my outfit and pieces from the new collection which we were meant to be presenting in June Couture but as it was cancelled will hopefully be unveiling soon!
CT: You've already had a flurry on celebrities wear your designs, who is your ultimate and why?
BB: Dua Lipa (below)! She's my number one favorite singer and seeing my jewellery on her literally makes my day because it is always so well styled and matches her vibe so well that I couldn't be happier about it!
CT: What is next for Bea Bongiasca Jewels?
BB: My ultimate is more to see people that I don't know wearing my jewellery in unexpected places. Like in the queue at the airport or in your favourite restaurant. It has always been my aspiration to spot my pieces like that. Having said that my ultimate is Rihanna because she is my all-time favorite singer ☺
We opened our boutique at the end of October last year and we would love to be able to expand that to different countries although it will take a bit of time, it is a dream of ours!
CT: Has COVID-19 affected your business? If so how?
BB: At first, work wise, our greatest issue our atelier being closed since obviously jewellery is not an essential business. It was shut for nearly 2 months and it was one of our greatest impairments. No production, no jewellery. We had orders and restocks to do so it was a bit stressful which is why when they finally allowed us to open again, I was very very grateful. Luckily now everything in Italy has been back to a new normal since early June.
CT: What has been the biggest change to your daily routine?
BB: The biggest change is that we are no longer travelling anywhere to meet with our clients, stores, our agents or to do research trips (unless they're in Italy). Furthermore, even our interactions within our own office have become distanced to make sure that we can work safely.
CT: Have you learnt anything new about yourself or the person you are with since social distancing?
BB: I spent as lot of time on Instagram, although that's nothing new because I mainly take care of our page, and I direct messaged with our clients and followers. What I learned is how interesting it can be to receive feedback on what they think about our jewellery. As the designer I am always so immersed in my brand that it's hard to take a step back from it, I can only get this perspective from others so it's always very refreshing.
CT: Are there any charities that you are supporting in the wake of Covid-19?
BB: We took part in a special project Net-a-porter called the Italian Collective, 20% of the profits from the sale of this product will go to the Association of the Italian Red Cross.
---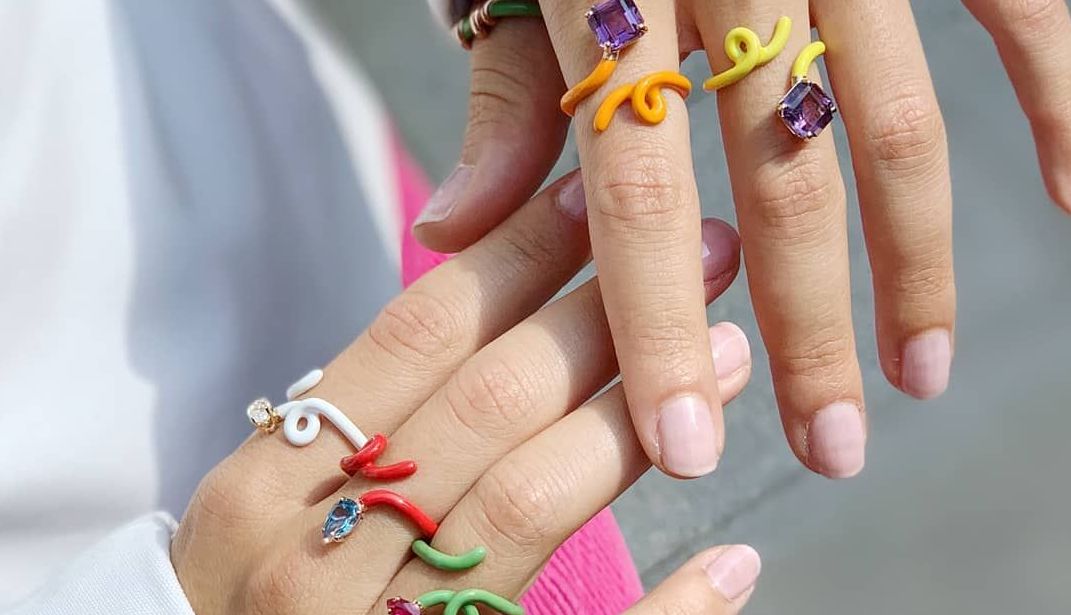 Discover Bea's collection at: www.beabongiasca.com