LADY GAGA FOR TIFFANY & CO. SPRING 2017 HARDWARE
Posted on by Cameron Tewson
Tiffany & Co. picks up where they left off at this years' Super Bowl-released commercial, which contained a snippet of their Spring 2017 collaboration with Lady Gaga. She expresses a common, but powerful opinion regarding the influence of jewelry in a women's life. Although famous for the song "Bad Romance," the singer is on point when she says the brand has a certain "romance" to it like no other. Known for pushing boundaries and challenging the norm, Gaga certainly strays from the misconception that only men can buy women nice jewelry. She chooses to empower women and encourage buying it for ourselves.
Now for their next step, Tiffany & Co. has released their official campaign video for Spring 2017. All about legendary style, Tiffany & Co. reinforces two things: the ability to be classic, and taking risks. Gaga also voices the positive message of the brand's range of consumer pull – how people can spend money on high value items, or save up and achieve something small and affordable. Tiffany & Co. provides something for everybody, directly contributing to their international presence.
Tiffany & Co.'s latest release presents the campaign's photos. Featuring a simple and minimalistic design strategy, the campaign stays in line with the brand's timeless sophistication. Gaga can be seen in front of a trademarked "Tiffany Blue" background, styled in classic looks and slicked back hair – honing in on Tiffany products. There's no denying Lady Gaga brings a certain distinct simplicity to the Tiffany & Co. brand that perfectly melds American classics with modern society. Remaining positive representatives of timeless American jewelry, Tiffany's continues to evolve and push classics forward by going "gaga" for Gaga!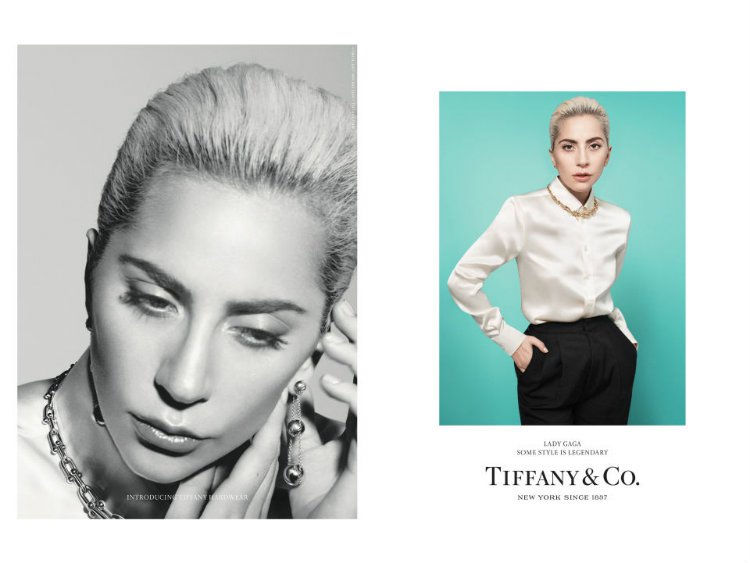 Post by Impression.