JUST WHAT DOES THE NEW MALIN + GOETZ LEATHER FRAGRANCE MEAN?
Posted on by Cameron Tewson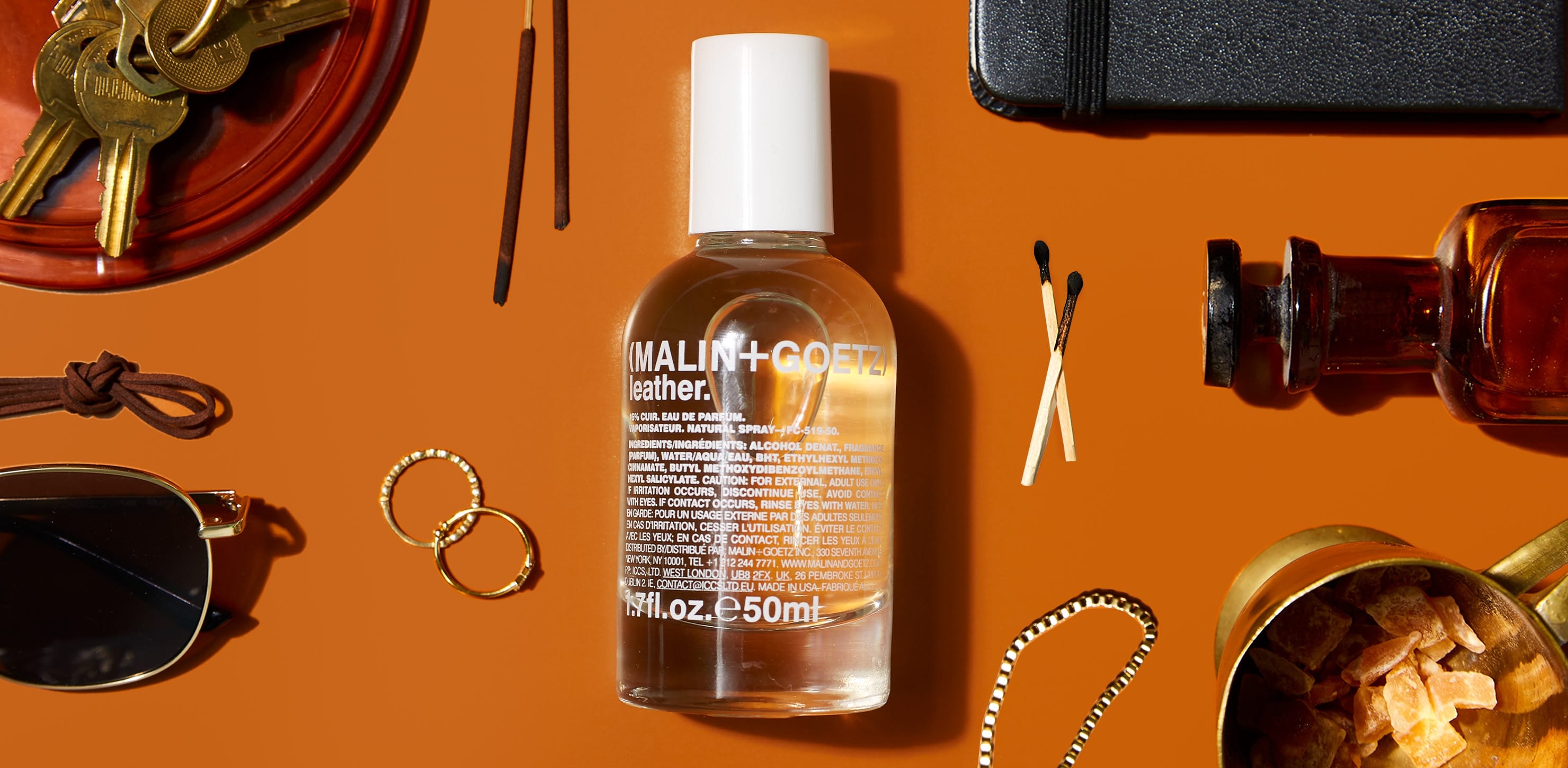 Whether it's new seats in the car, your latest pair of boots, or a new leather bag, most people have a preconceived idea of what leather should actually smell like. This smell has the tendency to send our imagination to a faraway place with rugged terrain, wild adventure, or the an old vintage item. I personally find it confusing when brands offer fragrances based on a common fabric or property or venture – but MALIN + GOETZ have done it again – and so well.
Any note or connotation of leather is immediately recognisable and universally – often sultry, but widely appealing, lets face it. Leather is a texture and scent that inevitably evokes feelings of nostalgia for anyone. The new formula from MALIN + GOETZ has hints of muted florals, mirroring the pure elegance of smooth leather while rustic wood notes call to mind the softness of a typically well-worn vintage find. Intimately shaping itself around the wearer like a second skin, Leather by MALIN + GOETZ is the perfect fragrance that only gets better with time.
With the fragrance just launched, I chatted with co-founders, Matthew Malin and Andrew Goetz to find out more about the fragrance, that nods centuries to old practices.
CT: How do you go about creating a fragrance?
We began creating fragrances soon after we launched the brand in 2004. 
CT: How do you determine what scents pair best with your own natural scent?
Because we use natural scents in our skincare – they will quickly dissipate.  So you actually don't have to worry about our EDP's competing with our other scents.  The natural scents we use in our skincare of course smell really wonderful, but the most important thing about them is that they are there for therapeutic and efficacious purposes.  For example, we use Grapefruit in our Face Cleanser because Grapefruit helps to gently cleanse the skin, and has anti-microbial properties.  Yes it smells good – but it's really about what it does.  So no matter which skincare product you choose, the natural scent is there for a purpose.  But it's not there to perfume.  That's why we created a complete line of Eau de Parfums.  So whether you enjoy a particular Malin+Goetz EDP or prefer not to wear one, the natural fragrances in our skincare will never compete with your personal fragrance preferences.
CT: Name three words that describe the emotions of Leather?
Refined, warm, nostalgic. 
CT: Why Leather?
Everyone remembers their first leather jacket. I picked mine up from a thrift shop in greenwich village when I was still in high school in the 1970's. While I still remember what it looked like – it's the scent that is forever etched into my mind. There is something about the power of leather that consumes our olfactory attention, demanding that we surrender to its seductive powers.
CT: What is your first memory of scent?
Baby powder. I always remember that being a really prevalent smell in my childhood, even with my younger siblings. My mother would always douse us in it, God knows what form of cancer we've probably gotten from it, but it was always a fond memory.
CT: I enjoy your gender-fluid approach to fragrance – what is next for the collection?
This is a question where we want to have an answer that's as exciting as possible, but the reality is that for 15 years we've been staying really focused and doing the same thing 15 years later- and that is keeping things simple and uncomplicated. We are looking to expand our product assortment where we fill a need and we have customer requests, so we're not overloading people with product and producing things that aren't necessary. Just continuing to do what we do- developing products, opening stores where appropriate, and most importantly keeping the range simple, tight + focused!
Leather by MALIN + GOETZ, £75.00