INTERVIEWS: CELEBRATING INTERNATIONAL WOMENS DAY 2018
Posted on by Cameron Tewson
March 8th celebrates International Women's Day. The global day is all about celebrating the social, economic, cultural and political achievements of women. The day also marks a call to action for accelerating gender parity. International Women's Day (IWD) has occurred for well over a century, with the first​ ​March 8​ ​IWD gathering supported by over a million people in Austria, Denmark, Germany and Switzerland. Prior to this the​ Socialist Party of America, United Kingdom's Suffragists and Suffragettes, and further groups campaigned for women equality. Today, IWD belongs to all groups collectively everywhere. IWD is not country, group or organisation specific.​
With no introduction needed, meet 5 powerful females in the Fashion industry that we have interviewed for the 'Five minutes with..' edits.
FARRAH STORR, EDITOR-IN-CHIEF, COSMOPOLITAN UK
CT: Farrah, How did you start out?
FS: I always wanted to be a writer rather than an editor. After a disastrous year spent in PR and marketing (don't ask) I then got a job as a features assistant on woman&home. From there I moved around pretty quickly – I think it's important to do that when you're young. I was features writer on Good Housekeeping, senior writer on Eve (RIP), deputy features editor on Glamour before moving to Sydney to become features director on Marie Claire. Basically I have done every features job on a magazine – which is crucial as an editor, so you can understand the demands put on everyone at every level.
CT: Talk me through the planning process for Cosmopolitan? How do you and your team operate on a day-to-day basis?
FS: We plan three months ahead but scheduling changes all the time if a brilliant story lands on my desk. No day is ever alike for me – I'm often in meetings with commercial, out hustling for new joint ventures that Cosmopolitan should be looking at, public speaking about millennial culture as well as editing copy – my favourite part of the job by far. I try to have an open door policy so everyone gets time with me.
CT: What is the best advice you have received and would give budding journalists and industry start-outs today?
FS: I was never given any advice per se but one thing I have found out over the years is how important it is to always have an opinion and learn how to give that opinion in a smart and measured fashion. The loudest voice may be heard but it's not always the one listened to. As for industry start-outs… always apply for the job you think is a 'little' too big for you. Job interviews are not always about getting the job, but about getting in front of the right people. I often recommend people I have interviewed who were maybe not right for us but would be wonderful for other colleagues on other magazines.
CT: What top style tips anyone should take onboard?
FS: We live in the UK – a coat is probably the one item you will be wearing 8 months of the year. Spend your money here. It's also the first impression you make when you meet someone. Last year I wore a burnt orange A-Line Jigsaw sheepskin coat to pretty much everything. I look back at pictures and know it's money well spent. I also tend to spend money on jewellery too. Never underestimate the simple beauty of a single Cartier Love bangle on a wrist.
CT: What are your thoughts on London Fashion Week? How do your team devise the Fashion Calendar?
FS: London Fashion Week is one of the most brilliant and exciting fashion weeks in the world. There's a rawness and down-to-earth energy that you don't find anywhere else. We all try to go to as many shows as possible – ideas for the brand can spring from the smallest show or presentation. We're also very keen to support new talent within the magazine so my brilliant fashion director, Amy Bannerman, will often be backstage talking to the designers or trying to find a look that would work on one of our covers. (cover, across / below of Ariana Grande for May 2017)

 CT: What to you prefer, a runway show or presentation?
FS: Runway for drama and excitement, presentation for really getting to grips with both the clothes and the designer's thought process.
CT: With plenty of commercial labels in the market, how do you find the unique that your readers would like to see?
FS: The job of a fashion team and editor is to scour the market and find the best possible pieces for our readers. Everyone might be doing floral dresses but it's Cosmopolitan's fashion team's job to make sure we only feature the one dress that has the best details or the best fit. There is an extraordinary amount of leg work that goes into every item on a magazine page. That's how we can stand by the fashion we showcase.
CT: What is one piece of clothing you can't live without and Front Row Edit's readers should invest in?
FS: A simple black tuxedo with sharp shoulders and a skinny silk lapel. ME+EM does beautiful ones. I have them in white and black and wear with a bow tie.
CT: Where is your favourite place to eat in London?
FS: Jamavar in Mayfair – I'm half Pakistani so I love Asian food. This place does the chicest interpretation in town
---
 ELIZABETH SALTZMAN, STYLIST  & INTERNATIONAL SOCIAL EDITOR, VANITY FAIR
CT: Elizabeth, with an impressive career to date, how did you start?
ES: It is your typical fashion story! I took any job I could get in my summers and school breaks, and I was lucky to land in a couple of cool stores… You have to start somewhere!
CT: Apart from traveling all over, how do you relax?
ES: Music is my weapon of choice for almost everything – to pick me up, to chill me out, to calm me down and to dance!
CT: London is thriving with design talent, tell me your top designers and why?
ES: It would be impossible to pick my top designers in London! As the question says London is thriving with designer talent and it is whether it be Christopher Kane, Erdem, Mother of Pearl, Emilia Wickstead, Simone Rocha, Tom Ford, Christopher Bailey, Sarah Burton, Stella McCartney, Alice Temperley, Roksanda, J.W.Anderson, Paul Smith, Vivienne Westwood, Rejina Pyo, Huishan Zhang, Peter Pilotto, Mary Katrantzou, Isa Arfen. There is so many…
CT: ESXRD – tell us more? How did the collaboration with Rocket Dogs come around?
ES: I kept purchasing Rocket Dogs for years. We then went to visit Rocket Dog in London, told them why we wanted certain styles and would they make special styles for us… And then boom, it happened! (image below)
CT:What is the best advice you have received and would give budding stylists today?
ES: The three best pieces of advice were given to be at various points at the beginning of my career:
The first one: was never to be late… It is rude and lets other people think your time is more valuable.
The next piece of advice came from a very powerful businessman when I was twenty. It was to return every phone call (now emails – they didn't exist way back then) the same day you receive it if humanly possible.
The third piece of advice came from my father and was to treat everyone equally. At the end of the day we are all simply humans.
CT: Forever seeking the new, where are your top stores to shop around the globe?
ES: I love shopping, but because it is part of my job I tend to look at individual stores… Some of my favourites are Puka Puka in Maui and Just One Eye in Los Angeles.
---
BROOKE GARBER NEIDCH – OWNER & CREATIVE DIRECTOR, SIDNEY GARBER JEWLERY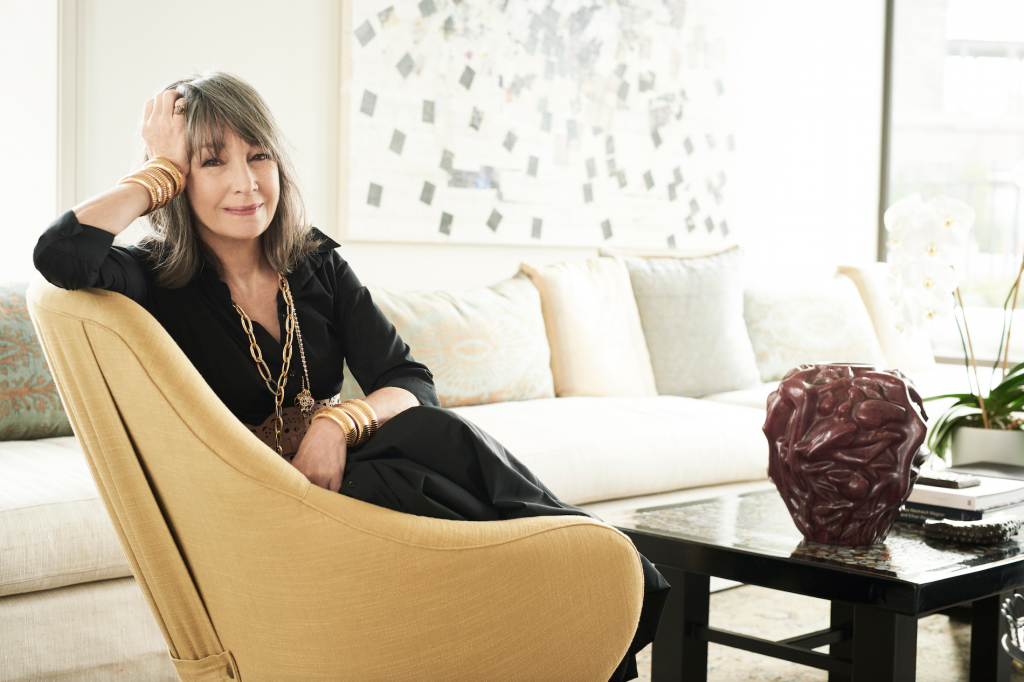 CT: How did you become involved in the family business?
BGN: One of my earliest memories is sitting on the floor in front of the safe playing with the charms in their velvet trays. I feel like I was always in the store. As I grew up  I was allowed to use the windex to clea
n the glass cases I think at 10 I was allowed to put watches in the cases.
CT: Talk to me about the CFDA and how have the supported the jewlery industry to date?
BGN: The CFDA has 82 jewelry members ! It is a diverse and fascinating group. Just the application process  caused me to think more critically about the business and myself. With this said, we have also had a great selection of interns from CFDA initiative from Wharton to Yale.
CT: What advice would you share with budding entrepreneurs?
BGN: I am not an entrepreneur, I worked in my father's business through my adolescence and then couldn't get away fast enough to start my own life. As a young wife and mother I returned to Chicago and helped out before Christmas it was a way of connecting with my father ,of connecting my children to the world I grew up in,  but I never saw [working for family business] as my path . When I inherited the business it was 2008 , I was in the midst of standing with Dr Harold Koplewicz as he founded the Child Mind Institute while I was co chairman of the Whitney Museum -we were in the midst of building a new museum downtown  which kept be busy as well as being the Vice Chair woman at Lincoln Center Theatre . It was the beginning of the financial crisis, in short – a nightmare. I loved the creativity of the business , but I never could have been successful running it had I not found Susan Nicholas who had been president of H. Stern before joining Sidney Garber. Many people tell me how proud my father would be of me now . . . I smile and often add "my father would say I still don't know the value of a dollar !"
CT: Truly effortless pieces in the Sidney Garber collection, how do you and the team plan and design the forthcoming collections?
BGN: I don't think of collections. Fine jewelry is a life long wardrobe as is any piece of clothing. I have a YSL Safari Jacket I still wear and I would still be wearing my first Rick Owens jacket but my daughter borrowed it when she was in high school and then of course, it became hers! I have wonderful pieces from Alaïa and Lanvin when Alber Elbaz was there to me – they never age. I personally think, fine jewelry should be the same. My father gave me my first grown up strand of pearls at 21 . I have added to it multiple times and love wearing the necklace it has become. I wear my rolling bracelets every day as I have since 1985, though I am prototyping a new bracelet I am thrilled about.
CT: In mind, who is the woman you design for?
BGN: For a woman like me . . . and now that Mallory is older for her – when my two beautiful daughter in laws Aliza and Alessandra like something I know I have it right .
 CT: If you did not work for the family business, what could you see yourself be doing otherwise?
BGN: I am doing it still , I am no longer co chair of the Whitney but I am deeply involved – the same is true for Lincoln Center Theatre and The Child Mind Institute.
CT: Incredibly you give all of your profits to non-for-profit organisations dedicated to children's health and in particular, CMI. Talk to me about CMI and what do you in your founding role do? 
BGN: As the elegant Judy Peabody explained to me in the early 80's there are 3 rules  to remember when you serve on a board . . . give it , get it or get off ! I give because I am lucky enough to be able to give !
CT: Tell us more about CMI?
BGN: The Child Mind Institute is dedicated to transforming the lives of children and families struggling with mentalhealth and learning disorders. We deliver the highest standards of clinical care, advance  the  science of the developing brain and we empower parents, professionals  and policymakers with the information they need to get kids the help they deserve. Our website is childmind.org.
CT: What is your thoughts on social media?
BGN: I sort of understand and use Instagram and Pinterest, the rest confounds me! My friend Joanna Coles (Chief Content Officer, Hearst US) will tell you I am an idiot at Snapchat!
CT: List me three blogs or instagram feeds you like to follow and why?
This is my favorite question I follow several I love that they just pop in my inbox and if I have a quick moment in a taxi or between meetings I can read one. I love: The Flair Index, The Coveteur, Keep it Chic, Lenny, Atelier  Doré, of course Front Row Edit. Man Repeller quite charming  They are like little mini magazine's to me!
---
ANNE KEATING, SENIOR VICE PRESIDENT PUBLIC RELATIONS, SPECIAL EVENTS & CORPORATE PHILANTHROPY AT BLOOMINGDALES
CT: You are the Senior Vice President of Public Relations, Special Events and Corporate Philanthropy at Bloomingdale's.  What kind of responsibilities does your role entail?
AK: In this role, which I have held since 1995, I oversee the public relations, special events, press and corporate philanthropy for Bloomingdale's and act as the official spokesperson for the company.  Essentially, I am the voice of Bloomingdale's in these areas of the brand.
CT: What made you get into Public Relations in the first place?
AK: I started my career at Tiffany & Co. and held various roles from sales to corporate gifts to the bridal registry.  I was then recruited by Bloomingdale's to run their registry department.  After leaving for a brief time to be VP of Services and PR at FAO Schwarz, I rejoined Bloomingdale's in my current position.
CT: What made you get into Public Relations in the first place?
AK: I have always enjoyed working with people and my career path led me to interface with the public constantly.  Working in PR was a natural progression.
CT: What makes Bloomingdale's like no other department store?
AK: Bloomingdale's is truly like no other store in the world because of its unique mix of merchandise, strong community involvement and the overall energy the store environment provides.
CT: Can you tell me more about your role at Child Mind Institute and how Bloomingdale's works with CMI?
AK: Bloomingdale's has been a corporate supporter of the Child Mind Institute since it was established.  Our company has always felt that it is important to support causes that affect our customers and employees.  My personal involvement stems from my belief that children's mental health is important to the future of the world.
CT: How do you think social media helps communicating a brand message today compared to 15 years ago?
AK: Social media is a very important tool to communicate a brand's message.  It must be carefully monitored and constantly updated to make sure it is perfectly aligned with the brand's core values and strategic focus.
CT: Known for supporting brands and talent globally, what is the most exciting innovative brand you have come across?
AK: Two years ago, Sarah Jessica Parker launched her shoe line, SJP by Sarah Jessica Parker at Bloomingdale's.  Witnessing how much passion such an iconic star had for her business was amazing.  She became the ultimate ambassador of her brand, traveling across the country to the shoe floors of our stores to sell her shoes to our customers.  She made buying shoes an exciting and engaging experience for the Bloomingdale's shopper.
CT: Apart from Child Mind Institute, what other charities are close to your heart?
AK: I am a board member of HELP USA which is a national housing and homeless services organization dedicated to providing safe and stable housing to those in need.  I am also a member of the Memorial Sloan Kettering Cancer Center Dream Team whose mission is to fulfill the dreams of adult cancer patients.  Additionally, I serve on the board of the American Associates of the Old Vic which supports the work of this extraordinary institution.
CT: Name three new brands we should look out for in Bloomingdale's.
AK: There are so many!  Mon Purse and Spiritual Gangster are two of my favorites.  University of  Tomorrow, Dreamers of Today, a new line created by Carol Lim and Humberto Leon of Opening Ceremony, will be an exciting launch available exclusively at Bloomingdale's in October.
CT: Sadly, WWD reported that you are leaving your full-time role at Bloomingdale's after an outstanding 29 years' service, what's next for you?
AK: As I end my full time career at Bloomingdale's, I will continue to work with our CEO, Tony Spring, as a consultant on philanthropy and other projects.  I will also consult on a few select projects that have come my way.  But first, I'll take a much needed vacation!
CT: With over 29 years of your career spent at Bloomingdale's, what has been your favorite moment?
AK: There have been so many amazing moments that it's hard to pick just one!  One of my many favorites is when we open five stores in California in 1995.  We rolled out the openings with a large star studded event that definitely left a mark in Bloomingdale's history.  The red carpet was amazing.
CT: Being an avid social media fan, what blogs do you regularly follow?
AK: Some of my favorite accounts to follow are Song of Style, The Flair Index, Vogue, Elle, Harper's Bazaar and Front Row Edit.
You can shop the latest from Bloomingdales here and follow Anne on Instagram here. You can also read the WWD article on Anne here. Image headshot credit: Sophie Elgort.
---
KENYA HUNT, FASHION FEATURES DIRECTOR AT ELLE UK
CT: You're the Fashion Features Director at one of the most widely-read women's magazines in the UK. What kind of responsibilities does that job entail?
KH: My job is quite wide-ranging in terms of scope of responsibility, which is why I love it so much. On any given day, I could be writing, editing, commissioning, interviewing fascinating people, travelling to cover a runway show, visiting showrooms, meeting designers, meeting PRs, representing ELLE UK at an event or on a programme or participating in an interesting panel. But the core of my role is leading all of the written fashion content you see in the magazine — that means the fashion features you see in the features well, the fashion front of book section etc.
CT: How did you start? What was your break?
KH: My internships gave me a foot in the door. I started in magazines as an undergraduate at the University of Virginia in Charlottesville, but would go up to New York during Christmas and summer breaks to do internships which is how I learned about the industry and built relationships. An editor I interned for at Vibe magazine recommended me for my very first magazine job at a monthly called Jane, where I worked with some amazing women who are now all doing brilliant things. My time at Jane was a formative experience for me because the title was so groundbreaking as a women's magazine; it really paved the way for titles like Jezebel and The Cut, etc. It also really shaped the way I approach writing and editing for women's magazines in general. The relationships I formed at Jane also led to the jobs that followed. Meanwhile, the editor I interned for at the Village Voice gave me some of my first freelance writing assignments. So I can't recommend internships and work experience enough.
CT: What is the most exciting thing about your job, and what is the most difficult?
KH: One of the most exciting aspects of my job is the climate of change in which we're all working. I find it thrilling because it forces us to think outside the box and allows for new voices to come into the fold. So I love working at a magazine like ELLE during a time like this because it has given us the opportunity to try things that the magazine might not necessarily have done, say, five or ten years ago.
In terms of the most difficult aspect, I'd say it's keeping up with all the change (but again, that challenge keeps the job exciting.) The designer comings and goings at the big houses alone keep me on my toes!
CT:  In a publication aspect, how do you think Social Media and the digital world has helped shape journalism?
KH: Among many things, it allows for greater immediacy and access for the reader, which allows for new possibilities in storytelling for us. At ELLE we are always adapting so that we meet the demands of our audience. It''s all about creating great content across all platforms, so we can connect with our readers wherever they are. ELLEUK.com reaches over 2.5m monthly unique users and we have impressive engagement across our social platforms.
CT: How do you typically find new brands to feature?
KH: A number of ways: word-of-mouth, the showroom and show circuit, and Instagram, among others. I'm basically always on the lookout for new and interesting fashion talent worth telling our readers about.
CT: Any trends you think that readers should be looking out for this season?
KH:  We're currently fascinated by the return of tailoring and workwear and how designers have reimagined it, as well as the rise of red as a colour of the season.
Our trend report in the current issue (August) and on our site wraps up the biggest new season trends for us at ELLE.
---
Please note: Interviews have been featured on the www.frontrowedit.co.uk previously and dates / times have not been edited there some text and stories may be out of date. Subject to conversation.