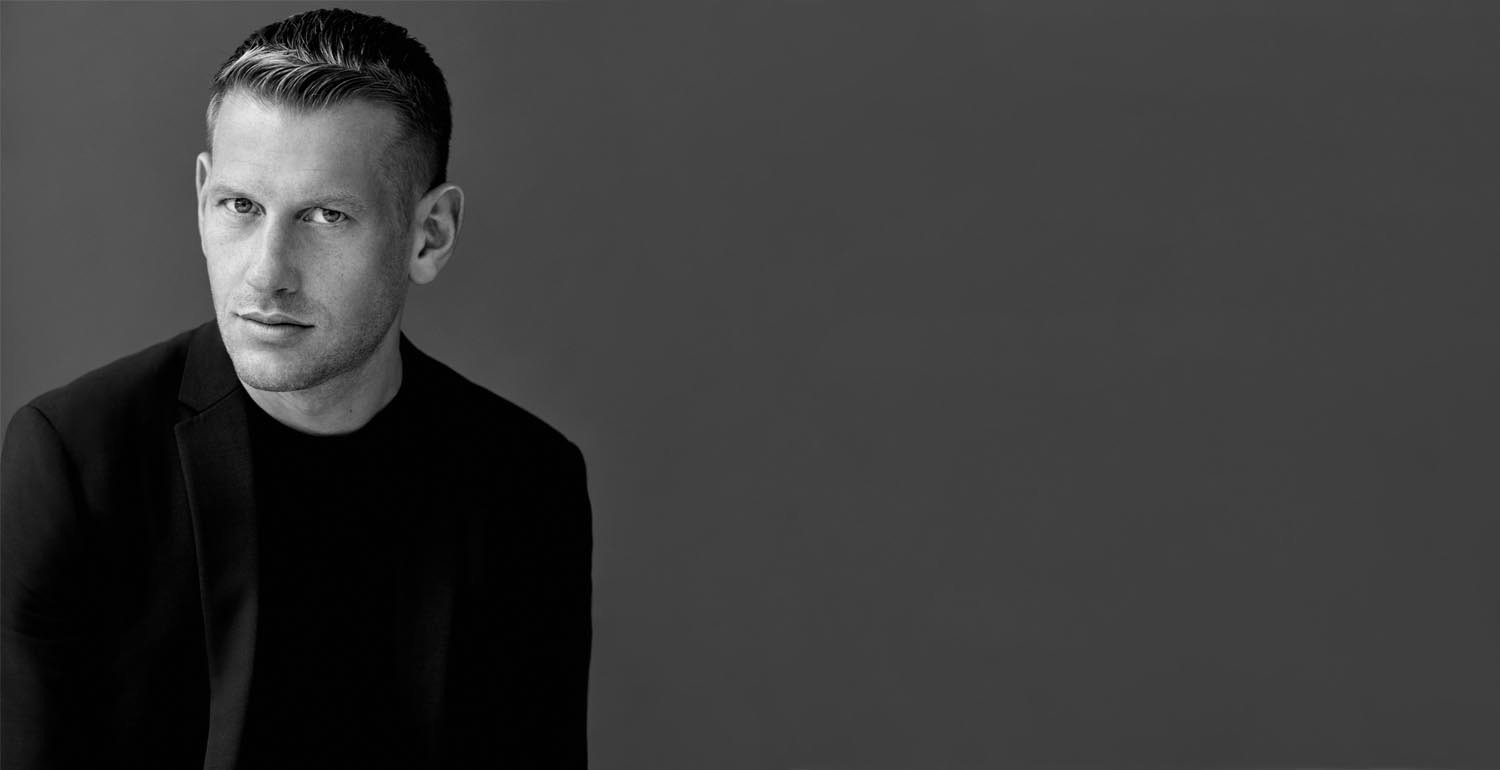 British-born, New York based footwear and accessory designer, Paul Andrew, sits down with Cameron Tewson to discuss man behind the brand, the future of Ferragamo and the latest Autumn Winter 18 collection inspiration.
Paul Andrew announced his eponymous line of women's shoes for Spring 2013, followed by a line of men's shoes for Fall 2016. The critical and commercial response to the brand has positioned Andrew as an innovative rising force within the footwear industry. With that said, in September 2016, Andrew was named the first ever Design Director for women's shoes at Salvatore Ferragamo, debuting his first collection for the Italian fashion house for Pre-Fall 2017. It was then announced Andrew would be the Creative Director of Salvatore Ferragamo, debuting his Autumn Winter 2018 collection in Milan, February this year.
CT: Paul, it is great to meet you. A Berkshire boy – born and raised, can you tell me how exactly did you got into the shoe industry?
PA: As a child I was adamant that I wanted to be an architect; I loved to draw furniture and was very exacting with my sketches. But somewhere in the mid-90's I discovered British fashion magazines on the shelves of the local newsagent and started saving my pocket money to buy copies of Vogue, The Face and i-D. The pages of these magazines were a window into a world that quickly became my obsession and my desire to pursue a career in fashion design became very clear.  
Growing up my father was the Queen's upholsterer at Windsor Castle and being surrounded by luxurious textiles, colour and artisan craftsmanship was also an enormous influence.  When it came time to choose a field of study for university, footwear design seemed like the perfect combination of all my interests.
 CT: Since starting out – how would you say your designs have evolved over the years?
PA: When I launched my brand back in 2013 my idea was the find the perfect balance of trend and emotional elegance in women's footwear. At that time women were wearing the most staggeringly high heels with tall platforms, which was decidedly not my aesthetic. I've always preferred the silhouette of more refined footwear. It was thus my idea to propose a series of sleek, elegant and sophisticated shoes on a single-sole that also embraced colour and print.  I wanted the collection to feel chic, elegant and joyful. Thankfully that look really resonated with the market and within three seasons my shoes were already being sold by the top fashion retailers around the globe. The collection has certainly evolved over the past five years, but it fundamentally remains set in the same aesthetic codes I established in the beginning. In fact, the best selling shoe still remains a style I design the first season. 
CT: How do you feel your brand changed since winning the Vogue/CFDA Fashion Fund in 2014?
PA: Everything has changed! Winning the award was an enormous vote of confidence from some of the most influential names in fashion. Anna Wintour, Diane Von Furstenberg, Reed Krakoff, Jenna Lyons and Andrew Rosen were just a few of the judges on the panel. Their support for my brand made a tremendous impact on how the rest of the fashion industry perceived me.
CT: Talk me through a new season collection, how does it come together?
PA: Every season, I typically start the collection with a specific theme or touch point. I find inspiration everywhere – living between New York and Florence is an extreme advantage. Once I have established the inspiration a detailed and rigorous research process begins. I visit museums, scour libraries and work with the world's best fabric mills to develop specific colors, prints, and jacquards I feel fit perfectly for the season.  Once I have all of my research, I begin to sketch out the collection, creating a plethora of silhouettes and styles. With the help of my team I am able to edit down my thoughts. I then go through a few rounds of prototypes for new silhouettes to ensure that the fit is perfect. Finally, I receive samples for the season and edit the collection down from there. 
CT: Tell me more about the Paul Andrew Autumn Winter 2018 collection that was recently featured over New York Fashion Week?
PA: Over the summer I was walking through MoMa near my NYC office. I was struck by a Robert Motherwell painting with graphic brushstrokes of black and crimson. His pieces really set the tone for my Autumn Winter '18 collection, and even inspired a signature print.  As I sat down to design, my studio playlist was this amazing 80's soundtrack of Duran Duran, Pat Benatar, etc.  When I finished sketching, I realized I'd designed an assortment of strong, sexy silhouettes very reminiscent of the 1980's.  It wasn't necessarily my initial goal, but I loved the aesthetic result of bold colours, patent leather, spike heels and slouchy ankle boots. That decade evokes a real feeling of adventure and fun to me, and I wanted to manifest that in this collection. 
Two styles from Andrew's Autumn Winter '18 collection.
 CT: Who is the brand's muse and why?
PA: It is not really about one specific woman for me, but an overall sense of who she is. The Paul Andrew woman is of all ages, sizes, and nationalities. Like the shoes, she is also chic, elegant, and joyful. I've essentially devoted my career to designing pieces that embolden women to feel strong, sexy and confident.
CT:Where do you take your inspiration from?
PA: I find inspiration everywhere – modern art, architecture, furniture, travel, photography. Inspiration is everywhere if you look for it!
CT: How would you describe your style?
PA: Practical with a bold twist. You rarely catch me on a day that I am not wearing a black hoodie matched with a white shirt underneath, slim-fit jeans and lace-up shoes. I am drawn to pieces that are simultaneously wearable and not ostentatious. 
CT:You obviously notice how women dress; do you have a preference?
PA: Not at all! I can only look at it through the perspective of me trying to dress the women that are in my life. I think it's important to create a wardrobe, at this point, instead of women feeling obligated to one shoe. Everything from flats to kitten heels, to mid and high heels. I do think a classic pump is an important staple in any wardrobe. And to also have a fantasy shoe; something that takes you to another universe. It's what makes you feel great and special — isn't that what everyone needs in their life.
CT: You were recently named Women's Creative Director at Salvatore Ferragamo, what was it like to step back into the brands archives and create your first collection for the house?
PA: I am truly so grateful for the confidence and trust the Ferragamo family and executive committee have put in me, and I am thrilled by the opportunities that lay ahead in forging a single, powerful identity for a new Ferragamo woman. Salvatore was such a creative genius and his legacy serves as the timeless foundation of the—brand. Ferragamo is a storied fashion house with origins in Hollywood and born in Florence with remarkable innovation that changed the way women style themselves. The archives are an amazing treasure trove of codes on which this brand is founded: masculine/feminine combinations, rainbow color palettes, artisanal mastered textures and newly reimagined and repurposed materials. From here I sparked the RTW collection, which always envisioned the head to toe wardrobe of the women I am designing for. 
 CT: With all that you do, how do you even find time to unwind?
PA: I now split my life between New York, Italy, and my country house in Connecticut. But if I am fortunate enough to have a free afternoon, I love to visit museums. In Florence, Uffizi, is my favorite, and the MoMA in New York. During the summers, I try to spend as many weekends as possible unwinding at my country house and head to Patmos in Greece for two weeks in August. 
CT: Do you have any words of advice you could share for budding designers in the industry today?
PA: Before launching my own brand, I spent 15 years working in the fashion industry at renowned fashion houses. My learning experience at each out was entirely different and undeniably invaluable to my career. My advice is to intern or work as much as one can under someone whom you truly admire, and soak up his or her knowledge like a sponge.
---
Discover the Paul Andrew collection:  www.paulandrew.com