FIVE MINUTES WITH… MAKE UP ARTIST CASSIE LOMAS
Posted on by Cameron Tewson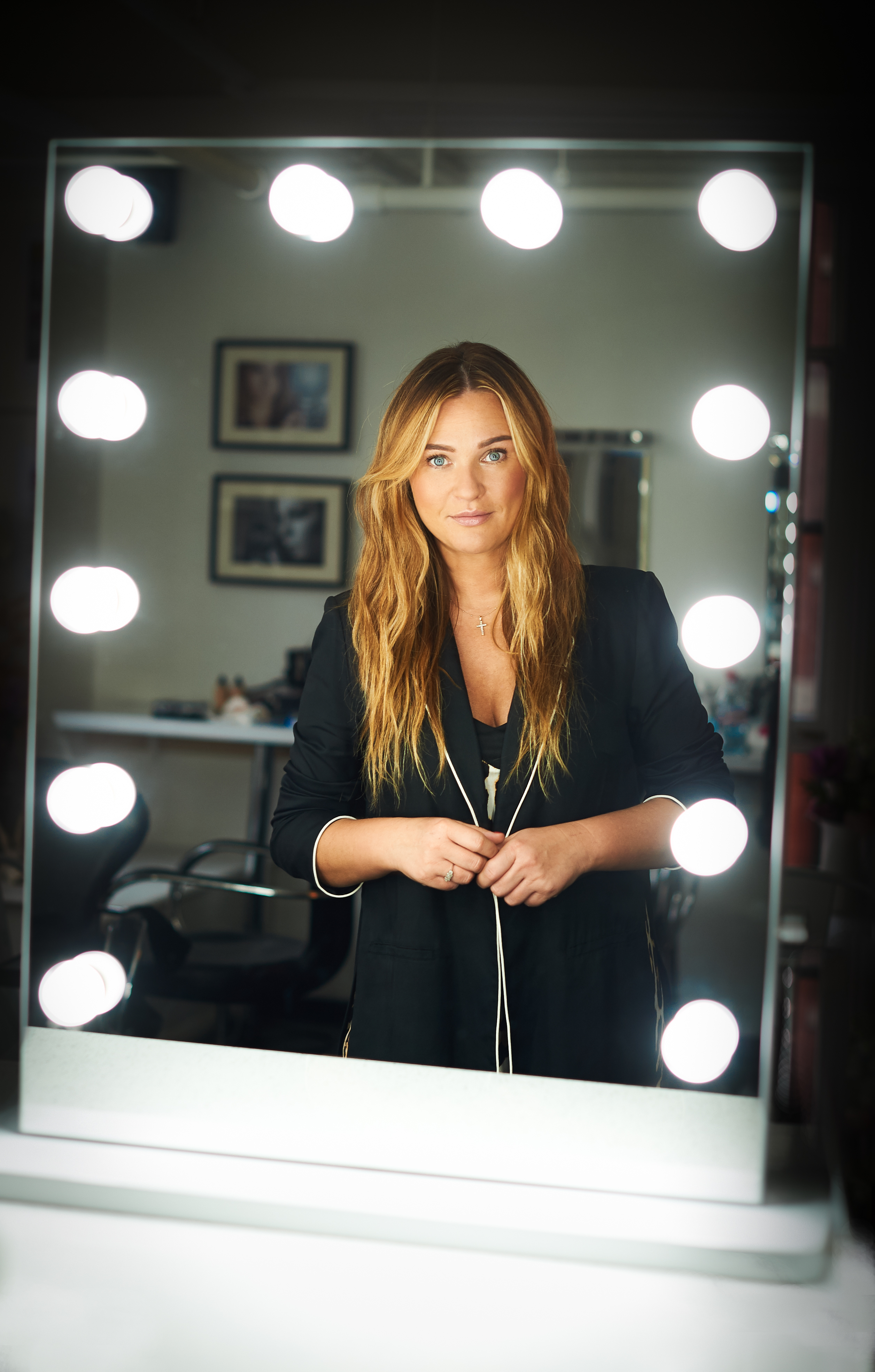 Cassie Lomas is one of the UK's leading makeup artists forging a successful and highly respected career in the world of Fashion, Music and Celebrities over the past 21 years. The regularly in demand mother of 2, is known for her signature flawless iridescent and modern pretty aesthetic, she has a beautifully fresh and on trend approach to makeup that has helped her establish an extensive celebrity client list. Cameron Tewson sits down with Lomas in her Manchester academy of Makeup to find out more.
CT: Cassie! It's a pleasure to interview you. Firstly, talk me through how you got started in the industry?
CL: By accident! I never really intended to do makeup as a job, I always thought I would do something more academic because I came from a girls grammar school background where I was pushed into thinking I should be a Lawyer or Accountant, it never occurred to me that all the hours I was spending in the art room could amount to anything. I used to absolutely love doing my own hair and makeup and my sister was like my own little muse for all her life. I used to practice on her constantly. I had a small stint modelling when I was 14 and that was the first time I saw that people did makeup for a job. Someone I worked with back then emailed me recently to say that she'd done my makeup on my first ever test shoot and remembers me asking a million questions about her job so maybe it was always on the cards. It started out as a hobby and I never really stopped. I think when you love doing something and you start to live and breathe it, there's always that chance that it's naturally going to turn into your life and off the back of that it ends up as your career. Doing something you love every day for your job is the ultimate goal I guess, if you want to be happy then why do anything else. I first trained in makeup when I was doing my A levels and then I studied business with marketing as my degree throughout which time I was building my portfolio, shooting every weekend and any day I had off. I practiced on anyone that would let me. When I finished my degree I realised that makeup could actually be my job, however I didn't want to just wing it with the local college course I had done, I had already experienced quite a lot of snobbery about where you had to train to be considered good and being mediocre has never been an option to me. I wanted to learn as much as was on offer and be the best that I could be. I moved to London and enrolled on the Fashion Makeup course at the London College of Fashion. By that stage I had already had a London Agent and quite a lot of experience but I needed to soak up more. After a year of training I was lucky enough to have the opportunity to assist some amazing makeup artists in the music business and eventually got the chance to work with Atomic Kitten, my first big client, a fluke that I was offered a chance because their makeup artist was unavailable. That was my lucky break and at the time they were the biggest girl band in the UK so I quickly started flying from country to country doing every editorial, awards show, campaigns, the lot. I think working in music is where my heart is because of the variety of work you get to do. The days are long but fun and always different.
CT: With a successful resume to date why did you start the Cassie Lomas Makeup Academy?
CL: I always wanted a makeup school. I don't know why but I think the main reason was to help people get started in their career. I really struggled when I first started out and I just thought if I could teach people everything I knew maybe they would be able to get there quicker. I had just come back off a world tour with Lady Gaga, I was 8 months pregnant with my first child and devastated that I couldn't continue onto the American leg of the tour. I decided it was the right time to set down some roots. In honesty I worried that I would never work again. It was a scary prospect having a baby in a freelance job that's so temperamental and that saw me having to be away travelling so much. I didn't see any future in what I had been doing. I told a work colleague that I'd had a great idea. I wanted to open a school, but not in London where I worked, in Manchester which was my hometown. I felt that was really where the opportunity to help young aspiring artists had a gap and that was where my journey began so I had a special kind of memory that I wanted to revisit. My friend told me the first step was to find my premises, so thats what I did. Once I was in it, it kind of rolled on and I never stopped to look at the risks, I just knew it was a great idea so went with it. I had saved up a good amount of money so  invested everything I had in opening this school without even contemplating that I may never get a student. Luckily that wasn't the case and from the first course the interest was incredible.
We have been open now for almost 10 years and it has been a huge success. Last year we launched our pop up courses in London which made sense to me as that's where all my work, clients and contacts are and is the heart of what I do and the fashion/celeb/music industry. We are just in the process of looking for a full time location so we can extend the courses we offer.
CT: How important is it to you to nurture young talent? 
CL: There are so many talented artists of all ages who just don't know where to start. All they need is some help, some direction and for someone to see their potential and just help them push open some doors. That's what we do best at Cassie Lomas Makeup Academy. I really genuinely care if they succeed and if there is something I can do to help them then I do it. Now we have a whole team who are on hand to nurture and build careers so we do it together. The success stories are heart warming and that's what has made us the most reputatble school in the north west. The fact that the word has spread about what we do and how incredible it can be for giving opportunities to people, it is so much more than just offering someone a course teaching makeup. The feedback I always get is, "Your artists are amazing, they go above and beyond, we can always tell when they've come from Cassie's". That makes me smile and have a bit of a lump in my throat. To know we are helping make dreams come true. I know how hard I had to work for that dream and what it meant to me when I made it happen so to be a part of that with others is incredible. It's like a constant euphoria. They're all like my kids and I'm watching them grow, that's the best bit about it. What is even better is that now we have somewhere for them to fly to when they are ready. In 2014 I opened Creatives Agency which represents hair and makeup artists in London and Manchester. The roster consists of the best Artists I have trained or who are on my teaching team so I can confidently send them on jobs and know they will represent the agency to the highest standards, that is so important as a business. The agency adds strength to the school as our network in the industry keeps on growing and offering more and more opportunites.
 CT: Describe your typical day?
 CL: I don't have one! That's the really positive part of my job because every day is different and exciting, I'm not really a routine type of person. On the flip side of that it's difficult to have no set schedule in my day to day life in what I'm doing with the kids and the businesses but I love it so much, I wouldn't have it any other way. If I'm not working then my usual day would be the school run, popping into the academy and either teaching or working from the office. The day would end with picking up the kids from their various clubs/after school activities, sending a few more emails from home and bed! If I'm with clients then as soon as I receive the call sheet I will start researching for the job, working out what I will be needing and where I'll be travelling to. I'll then pack everything I need and ensure my kit is clean and work on the mood boards for the shoot. Every day is different, I think the only constant is that I am there to do makeup.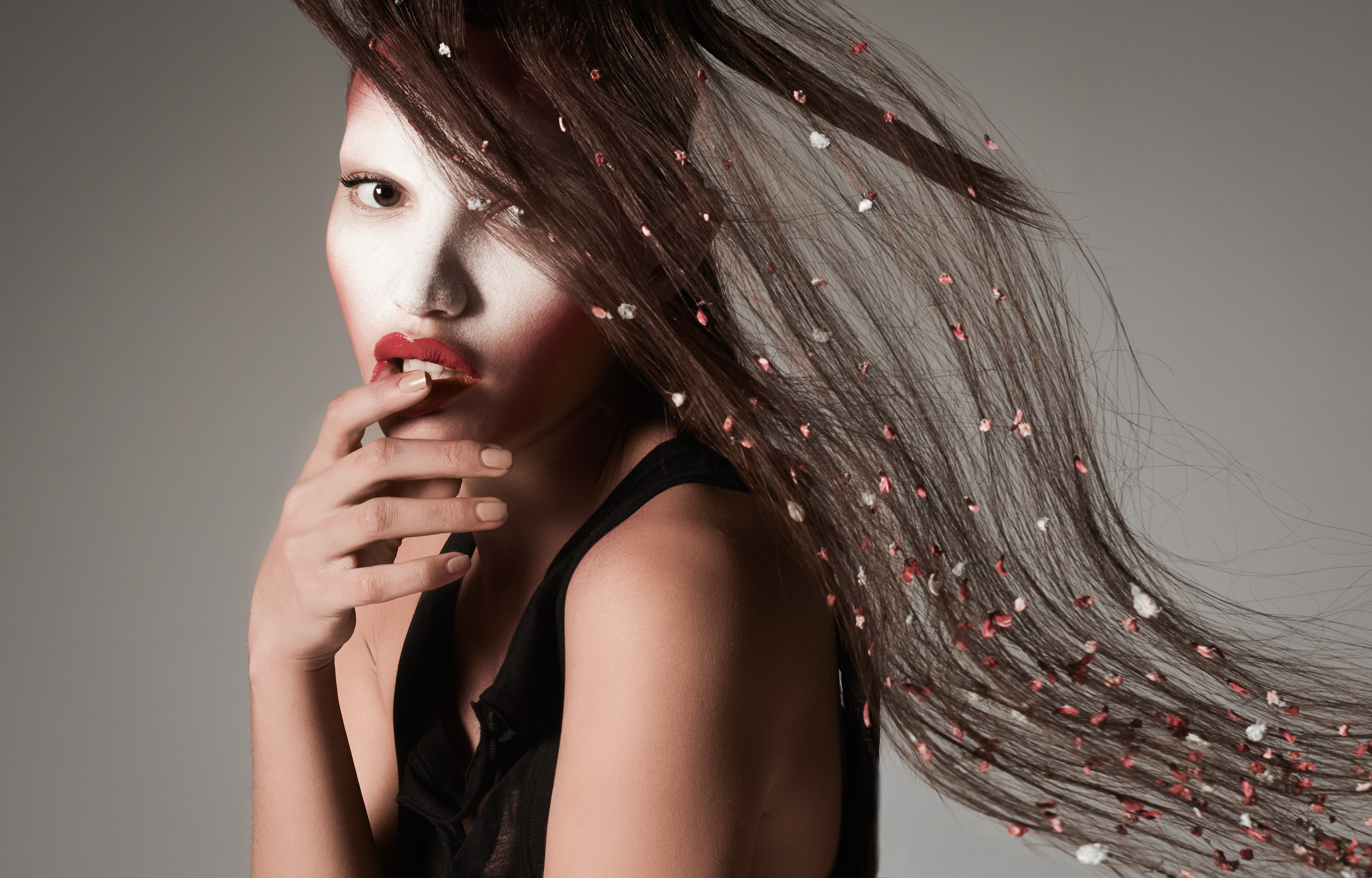 Image: Cassie Lomas for HUF Magazine. Photographer: Karl Collins. 
CT: From Lady Gaga to many other A-listers – how does it feel to have worked with such great names?
CL: It makes me smile and feel really proud that I've been able to work so hard to get to where I am today. I know how good you have to be to have an opportunity to work with these people so to be put into that category feels fantastic. However, the reality is they are all just people doing a job like you and I, so after a while it becomes normal and you just want to do the best you can do and make everyone else's jobs easy by being great at yours. Its been a long time now, over 20 years of doing inspirational people, I just love learning from each new client I get. Every person brings new memories and experiences that I cherish. 
CT: Who would you love to work with that you haven't already?
CL: Its so hard for me to answer this question because I want to work with everyone I admire but there are so many. Let me tell you who comes straight into my head though for the faces I think would be a pleasure to paint. In the film industry I would love to make up Margot Robbie, my model crushes would probably be the Taylor Hill or Emily Ratajkowski and Music would be Dua Lipa or Rihanna. There has to be something that draws me to a client, I don't want to work with just anyone, I need to feel inspired and admire what they do. I want to go to work and love it so having a client who fills you with passion is so important. I have a huge list of people that I feel that way about however I have already worked with some of the biggest names in the world so I'm not sure how to set goals from there! Each client is as important as the next and if I make them feel and look amazing, that's all I really care about. I just want to be the best I can be at my job, every day.
 CT: So, you are the definition of 'Boss Mum' – with two children, a husband and family life at home – what is your biggest success in your career, to date?
CL: Heading my own shows at London Fashion Week was a pretty big achievement for me. I worked on three seasons with Clements Robeiro alongside Sam McKnight and was able to take all my graduates to assist me so that was definitely a huge highlight in my career! There really has been so many that it's hard to choose that one defining moment, and I don't mean for that to sound big headed! One of the biggest 'pinch me' moments had to be seeing my products hit the shelves in Superdrug. I've worked as an Ambassador for twelve years and it is a huge honour to represent other brands however being given my own range of products within the B. Makeup Collection was one step further. I not only act as the spokesperson for the brand but am given the opportunity to design pieces of makeup that I feel really passionate about and believe are must haves in everyone's makeup bags. 
CT: From 2 weeks to 12 weeks, you run 9 courses a year – how involved are you in the planning, process and what can graduates get at the end of their time with you?
CL: I've written all of the courses from scratch and I make sure that everything the student is learning is taught in the way that I work and is relevant to what they need to know. Before each course I will always go through the schedule and make adjustments if they're needed because trends and skills change so quickly in this job that you always have to be one step ahead. Making sure my students have the best training is my absolute priority and I ensure that this is always the case. All the graduates have my personal phone number and can contact me at any time. We have an open ended support team for after the students graduate using both myself and the whole team for advice and help whenever they need it. I am always very honest with my students in my teaching because I went them to avoid the pitfalls that I made. If they succeed then I succeed so I make sure that we do all we can after they graduate to help them get to where they want to be. As part of our after care we have an events team that offers opportunities for the graduates to take on work experience and start networking and we also have complimentary masterclasses where the students can come back and see demos picking up new skills, techniques and being generally inspired. Myself and my tutors always take our graduates on any jobs to assist. We really do go above and beyond because we are a little family, for me t's not just about providing a course, I genuinely want to help them all.  
CT: You are an ambassador for B. at Superdrug, what does your role involve?  
CL: I help them in promoting the range, speaking to press and influencers and demonstrating how best to use their products. What I really love about the brand is that it doesn't just stop there. They really listen to my opinions on quality, packaging, trends and any improvements that can be made to the brand. Being able to help with the testing process is great and of course I love the campaign shoots we do. I am so passionate about the brand and helping make it as amazing as it can be and they allow me to be part of that team. I can't endorse anything I don't absolutely love so to me it is so important to be more than just the face of the brand and to have a voice. I'm not a 'cashing in' type of a person so if I don't like or believe in something I am being asked to do its more appealing for me to turn it down.  
CT: How unique! Each one of your brushes in your collection is named after a close family member – so with a range of brushes, do you plan to build the Cassie Lomas kit for the consumer to buy?
CL: When I first designed the brush range it was because I was watching students applying makeup and making mistakes because they were using the wrong brushes. There are an array of branded brushes that someone else has designed and all come form the same factory but what I wanted to do was to make the students lives easier by changing the size, length, texture and firmness of the brushes and their bristles and minimise their mistakes by putting the right tools in their hands. I had to start at the beginning and find someone who could make my vision come true and so my brushes are bespoke, hand made in the UK. With that came the names of the bushes. All the tutors have different brands of brushes and they were all in letters and numbers and it was so confusing to me, let alone the students. That's why I decided to give all of mine a name, and because it was fun. Naming them after my nearest and dearest almost eased the pain of working away so much, in a weird kind of way because they were always with me. The range is for professionals firstly but also definitely for the consumer so they can get a professional finish at home. We've got some exciting new brushes coming out and travel size kits. 
CT: What is your best make up tip you can share?
 CL: If you don't need it, don't wear it. I believe less is more. Enhance your favourite features, and ignore your least favourite. I think there are places for glam makeup and a time for being a natural beauty but it has to make you happy, thats all that counts. When I am training makeup artists they all start by defining every feature so I like to teach them how to choose one feature and make that the focus. That could be just a liner or a lip but doesn't have to be both.
CT: What are your thoughts on Social Media amplification for a business?
CL: It's incredible! I didn't have that when I started our so to have all that free marketing available to you can only be a positive thing. It allows talented people to be spotted and appreciated so of course that's great. The need for websites, business cards and printed portfolios isn't the same as it used to be. Instagram is everybody's shop window now, its easy for clients to find what they are looking for and a quick and easy way of getting your work seen.
 CT: What is next for you and the business?
CL: Well this is the question I keep asking myself, what next? There is still so much I want to achieve but there are not enough hours in the day for me to do it all at the speed I like to work. I am a firm believer of thinking positive and making things happen and it has worked for me so far so I will just keep building and learning. It is also important to me to have time to watch my children growing up so for me personally it is to spend time with them and enjoy family life. For the business' it is to continue to expand with my team, my students, graduates and Artists. I have also written a book which I would like to complete and publish and so thats definitely a goal. Doing what I love every day is a dream, so if I can keep living that I will be happy.
---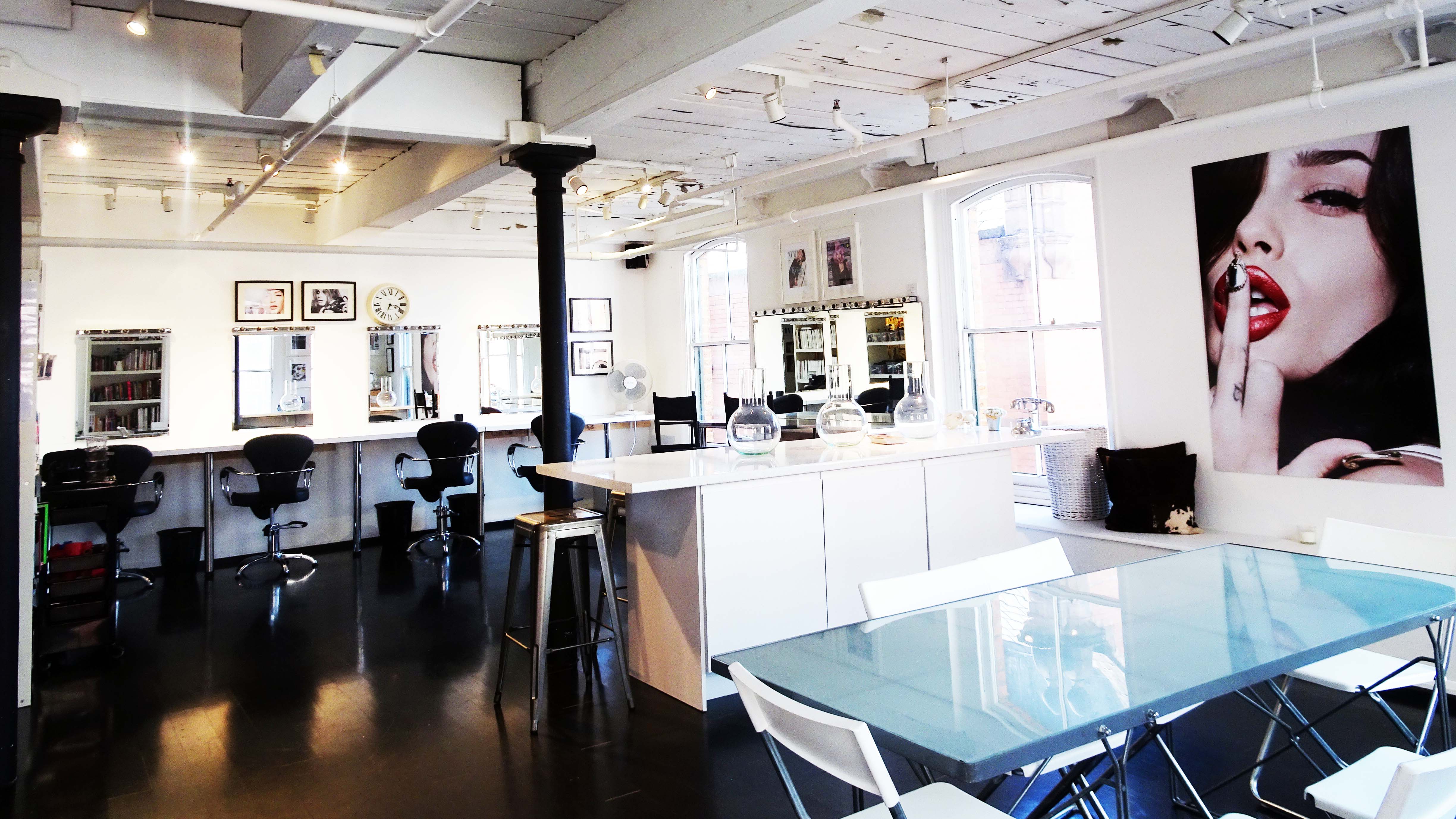 Discover more about the Academy: www.cassielomasmakeupacademy.co.uk
Shop the brush collection: www.cassielomas.com/cassielomas-shop
Follow Cassie on Instagram: www.instagram.com/misscassielomas