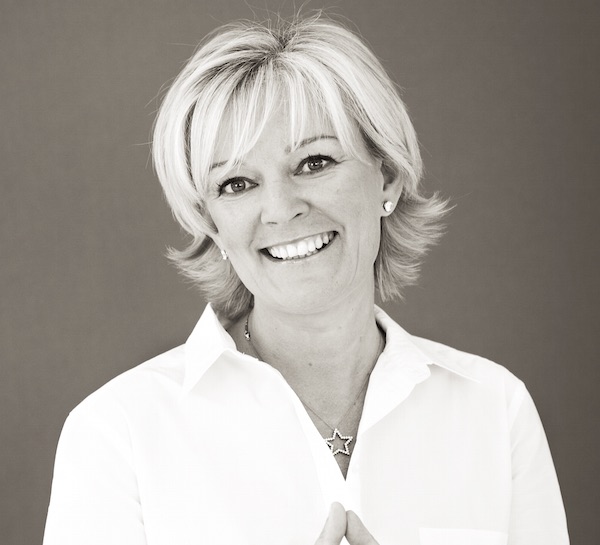 Bio: Jo Malone MBE has been described as an 'English scent maverick' and the woman responsible for creating some of the world's most loved fragrances.
Originally a facial therapist, Jo fell in love with fragrance while working from her discreet skin care clinic which she set up from her London home. Discovering an instinctual talent for creating scented products by hand in her kitchen, word of her exceptional potions quickly spread and soon Jo was unable to keep up with demand. From these artisan beginnings Jo launched her first brand, Jo Malone London, which gained cult status around the world. In 1999, Jo sold the business to Estée Lauder Companies and remained Creative Director until she left in 2006.
CT: Hi Jo, its great to meet you. Firstly, tell me more about your brand, Jo Loves?
JM: To me, it is not just a shop on a street. It is a brand with what I like to think is a statement and its full of all the things I love from texture, to smell. When the team and I really broke down the meaning of luxury, and if we scrapped everything it was how could we redefine it in today's market.  The store is my sense of interoperation on the meaning of luxury. Jo loves it is all about experimentation from the Tapas bar to the window displays and it's a language with a strong means of communication, that's what Jo Loves is all about.
CT: You recently released a book, 'My Story'  (below) – why did you feel now was the right time to share your notable story?
JM: The book end starts at the beginning of my life. It feels like I am standing at the top of a mountain looking down and I really did not want to tell my story when I was struggling and to tell you the truth – in my first three years, although I am not a quitter – I nearly quit.
The book tells the truth on my life, displays my struggles and mind-blowingly it has given others power and a new dimension knowing someone else has gone through something similar. The book wasn't to make money at all but it was to give back in many ways. It I incredible, I get inundated with extraordinary letters and emails from those who have read the book and that is the best feeling is helping others.
The moment of realisation when I felt for the first time that I had made it was when I was added in the hall of fame for retailers in Dubai, that was my eye opener.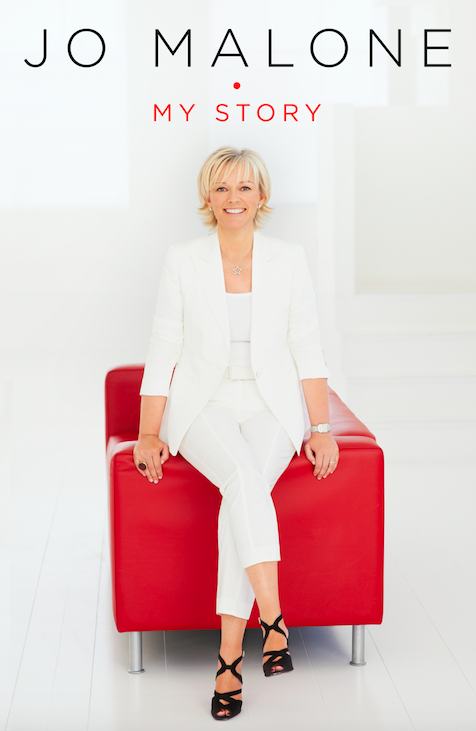 Jo Malone's book – 'My Story' available here.
CT: One of my favourite things about visiting your store on Elizabeth Street is the Fragrance Tapas offering – for those that don't know, can you explain the process and how does it work?
JM: Thank you, Cameron. Fragrance tapas is takes me back to things I love and takes me to where I am today. When brainstorming ideas, I used to sit in the Ham and Cheese Deli at Harrods in London and I would sit there, watch people, write notes and empty the thoughts that were in my head. With the Fragrance tapas concept in-store, I wanted to create something for the nose so I worked through different interpretations of tapas from Cocktail shakers for the shower gels, steaming tagines for the cologne and the fragrance paint brush to paint the body, allowing the customer to be the artist. My father was an artist so that's where the paint brush idea came from and the tagines were noted inspiration from various trips away. The Fragrance tapas experience is about enjoying the creativity, together in-store. I can sometimes walk into Elizabeth Street and see three generations of a family sat around the table enjoying themselves – to me, that is great.
CT: With that said, you have recently introduced an innovative new alternative to the traditional fragrance the 'Jo Loves Paintbrush' for Pomelo and various of your other fragrances in the range – with your love of fragrance, how did the idea come around?
JM: As mentioned earlier – my father was an artist and everything for me has to come from an inspiration or source. When I create fragrance, I have all these paintbrushes and paint onto canvas, cotton tiles etc because each one smells different.  One day, I wondered if I could get people to use paintbrushes and got them made for the store and I incorporated them into the fragrance tapas – each person that used them or heard about it has been blown away with the idea.
I wanted to create a change, and a change around the world in how people use fragrance and with this said, it opens up a whole new world in itself. It is captivating when you paint someone's hand or they do it themselves and become the artist. I love art and that hopefully shows in what I do. I am fascinated with the paint brush strokes on every piece of art I look at from Banksy, Monet to Picasso.
CT: And from that, the Jo Loves Paint Brush is now sold in Sephora – how amazing is that?
JM: Cameron – I know! Now the product is not only sold in my store and online but also in 14 Sephora stores (so far) too.
I met Sephora a few years ago and I knew I needed something that was a game changer –  years ago and met all the team but at the time the fit with just fragrance, was not right. So, when we created the Fragrance paint brush we asked ourselves how do we do this? How do we launch the product, who with and – the only answer for me was Sephora? It was a matter of hours until I picked up the phone to them. This is the product I wanted to launch with.
You know, one of the scariest moments of my life was a WWD key note speech not so long ago. It was with about 450 – 500 CEO's including brands like Estee Lauder – and I knew this product was a success straight away when everyone just stopped, listened and looked at me and gasped- and just like that Sephora closed the deal. So, it is 14 stores and online – to be rolled out to more over time. I didn't want the product to be on every shelf just yet, slow yet steady launches was our vision.
CT: What best tips can you give someone who wants to get into the fragrance or business world?  
JM: Get out there. I always find SPC a great magazine with all the latest news from each fragrance house in. Immerse yourself in a perfumery boutique or even a store counter for work experience. Understand how the consumer sees fragrance – perhaps even blog about it. Typically trust your instinct and run with it – play with the experiment.
CT: Best words of advice you have received?
JM: That is tough – I have received lots of advice – some I've taken on board and some I haven't! One of them was when I was younger, say 16 or 17 – I was invited on the Oprah Winfrey show and she also invited me to her house and I remember her wise words of advice was just to stamp your personality, create something and own it. The Oprah moment will stay with me forever –  36 years later, it's come back and defined who I am and redefined myself along the way.
What is next for Jo Loves?
JM: Sephora is a big part of the brands forthcoming chapter. I've some great conversations around collaborations in the mix that I am excited and tempted by including department stores, pop up stores and freestanding new Jo Loves stores.
With this said, I want to continue to discover the art of fragrance and want to develop further products for the business and the range.
---
Further info: 
A: 42 Elizabeth St, Belgravia, London SW1W 9NZ
W: www.joloves.com / www.sephora.com