Image by: Derren Versoza (for FUNBOY)
OCCUPATION: Artist
LIVES: Los Angeles  
BIO: Robertson's drawings and constructions cull from a deep understanding of color and fashion, as much as his cheeky sense of humor and sharp wit. A father of five, Robertson observes his youngest children's negotiations with the world around them, citing this as inspiration for his art practice, while inviting us into his world by documenting these personal moments on his Instagram feed. Robertson has received international attention for his interactions with social media and was nominated by the CFDA (Council of Fashion Designers of America) as "Instagrammer of the year." Yet his work remains hyper self-aware, as he uses Instagram like a medium; collecting, cataloging, and reacting to images he finds there. It is no coincidence then, that Robertson posts images of his resulting work to the same site that inspires so much of it.
 A career artist, Robertson has worked in the cosmetics and fashion industry, beginning in Toronto alongside the founders of MAC Cosmetics, and most recently in creative development at the Estee Lauder Companies. He also launched American Marie Claire before redesigning American Glamour with Conde Nast and Hearst.
CT: Donald, congrats on your new book with Assouline, tell me more about it and what we can expect?
DR: Hey. great to meet you today and congrats on your success! Assouline did me a solid! My mom says it's an unfortunate title for a book! I figure it's so bad it's okay! It's all my work from the last four years   Everything   Super fancy and heavy! Assouline did it up slick
CT: Why with publish your book with Assouline? 
DR: I was art bombing Bergdorf Goodmans in NYC and saw a pile of books in their book dept.  I wanted a Donald cover but couldn't wait. So I painted over the Valentino Book Cover and sold them on my website.  For a fortune. The hashtag was #kissmyassouline. Prosper Assouline and Valentino both called me about it. Not to yell. They wanted them too. The rest is history.
Image of Donald's current window for Bergdorf Goodman (Sept 7th – Oct 1st). Credit: Vladimir Weinstein/BFA.com
CT: You are a Father and have a full-time job, how do you find time on the side? Do you ever sleep?  
DR: I like to be awake on Instagram when London wakes up.  It was easy when I lived in New York! LA is harder. So no I never sleep. I'm a creative guy living like a finance guy with five kids. Who could sleep?
CT: Describe your typical day?
DR: If my life was a picture of a clock it would be half coffee mugs have wine glasses. On a painters palette.
Eric Firestone Gallery invitation artwork © courtesy of Eric Firestore Gallery

CT: Where would you say your main influence is or stems from? 
DR: Not Sure. I'm a Canadian trying to make it in the worlds of art and fashion! I have to pedal twice as fast as everyone else

CT: Illustration is highly regarded as art; how did you get into it? 
DR: I hated being a starving artist. Commercial artists got paid. I'm that guy "$$$$$ell out" are my two favorite words
CT: Do you have a creative background?
DR: No. I was raised in the suburbs of Canada and was never in an art class until college.
© Donald Robertson / © Brad Lansill
CT: London is known to be one of the most creative cities in the world, what's your thoughts on London and the talent?
DR: I have been kissing ass in London since I was a boy! Suzy Menkes was my first stop at the Times of London after I dropped out of Art college. She is the best. Currently I am dear friends with Giles Deacon and superstar Gwendoline Christie… I love them and you can't get any more English or talented than those two! I also hooked up Ashley Hicks with his new recently knocked up wife! I love them too! I love a Brit! The baby is being called Donald I'm imagining.
CT: Beauty's number one darling to worldwide internationally selling artist, What's next? 
DR:The best thing about being an artist and not a pop star is you can get old grey and fat and it still works! Bless! Google old Picasso in his underpants! Proof
---
GET YOUR COPY TODAY: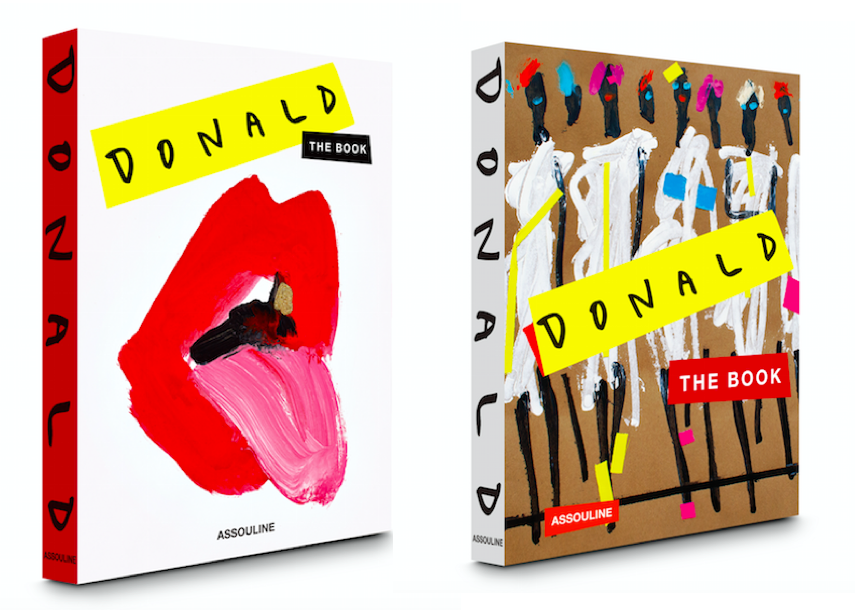 D O N A L D published  by Assouline, £65.00 www.assouline.com 
or visit: MAISON ASSOULINE – 196A Piccadilly London W1J 9DY