FIVE DANISH DESIGNERS YOU NEED TO KNOW ABOUT
Posted on by Cameron Tewson
When it comes to fashion, Copenhagen is well known for its minimalist, Scandi style sensibilities married with air of effortless practicality. Between the #GanniGirls arriving in flouncy, floral prints paired with boxfresh sneakers, the ultra-futuristic sports goth stylings of HELIOT EMIL and Han Kjøbenhavn's nostalgic heritage-meets-contemporary offerings, Copenhagen Fashion Week was full of weird, wonderful and wearable looks for every occasion.
Now, reflecting on the Spring/Summer 2019 shows, we take a look at some other Danish brands on our radar that are set to take over your social media feeds – and wardrobe wish-lists – in the seasons to come. Read on and prepare to find your new sartorial staples.
Emerging design talent Lærke Andersen isn't a newbie to the industry – she cut her teeth at Louis Vuitton and with fellow Danish designer, Henrik Vibskov. Last year, Andersen was the winner of the Magasin du Nord Fashion Prize and this year, she staged a show at Copenhagen Fashion Week and exhibited her collection at Revolver. Her knack for creating contemporary and cutting-edge sportswear with a wearable approach was evident in the futuristic silhouettes and offbeat styling and she also debuted a footwear collaboration with ARKK Copenhagen that included some thigh-high sneakerboots that might just spur a trend of their own.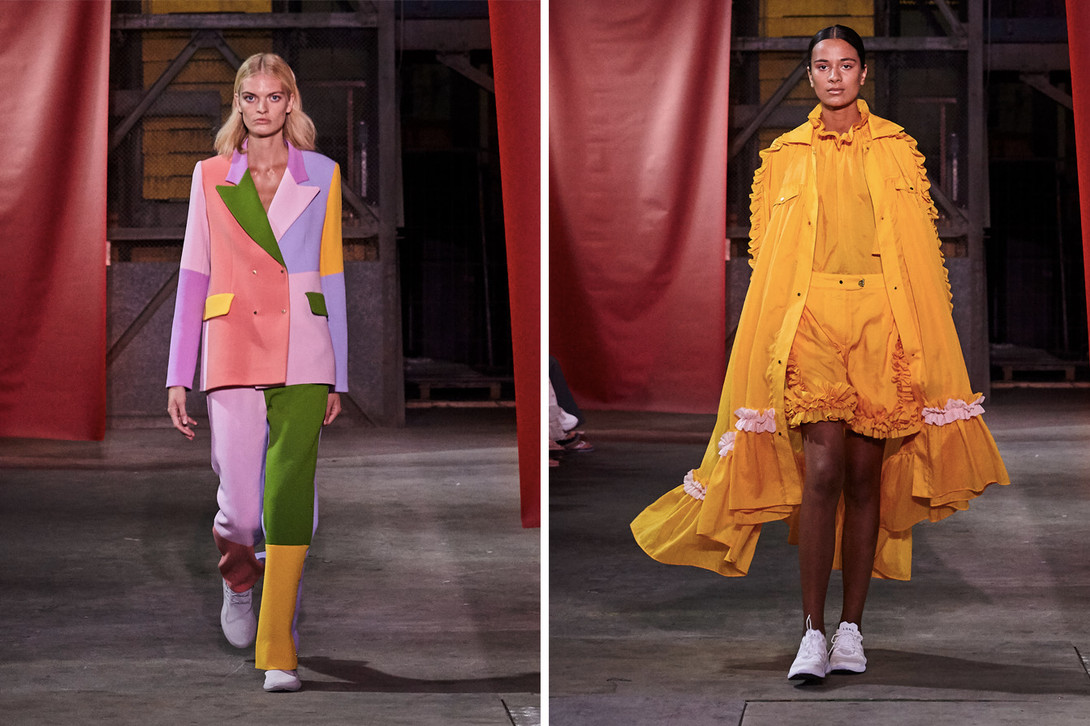 Pegged as the "new Ganni," Brøgger made a stunning debut at Copenhagen Fashion Week with a show dubbed "Margrethe," which was inspired by the designer's mother and the Queen of Denmark who share the same name. As such, the collection exuded both power and glamour with references to both the '80s and '90s and what could be seen as eccentric pieces were imagined in an easily wearable way. Standout styles for us included the color-blocked power suit, the long, quilted purple dress and the all-yellow ruffled outfit – we just can't wait to see what Brøgger will bring out for round two.
Stine Goya is another Danish designer who blends together femininity and playfulness with ease, although the Central Saint Martins graduate isn't exactly a newcomer to the scene – her namesake label has been going strong for over 10 years already. Showing at both the Revolver tradeshow and on the runway this season, Stine Goya treated us to visual feast comprising of tailored floral suits, on-trend bucket hats and and sparkly, crystal-laden dresses that were practically made for Kirakira+.
Cathrine Saks and Barbara Potts' label has been a stalwart on the Copenhagen fashion scene for years now. What started off as an outerwear brand, launched with one single coat, has fast become a favorite of style-savvy fashion editors and It-girls alike. Saks Potts' penchant for functional yet whimsy pieces has been a welcome contrast to the Danish capital's usual preference for subdued color palettes and silhouettes, and you can be sure that the oversized jackets and holographic garments shown on the SS19 runway will be your go-to look next season.
For those looking for fashion that goes beyond surface value, Carcel is a brand to watch, and one we hope serves a valuable lesson to others too. The season-less pieces are simple, stylish and high-quality staples of Danish design that wouldn't look out of place in any wardrobe but the remarkable twist is that each and every item is produced by female inmates in a Peruvian prison. Carcel's team works directly with the inmates in Cusco, where they can work freely, develop new skills and earn a fair wage to support themselves and their families, so it really is clothing with a conscience.
This article originally appeared on Hype Bae