DISCOVERING JEWELLERY DESIGNER, ALEX MONROE
Posted on by Cameron Tewson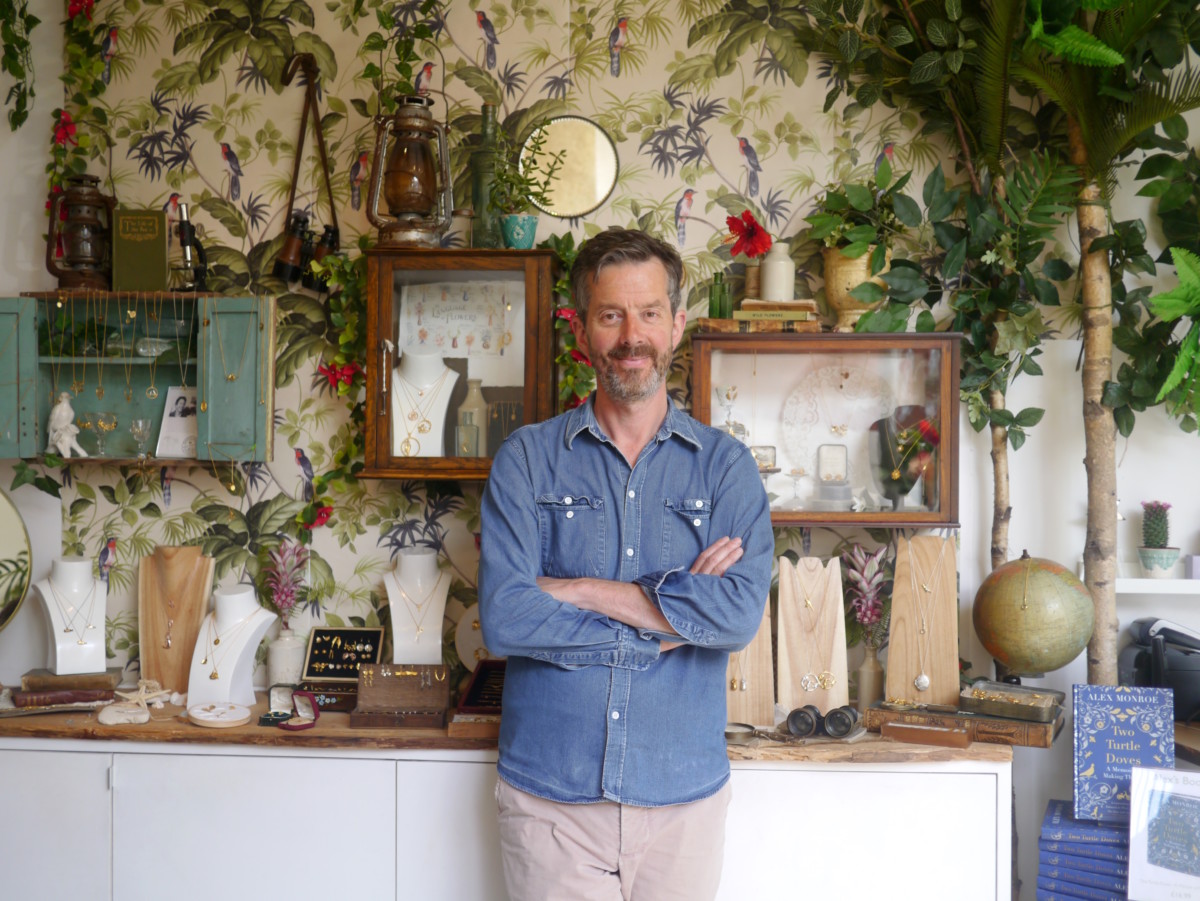 Alex Monroe jewellery is synonymous with a very British sense of style. It is feminine, delicate and quirky, but above all consistently wearable.
He grew up in the countryside, in the wilds of Suffolk in a big old house surrounded by nature. He lived a life of adventure in rivers and forests, roaming freely in nature's playground. After training at the Sir John Cass School of Art in London, Alex created his first collection in 1987 to critical acclaim.  His intention was to produce excellent quality jewellery, which was originally designed, handmade and well-priced.
Following the launch of his Covent Garden store in September, I sit down with the jewellery designer, to find out more about the man himself, and his brand we love today.
CT: Alex! Great to meet you! Tell me more about your brand and concept?
AM: Well I didn't really think all this would develop into a Brand as such. When you graduate from Uni having learned to make jewellery you just get on with it! I suppose I was very lucky. The pieces I was making were popular, so I got a few mates to help me… and now we're a proper company selling jewellery all around the world! I think one of the key elements is to do what you believe in. I just can't help making jewellery that is wearable, and pretty, and feminine, quirky, and perhaps it has a sense of fun too. So, I really just do my own thing! I am really interested in fashion, and I work with a great team of amazing young women so together we hope to make things people will love to wear. The craftsmanship and attention to detail is incredibly important to me too.
CT: When did you realise you wanted to pursue a career as a designer?
AM: When I was quite young, I used to make my own clothes. And I'd accessorise with home-made things too. The spiked dog collar I wore to see the Boomtown Rats at the Ipswich Gaumont in 1970something was one of my finest pieces!
CT: Your brand Alex Monroe has reached Covent Garden, how exciting! What made you pick this neighbourhood of London?
AM: We don't really want to be too mainstream or Highstreet… so our first shop is in London Bridge off the beautiful and quirky Bermondsey Street. So Up Town required more thought. But two of my favourite shops, Paul Smith and Tintin, are on Floral Street, and the name of course… it's the perfect fit. And still quite quirky and not too Highstreety!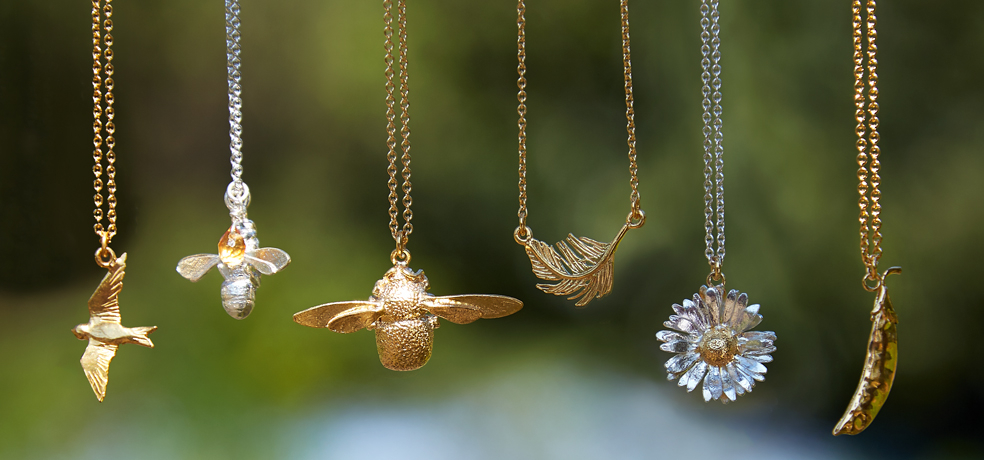 Pictured: A selection of Alex Monroe Necklaces
CT: Did you design a collection for this store specifically?
AM: Oh my gosh. We design so many collections each year. And what with getting the new shop ready we didn't have any time. But it opened in time to launch Natural History there. I designed a collection while in the US with my daughter, we did lots of drawing in the Museum of Natural History and we loved all the dinosaurs. It's a fun collection, but it has an underlying message about it too. About species and how the planet can change and the effect that can have…
CT: You recently partnered with leading actress from Doctor Who, do you foresee collaborations in the future and if so who with?
AM: Well we're always doing lots of fun things. I'll only agree to a collaboration if I think it's right for us. so, it needs to be about equality or the environment, or challenging stereotypes. Right now, I'm flat out with all sorts of projects but I can't tell anyone about them. Sorry!
CT: How important is sustainability to your business?
AM: It's paramount. Absolutely essential to do everything you can.
CT: Is the Kimberley process sustainable?  
AM: I don't know. But it's what we've got at the moment and much better than having nothing…
CT: Do you see yourself using lab grown stones only in the future?
AM: Oh yes. We've already used them. I'm all for them.
CT: If you could go back and tell yourself one thing, what would it be?
AM: I wouldn't! Life's best as a surprise!
CT: Home is?
AM: Now it's Camberwell and Suffolk. And a bit of my heart is in Calabria.
CT: Collector of?
AM: Absolutely everything. Particularly conkers. And leaves. And feathers. Oh and nails. Clock hands, screws, bits of old wood, fabric…
CT: Favourite city?
AM: London and Tokyo although give me a remote island any time.
---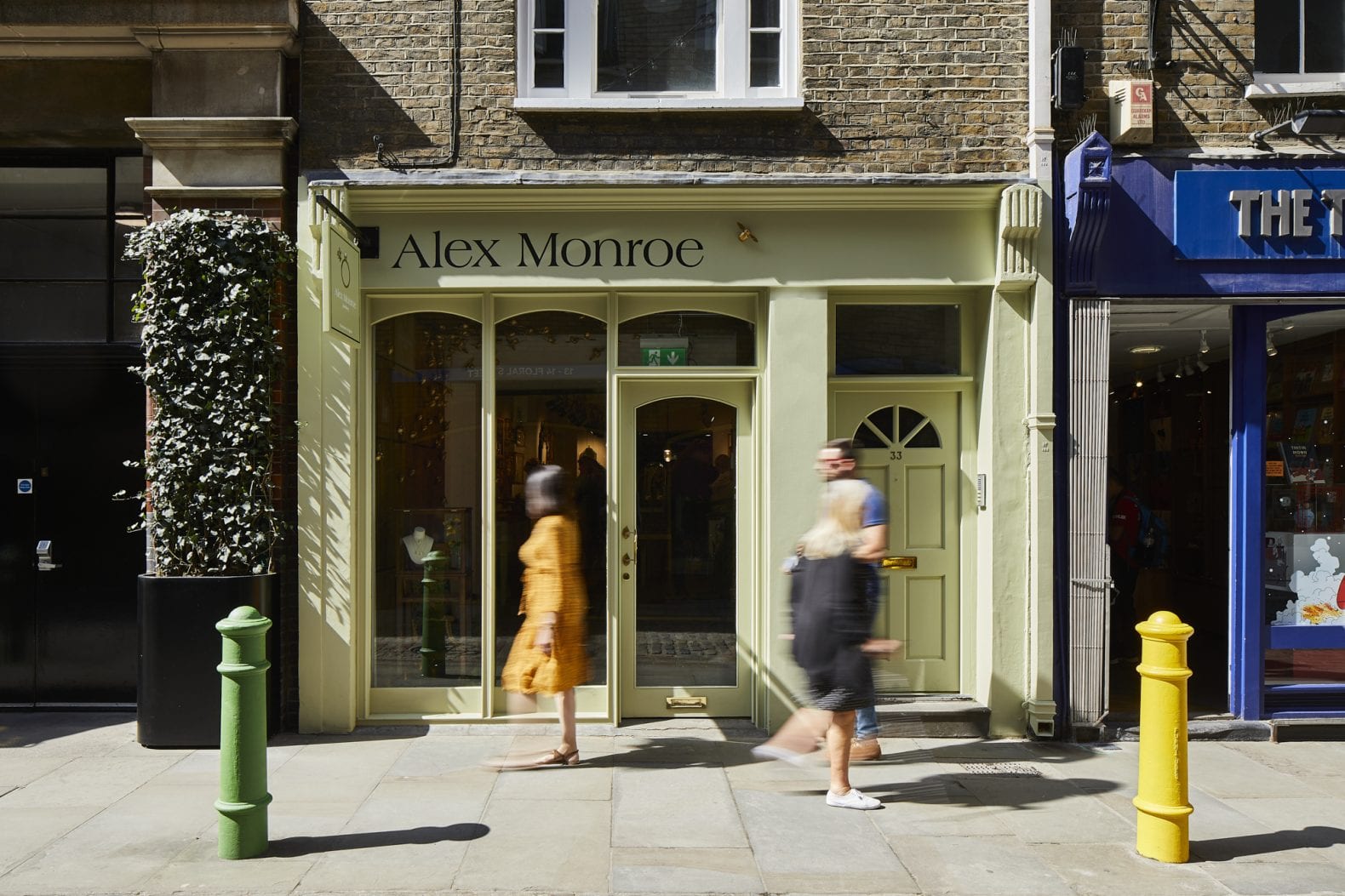 Discover more: www.alexmonroe.com