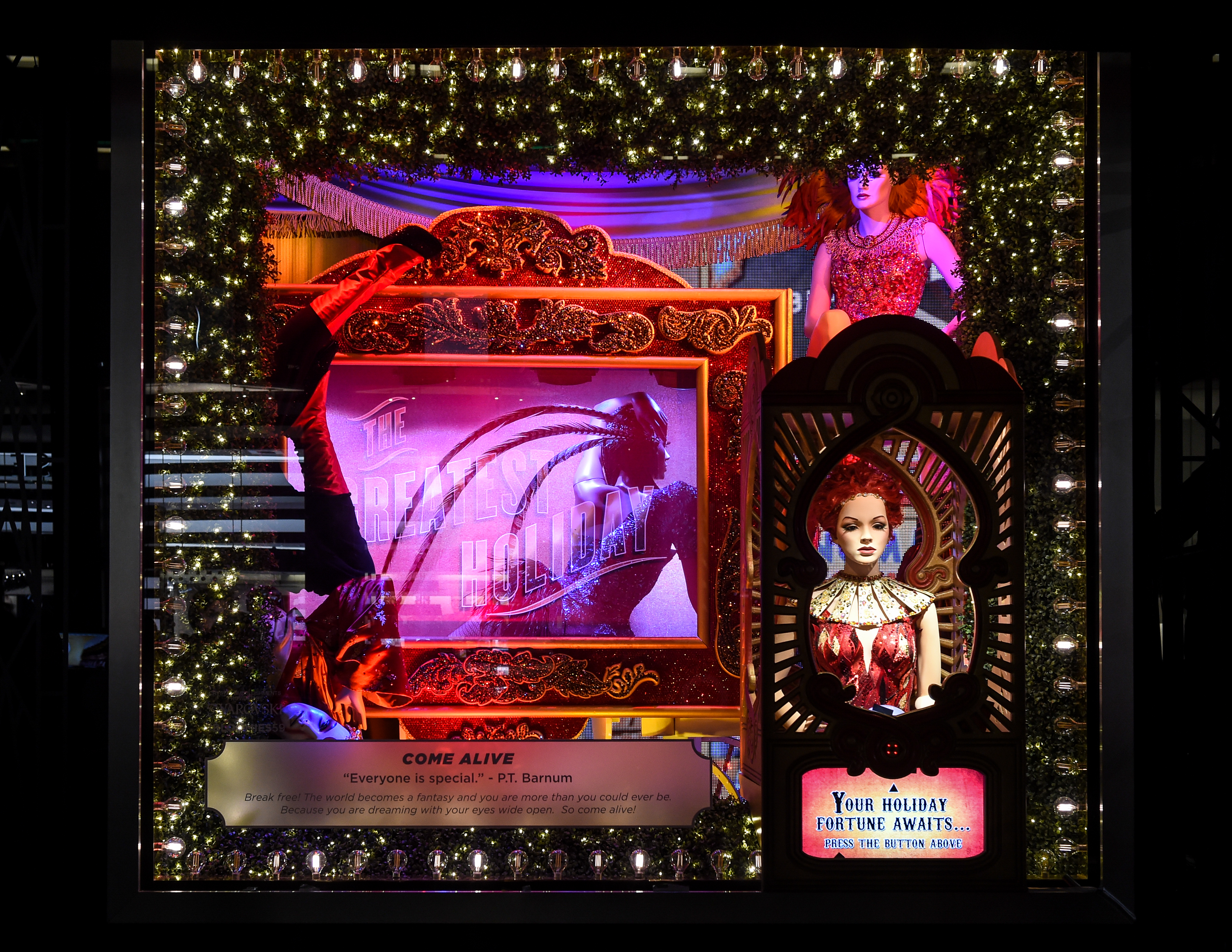 To ring in the season of glitz, glamour and glee, American department store, Bloomingdale's has teamed up with the new movie that puts style and spectacle center stage, 20th Century Fox Film's The Greatest Showman.  The highly anticipated film is in theatres from December 20th, brings the story of big-top visionary P.T. Barnum to the big screen.  The cinematic extravaganza guides every aspect of the retailers' holiday celebration this year from exclusive product to in-store experiences and the iconic Bloomingdale's 59th Street holiday windows. 
"Each year we look forward to unveiling our holiday windows. We are thrilled to welcome New Yorkers and visitors of all ages to experience this year's spectacular design and animation. The magic of P.T. Barnum is captured throughout our 59th Street flagship, inspired by our partnership with The Greatest Showman and brought to life with 7.6 million Swarovski crystals in our Lexington Avenue Windows. This project and partnership is one of things that makes Bloomingdale's like no other store in the world." –  Tony Spring, Bloomingdale's Chairman and CEO.
Bloomingdale's has also teamed up with Swarovski to create the "Greatest Holiday Windows" on Lexington Avenue.  The windows were unveiled on November 21st with jaw dropping circus acts and a special performance by Keala Settle who plays the Bearded Lady in The Greatest Showman. Actress and singer- Zendaya, who stars in the film as well as the Bloomingdale's holiday campaign, also joined in on the unveiling festivities. 
This season's windows bring the soundtrack from The Greatest Showman and iconic P.T.Barnum quotes to life.  The Lexington Avenue windows awaken the senses with magical visuals and musical moments while Swarovski crystal-encrusted circus oddities play a starring role in each window scene.  As onlookers get closer to the glass they will hear the song that each window is inspired by.  The key ingredient in this year's festive windows are Swarovski crystals.  Over 7,600,000 crystals were used to embellish and transform the costumes and props in each window.