BELLISSIMO! MILAN FASHION WEEK: SPRING 2017
Posted on by Cameron Tewson
Before we know it, Milan Fashion Week which means week three on the schedule. That screams to me, Pasta, Pizza, more carbs, wine and Gucci. Check out my love affair from the past 5 days.
Money is really no object at Gucci:
One of the most anticipated shows was that of Gucci, which took place at the Via Valtellina rather than its newly unveiled head office. The former Farini station was transformed into a pink, sequinned underground nightclub for the fashion house's SS17 show, which served as the perfect backdrop for creative director Alessandro Michele vision, which continued exactly where he left off. The designer was inspired by subcultures from the LA club scene from the 1970s and 1980s, including the punk and gothic movements as well as the word Phantasmagoria, which resulted in a collection full of bright, quirky and unique colours and silhouettes. Gucci als teamed up with illustrator Jayde Fish for a few of the collection's animal motifs, such as the monkey, snake and cat, which were embroidered onto bomber jackets, silk blouses and A-line skirts.
70's babes at Roberto Cavalli:
For those who were afraid fashion has stopped looking back to the 70s for design inspiration, there is no need to fear. The hippy years are here to stay and have been refreshed and elevated for Spring/Summer 2017 by Roberto Cavalli. Creative director Peter Dundas was inspired by a mixtures of influences, ranging from Western cowboys and Native Americans, to Marrakesh and the by gone era of the famed hippies which resulted in long, lean striped and patchwork flared trousers; loose kaftans with embroidery; native-American beaded dresses and tiered bohemian princess maxi skirts in vivid colours.
Goodbye traditional camel coats at Max Mara:
Italian fashion house Max Mara seems to have said goodbye to its traditional camel and beige coat for Spring/Summer 2017 and hello to athleticism, the tropics and fun prints. Inspired by designer/architect Lina Bo Bardi, the resulting collection saw a number of the fashion house's signature items given an athletic makeover or infused with a touch of the tropics. Think palm trees on a zippered jackets (with matching trousers), knitwear with animal motifs and brightly coloured suits, finished off with matching vizors and block heeled-clog reminiscent of crocs.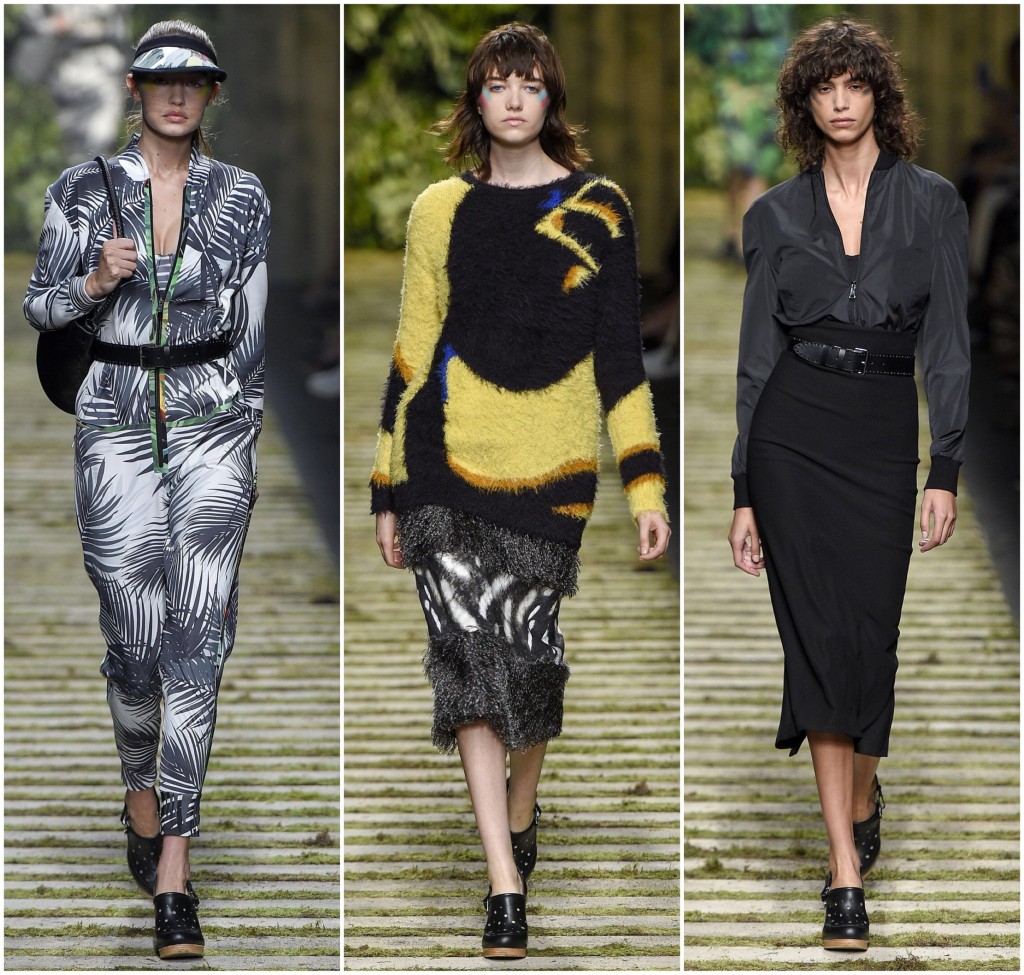 Fendi, fit for a Queen:
Creative director Karl Lagerfeld took all the inspiration he needed for this season's collection from fashion house Fendi from the beautiful place of Marie Antoinette: Petit Trianon. In order to ensure the collection remained relevant, Lagerfeld infused sportive stripes in all shapes and forms throughout the collection. During the second half of the SS17 catwalk show, the runaway was dominated by dresses, aprons worn over trousers and skirts crafted from semi-transparent organza, or lace or silk, soft and flowing. Garments were romantically accessorized with ribbons, bows, embroidered flowers and butterfly cut-outs, making it a collection Lagerfeld himself said was 'fit for a Queen.'
Prada is bringing back that commercial appeal:
Italian fashion house Prada reinterpreted key trends from the 60s and 70s for its Spring/Summer 2017 collection, which was celebrated for both its commercial appeal and unique look from the brand. Models donned patchwork sweaters, crop-tops over graphically printed blouses and blazers in contrasting plaid colours with turtle-necked collars with micro-hot pants. Prints were kept simple and graphic, with clashing colours and styles. "I wanted to keep it simple," said Prada backstage to the Financial Times. "I was trying to find a new elegance — an old fashioned word — and make it meaningful in the present. I wanted the clothes to be personal, that they should feel intimate, seasonal, contemporary and real.
Moschino's Valley of the Dolls:
Creative director for Italian fashion house Moschino, Jeremy Scott, was inspired by the iconic novel 'Valley of the Doll's for SS17, which saw it-models of the moment Bella Hadid, Gigi Hadid and Romee Strijd transformed into 1960s 'paper dolls', complete with tags. Scott used trompe l'oeil to help bring his 2D apparel collections to life. Key pieces included an oversize Moschino sweater with a paper dress on it, pill-theme handbags and Marilyn Monroe-esque gowns.
Sports Luxe at its best by Versace:
Versace presented a very luxurious sportswear collection for SS17. The brand, best known for its sensual and sexy designs, took a lot of its inspiration from the world of sports, which was reflect in its graphic prints (think sporting stripes) as well as its selection of materials. Mesh was incorporated into a number of dresses, wedges were upgraded with wide velcro straps a la Teva. Of course it would not be a Versace show without the presence of a supermodel or two, with legendary model Naomi Campbell gracing the catwalk in a red and blue cropped training jacket and wrap skirt, slit to the thigh.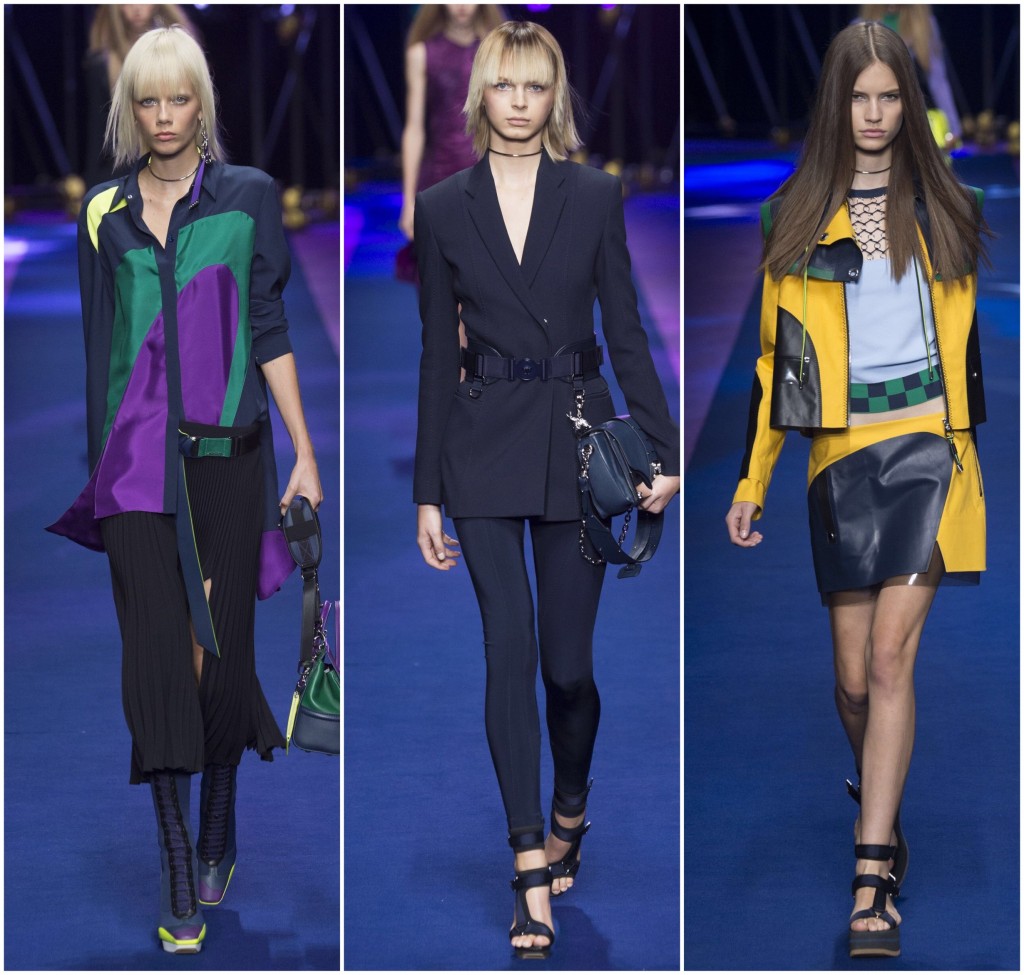 Deconstructed and exaggerated Marni:
Marni presented a somewhat deconstructed collection for SS17, which incorporated excessive fabric usage, oversized silhouette and exaggerated proportions. Think overly long sleeves and belts with huge pockets. The first few looks from the collections were imagined within a rather neutral colour palette, whites, beiges and creams but later on colours, such as mint green, raspberry pink and chocolate brown made an appearance.