The Fashion Industry. You've probably heard  that it is a tough one, right? When asking those already inside for advice they probably said, "Work your ass off and make sure that you're giving it 150 percent. An internship is not just an internship." That couldn't be more true. With an industry that is predicted to grow 23% by 2020 to £32 billion, I have teamed up with some of the top leading names in the work force to give you their top words of advice on how they started and what exactly they do.
ALEXANDRA FULLERTON, FASHION DIRECTOR, STYLIST MAGAZINE
CT: Alex, tell me about you? How did you start out?
AF: I have always been obsessed with clothes and shoes and handbags and would constantly draw outfits when I was little, putting the looks together in my own little fashion magazines. I love magazines so much and when I realised there was a job of stylist I knew it was what I had to do. I started doing a degree in Fashion Promotion at LCF but I was doing so much work experience and freelance assisting I dropped out and started to work as an assistant full-time. My first proper job was Fashion co-ordinator at Glamour and from there I held roles at Happy, Eve, Wedding and now Stylist in between freelance stints contributing to Grazia, Lula, Telegraph Magazine, thelondonpaper, Nylon Japan and shooting for Stella McCartney and Marks & Spencer. 
CT: What exactly do you do in your role and how vital is it to the publication?
AF: It's a really multi-faceted role and the fashion director position is crucial at Stylist! I oversee every element of fashion in the magazine from the obvious, like shooting stories and styling covers, to commissioning teams to do the same, representing Stylist at the shows, securing exclusives on news stories, managing our team of five and running the fashion budget. I have to ensure that every element of the department and fashion pages in the magazine – and online where possible – have a coherent message and are instantly recognisable as Stylist and that we have a brilliant outwardly facing reputation and vision.
CT: What is the best advice you have received and would give budding journalists and industry start-outs today?
AF: No one ever sat me down and gave me advice so my tip would be to simply absorb everything you can and remain humble because although the industry makes us work hard, it's hardly hard work. 
CT: With plenty of commercial labels in the market, how do you find the unique that your readers would like to see?
AF:You need to be out in the market at all times, shopping, talking to buyers, looking through trade press as well as taking note of every PR pitch, as well as having a team who do the same. When editing rails I really keep our readers in mind and ask lots of questions – which pieces of clothing are going to change the way they get dressed in the morning and what can they learn from the brands we include?
CT: What is one piece of clothing you can't live without and Front Row Edit's readers should invest in?
AF: Denim, forever. My mum calls them The Emperor's New Clothes but my Vetements jeans are such a flattering fit and eternally cool. I love them to pieces and they're one of the few pairs of jeans I don't need to tailor to fit my less than supermodel length legs.
CT:What new labels have caught your eye and we should watch out for?

AF:Nabil Nayal – I met him at the London Showrooms in Paris and was blown away by his collection and the incredible research and back story behind the clothes.
CT: Known for your shoe addiction posts on Instagram, what'
s your favourite pair this season?
AF:This question is cruel. But, if we're talking about AW it would have to be the Saint Laurent crystal boot (right) and for Summer… Manolo Blahnik's Maysale mule is super chic and so 2017.
CT: London or the countryside?
AF: If I just had country I'd go bananas and if it was just London I'd be itching to leave. I want to have my cake and eat it so I choose both.
You can follow Alex on Instagram here and keep up to date with Stylist Magazine here.
---
---
KEVIN HARTER, VP MEN'S FASHION DIRECTOR, BLOOMINGDALES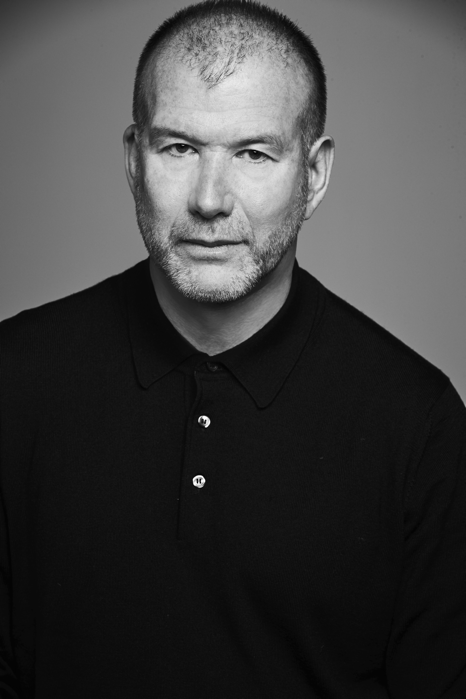 CT: Kevin, tell me about you? How did you start out?
KH: I'm a father of twins, Harlem resident and have the best job in the world. I have been with Bloomingdale's 28 years starting off on the sales floor at our Chicago store – entering the management trainee program and then became a buyer.   I started my career in the Fashion Office in 1998.
CT: How did you make the transition to New York?
KH: I'm an Iowa boy – and grandson of farmers – but have been in New York for 24 years so I believe I have earned the right of calling myself a New Yorker! Bloomingdale's brought me here from the Chicago store to become a buyer.
CT: Describe the Bloomingdales customer in three words?
KH: Energetic, Fashionable and Loyal
CT: Talk me through the buying process at Bloomingdales? How do you and your team operate on a day-to-day basis?
KH: The buying process here is always evolving, but we have shifted to the mindset that the customer is calling the shots so it's important to provide them with an incredible and easy shopping experience. We have also made 100% Bloomingdale's a priority, which is our initiative to provide our customers with unique merchandise that can only be found here.
CT: What is the best advice you have received and would give designers and industry start-outs today?
KH: Stay true to your brand but be willing to listen to your customer.  I always tell designers, I'm not going to tell them what to design for us; I can only share what resonates with the Bloomingdale's shopper.
CT: What are your thoughts on New York Fashion Week: Men's?
KH: I've been a big supporter of New York Fashion Week: Men's since the beginning as the CFDA has done an amazing job offering our Men's designers a platform to showcase their designs. (below Uri Minkoff as stocked at Bloomingdales)  The market is changing quickly so my guess is that NYFW: Men's will continue to evolve and we will be there to support.
CT: What top style tips anyone should take onboard?
KH: I say fit is everything – make sure you have a good tailor who will be honest with you and will help you transform your wardrobe so it looks great on you.
CT: What is one piece of clothing you can't live without and Front Row Edit's readers should invest in?
KH: Cashmere crewneck sweaters, my favorite are from our own private label "The Bloomingdale's Mens Store"
You can follow Kevin on Instagram here and shop the Bloomingdales Mens Store here.
---
FARRAH STORR, EDITOR-IN-CHIEF, COSMOPOLITAN UK
CT: Farrah, How did you start out?
FS: I always wanted to be a writer rather than an editor. After a disastrous year spent in PR and marketing (don't ask) I then got a job as a features assistant on woman&home. From there I moved around pretty quickly – I think it's important to do that when you're young. I was features writer on Good Housekeeping, senior writer on Eve (RIP), deputy features editor on Glamour before moving to Sydney to become features director on Marie Claire. Basically I have done every features job on a magazine – which is crucial as an editor, so you can understand the demands put on everyone at every level.
CT: Talk me through the planning process for Cosmopolitan? How do you and your team operate on a day-to-day basis?
FS: We plan three months ahead but scheduling changes all the time if a brilliant story lands on my desk. No day is ever alike for me – I'm often in meetings with commercial, out hustling for new joint ventures that Cosmopolitan should be looking at, public speaking about millennial culture as well as editing copy – my favourite part of the job by far. I try to have an open door policy so everyone gets time with me.
CT: What is the best advice you have received and would give budding journalists and industry start-outs today?
FS: I was never given any advice per se but one thing I have found out over the years is how important it is to always have an opinion and learn how to give that opinion in a smart and measured fashion. The loudest voice may be heard but it's not always the one listened to. As for industry start-outs… always apply for the job you think is a 'little' too big for you. Job interviews are not always about getting the job, but about getting in front of the right people. I often recommend people I have interviewed who were maybe not right for us but would be wonderful for other colleagues on other magazines.
CT: What top style tips anyone should take onboard?
FS: We live in the UK – a coat is probably the one item you will be wearing 8 months of the year. Spend your money here. It's also the first impression you make when you meet someone. Last year I wore a burnt orange A-Line Jigsaw sheepskin coat to pretty much everything. I look back at pictures and know it's money well spent. I also tend to spend money on jewellery too. Never underestimate the simple beauty of a single Cartier Love bangle on a wrist.
CT: What are your thoughts on London Fashion Week? How do your team devise the Fashion Calendar?
FS: London Fashion Week is one of the most brilliant and exciting fashion weeks in the world. There's a rawness and down-to-earth energy that you don't find anywhere else. We all try to go to as many shows as possible – ideas for the brand can spring from the smallest show or presentation. We're also very keen to support new talent within the magazine so my brilliant fashion director, Amy Bannerman, will often be backstage talking to the designers or trying to find a look that would work on one of our covers. (cover, across / below of Ariana Grande for May 2017)

 CT: What to you prefer, a runway show or presentation?
FS: Runway for drama and excitement, presentation for really getting to grips with both the clothes and the designer's thought process.
CT: With plenty of commercial labels in the market, how do you find the unique that your readers would like to see?
FS: The job of a fashion team and editor is to scour the market and find the best possible pieces for our readers. Everyone might be doing floral dresses but it's Cosmopolitan's fashion team's job to make sure we only feature the one dress that has the best details or the best fit. There is an extraordinary amount of leg work that goes into every item on a magazine page. That's how we can stand by the fashion we showcase.
CT: What is one piece of clothing you can't live without and Front Row Edit's readers should invest in?
FS: A simple black tuxedo with sharp shoulders and a skinny silk lapel. ME+EM does beautiful ones. I have them in white and black and wear with a bow tie.
CT: Where is your favourite place to eat in London?
FS: Jamavar in Mayfair – I'm half Pakistani so I love Asian food. This place does the chicest interpretation in town
You can follow Farrah on Instagram here and keep up to date with Cosmopolitan UK here.
---
ANDRES SOSA, EXECUTIVE VICE PRESIDENT – SALES, MARKETING & CREATIVE, THEOUTNET.COM
CT: For those who reading this who may not know about THE OUTNET, can you describe the business and exactly what does your role entail?
AS: THE OUTNET started back in 2009 as previous-season sister site to NET-A-PORTER.COM and we have grown from strength to strength ever since. We are a now global ecommerce site renowned for offering amazing past-season product at up to 75% off. For those who don't know the site, once you visit you won't look back! My role as EVP of Sales, Marketing and Creative means a big part of my job is merging innovation and creativity with data and analytics. We are constantly striving to ensure we strike the right balance between the two, so that we create the ultimate luxury shopping destination for our customer.
CT: What is an average day for you?
AS: Each day is quite varied for me. THE OUTNET office is a really fast-paced environment, which means that the working day tends to fly by! I get to the office early and start with a coffee, checking on what's happening globally via the news and social media. My days are always super structured as I try to attend as many meetings as I can, touching in with all the different teams I manage across sales, marketing and creative. With THE OUTNET being such a global business, travel also plays a big part of my role. If I'm not in the office in London, I'll either be in our New York office or visiting one of our key markets.
CT: In three words, describe THE OUTNET consumer?
AS: Stylish, savvy and confident.
CT: Just how important is the social media influencer impact on businesses today?
AS: Social media platforms and influencers are hugely important for us as a brand. Each social platform is an extension of our brand voice and allows us to talk to a huge demographic of people worldwide. They are also key commercial channels for us and we employ a different strategy for each of the platforms. For example, Facebook is strong for driving sales and communicating our brand message, we can engage in a global conversation through Twitter and express inspirations and aesthetics via Pinterest and Instagram. We choose influencers carefully as we regard them as an extension of THE OUTNET. We like to work with those who we know not only inspire our customer but also interest and engage her. We also like to innovate with our influencers. Content is at the heart of our DNA as a brand and we enjoy being able to give customers something fresh and exciting. A good example of this is our podcast series with Garance Dore. We felt that Garance was real a trailblazer in the digital world and offered a series of exclusive podcasts entitled 'Pardon My French' created especially for THE OUTNET customer.
CT: THE OUTNET for men any time soon?
AS: The million dollar question! We never say never but there are no plans in place at the moment.
CT: Talk me through the latest advertising concept for THE OUTNET and how do you and how did the wider business work on those ideas?
AS: The spring/summer 2017 campaign (below) was the eighth seasonal campaign since our advertising debut back in September 2013, and is a collective effort from the teams. This season's campaign was shot by Riccardo Vimercati and features the Brazilian supermodel, Amanda Wellsh, and Swedish star, Kajsa Mohammar. Shot in LA in Riccardo's distinctive cinematic style, both models are pictured in the season's key trends in a natural environment as part of a group of fashionable best friends. This is the first season where the campaign was fully executed in house – from conceiving the idea to producing and directing the shoot.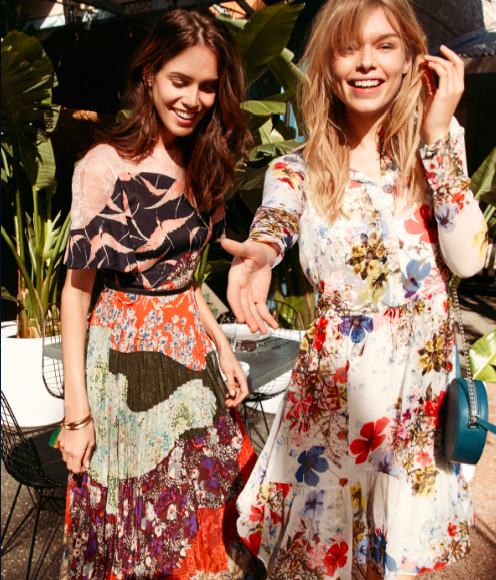 CT: Describe your style?
AS: I like to keep it simple but I'm also not afraid of a pop of color. There is a lot of black, white and navy in my wardrobe, which I find always creates a smart and chic basis for any outfit, but something colorful like a floral Gucci trainer adds that little individual edge.
CT: What are you reading at the moment?
AS: I'm totally obsessed with Big Littles Lies on TV but someone recommend that I should also read the book by Liane Moriarty and I'm utterly gripped. I like to read when I travel; it's a great way to switch off and unwind away from emails.
You can follow Andres on Instagram here and shop The OUTNET here.
Photo of Andres taken by Jake Rosenberg/COVETEUR
---
 ELIZABETH SALTZMAN, STYLIST  & INTERNATIONAL SOCIAL EDITOR, VANITY FAIR
CT: Elizabeth, with an impressive career to date, how did you start?
ES: It is your typical fashion story! I took any job I could get in my summers and school breaks, and I was lucky to land in a couple of cool stores… You have to start somewhere!
CT: Apart from traveling all over, how do you relax?
ES: Music is my weapon of choice for almost everything – to pick me up, to chill me out, to calm me down and to dance!
CT: London is thriving with design talent, tell me your top designers and why?
ES: It would be impossible to pick my top designers in London! As the question says London is thriving with designer talent and it is whether it be Christopher Kane, Erdem, Mother of Pearl, Emilia Wickstead, Simone Rocha, Tom Ford, Christopher Bailey, Sarah Burton, Stella McCartney, Alice Temperley, Roksanda, J.W.Anderson, Paul Smith, Vivienne Westwood, Rejina Pyo, Huishan Zhang, Peter Pilotto, Mary Katrantzou, Isa Arfen. There is so many…
CT: ESXRD – tell us more? How did the collaboration with Rocket Dogs come around?
ES: I kept purchasing Rocket Dogs for years. We then went to visit Rocket Dog in London, told them why we wanted certain styles and would they make special styles for us… And then boom, it happened! (image below)
CT:What is the best advice you have received and would give budding stylists today?
ES: The three best pieces of advice were given to be at various points at the beginning of my career:
The first one: was never to be late… It is rude and lets other people think your time is more valuable.
The next piece of advice came from a very powerful businessman when I was twenty. It was to return every phone call (now emails – they didn't exist way back then) the same day you receive it if humanly possible.
The third piece of advice came from my father and was to treat everyone equally. At the end of the day we are all simply humans.
CT: Forever seeking the new, where are your top stores to shop around the globe?
ES: I love shopping, but because it is part of my job I tend to look at individual stores… Some of my favourites are Puka Puka in Maui and Just One Eye in Los Angeles.
You can follow Elizabeth on Instagram here and Team Saltzman here.
---
JASON BASMAJIAN, CHIEF CREATIVE OFFICER, CERRUTI
CT: Jason, with an impressive design background, how did you start off in the industry?
JB: I started off in the industry working in a very beautiful men's and women's specialty clothing boutique during my summer holidays on Cape Cod Called Maxwell & Co. It was a wonderful experience working with fine tailoring and luxury goods. It was the beginning of brands like Cucinelli and Loro Piana and I was hooked! I think starting on a sales floor is so important for anyone in this business. Ultimately it's about the customer and being in touch with their needs.
CT: Describe the Cerruti 1881 man in three words?
JB: The Cerruti man is cool, chic and individual.
CT: Talk me through the design process for the Cerruti 1881 Autumn Winter 2017 collection?
JB: The design process started with a conversation I had with Mr Cerruti and a deep research in both the actual and digital archives. I wanted to celebrate the best of Cerruti style but with a modern point of view. I wanted to use details and acknowledge shapes and cuts but with a relevance of today. We culled through about 500 images and looked at about 100 garments on our fit model to get an idea. The idea in mind was a fluid relaxed mood with rich fabrics and colours. Next step was the colour palette and fabric research. We created many exclusive fabrics with Cerruti and other mills in Italy. Exclusive Jacquards, mix of materials, bold patterns and strong accessories were key. Coats are iconic to the house and created the foundation for the collection. (below)
CT: Top style tips anyone should take onboard?
JB: Top style tips- buy better and less. Choose your items carefully. Have great quality basics in your wardrobe and add a few key seasonal pieces. Think of building a wardrobe of fantastic pieces that transcend trend. Know your style but without limiting yourself to experiment and trust your instinct- if you feel ridiculous and uncomfortable, despite even looking great, you will never seem you are wearing your own clothes. Lastly don't try to hard- it shows.
CT: What is the best advice you have received and would give designers and industry start-outs today?
JB: I have been lucky to receive a lot of good advice and guidance through the years and would suggest designers find a balance of creative expression and commercial success. Learn to communicate your ideas well, and know you are only as good as your team is strong and behind you. Having a strong vision but no way to execute or realize it is a waste. Also treat everyone on the way up or down with respect and kindness- what goes around comes around
CT:What is one piece of clothing you can't live without and Front Row Edit's male readers should invest in?
JB: A really sumptuous relaxed great overcoat. I think this is a really versatile piece for a modern mans wardrobe. An overcoat can be worn with a sweater, t-shirt, over a suit, in place of a blazer. It can be dressed up with elegant shoes, sportier with chunky boots, or casual with a trainer. Fabric and cut is really important in outerwear so I would recommend investing here.
CT: Describe your personal style?
JB:Understated, monochromatic, casually elegant. I like to mix tailoring and more casual pieces and it's rare that I wear strong prints or colour.
CT: Top getaway destination?
JB: Travel is inspiration and I love it. To recharge my battery I like to spend a few days at my country house in the Loire valley to read, watch films, cook, take walks ets. It's a tonic. Summers I like Cape Cod and Greece as the sea is rejuvenating. Winter a ski trip to Klosters or Megeve. I've recently went on a trip to Rajasthan and would like to go to Bhutan and Patagonia next.
You can follow Jason on Instagram here and shop Cerruti here.